Cards
Birthday Card #6 Stripes are Nice. This is a pretty easy card that can be great for a boy or a girl. 1.To start make your card.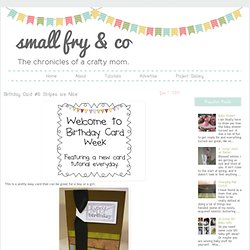 You can really use any size of card that you want. Mine was 4 x 5 inches (finished size). 2. Now you will cut your paper stripes. To do this I used my paper cutter but angled my paper to get an uneven strip of paper. Not Your Grandma's Pop Up Card. Pop up cards are fun, we've all been making them since kindergarten right?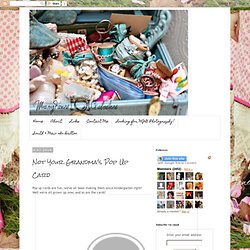 Well we're all grown up now, and so are the cards! What you need- Cardstock Paper glue Exacto knife Ribbon Glitter (optional) Freebie Friday - Goodbye, Friend! - Two Paper Divas. For those of you who receive our emails automatically, SORRY you are receiving this on Saturday.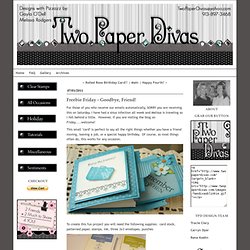 I have had a sinus infection all week and Melissa is traveling so I fell behind a little. However, if you are visiting the blog on Friday.....welcome! Love you bookmark. Need a last minute Valentine gift?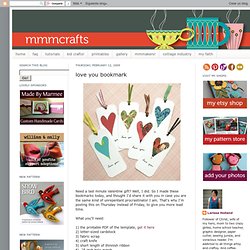 Well, I did. So I made these bookmarks today, and thought I'd share it with you in case you are the same kind of unrepentant procrastinator I am. Paper bag Valentine card. The card is constructed out of these materials: 1 brown paper "lunch" bag 1 8.5" x 11" sheet light-colored coordinating paper 1 3" x 3" coordinating cardstock 1 pony bead of a coordinating color --any bead which can fit over your ribbon will work fine total 24 to 30 inches of thin, coordinating ribbon --2 pieces 6" to 8" --1 piece 12" to 14" These tools are required: glue of some sort -- I used a glue stick, but regular white glue would also be fine. scissors ruler For the decoration, you can go one of two routes, or combine them: a crayon of a coordinating color colored pencil or pen of a coordinating color OR ink pad of a coordinating color a pen of a coordinating color various stamps --I used one flowery type stamp for the outside, a curlique-type stamp for the bottom, and letter stamps for initials.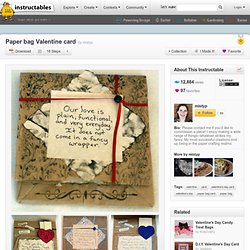 ---