My University Smartification
The illustrated guide to a Ph.D. Imagine a circle that contains all of human knowledge: By the time you finish elementary school, you know a little: By the time you finish high school, you know a bit more: With a bachelor's degree, you gain a specialty: A master's degree deepens that specialty: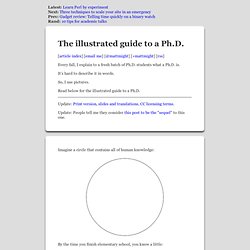 Undergraduate Degree != Career ? - education college undergraduate. What do I do when I graduate if I know I don't want to pursue my undergraduate field?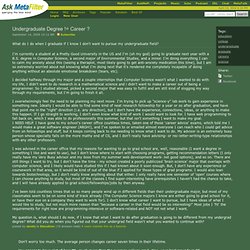 I'm currently a student at a Pretty Good University in the US and I'm (oh my god) going to graduate next year with a B.S. degree in Computer Science, a second major of Environmental Studies, and a minor. I'm doing everything I can to calm my anxiety about this (seeing a therapist, most likely going to get anti-anxiety medication this time), but I am so extremely worried about not knowing what I'm doing next that it's rendered me completely incapable of doing anything without an absolute emotional breakdown (tears, etc). I decided halfway through my major and a couple internships that Computer Science wasn't what I wanted to do with my life, I didn't want to do research in a mathematical science and i didn't want to make a career out of being a programmer.
Econ 114 Research
Sad commentary on declining value of university degrees. The 25 most difficult questions. If you are one of those executive types unhappy at your present post and embarking on a New Year's resolution to find a new one, here's a helping hand.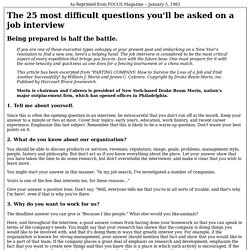 The job interview is considered to be the most critical aspect of every expedition that brings you face-to- face with the future boss. One must prepare for it with the same tenacity and quickness as one does for a fencing tournament or a chess match. This article has been excerpted from "PARTING COMPANY: How to Survive the Loss of a Job and Find Another Successfully" by William J. Morin and James C. Career Advice | Job Salaries | Career Resource | Research Careers | Job Descriptions| Career Information | Job Profiles - TheCareerProject.org. The Official GMAT Web Site. Students . College of Arts and Science . University of Saskatchewan. A major is an area of specialized study that requires you to take courses specifically concentrated in one academic subject area.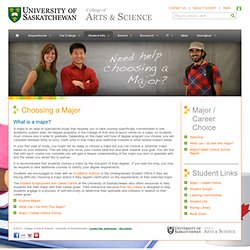 All degree programs in the College of Arts and Science centre on a major, so students must choose one in order to graduate. Depending on the major and type of degree program you choose, you will complete between thirty to sixty credit units in that major plus additional courses in other related subject areas. In your first year of study, you might not be ready to choose a major but you can choose a 'potential' major based on your interests. This will help you focus your course selection and work towards your goal. Ten Ways to Market Your Liberal Arts Degree. Printer-Friendly Version by Katharine Hansen, Ph.D.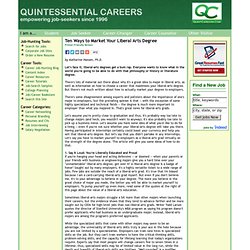 Let's face it; liberal-arts degrees get a bum rap. Everyone wants to know what in the world you're going to be able to do with that philosophy or history or literature degree. There's lots of material out there about why it's a great idea to major in liberal arts, as well as information on how to choose a career that maximizes your liberal-arts degree. 5 Things Every College Grad Should Know. Is Getting A College Degree Worth It These Days?
---