C#
patterns & practices: Application Architecture Guide 2.0 (Th
Welcome to the patterns & practices Application Architecture Guide 2.0 community site! This guide provides design-level guidance for the architecture and design of applications built on the .NET Framework. It focuses on the most common types of applications, partitioning application functionality into layers, components, and services, and walks through their key design characteristics. This guide is a collaborative effort between patterns & practices, product teams, and industry experts.- J.D. Meier, Alex Homer, David Hill, Jason Taylor, Prashant Bansode, Lonnie Wall, Rob Boucher Jr, Akshay Bogawat HTML on MSDN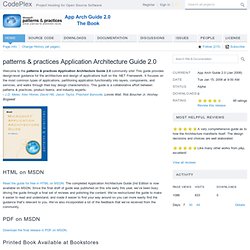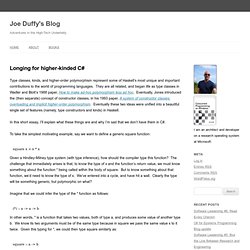 higher kinded c#
Type classes, kinds, and higher-order polymorphism represent some of Haskell's most unique and important contributions to the world of programming languages. They are all related, and began life as type classes in Wadler and Blott's 1988 paper, How to make ad-hoc polymorphism less ad hoc. Eventually, Jones introduced the (then separate) concept of constructor classes, in his 1993 paper, A system of constructor classes: overloading and implicit higher-order polymorphism.
Array Class Collections File Keyword String .NET ASP.NET Cast Compression Data Delegate Directive Enum Exception If Interface LINQ Loop Method Number Process Property Regex Sort StringBuilder Struct Switch Time Windows WPF A square is green. All shapes and colors are abstractions. All computer programs are built with abstractions. Programs are beautiful but their construction is not. VB.NETPythonRuby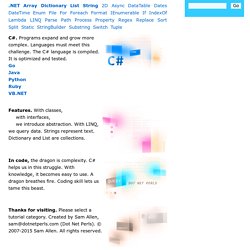 CLR Inside Out: 9 Reusable Parallel Data Structures and Algorith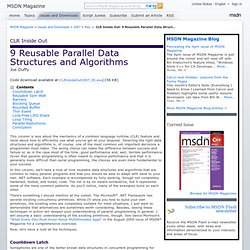 CLR Inside Out 9 Reusable Parallel Data Structures and Algorithms Joe Duffy Code download available at:CLRInsideOut2007_05.exe(156 KB) This column is less about the mechanics of a common language runtime (CLR) feature and more about how to efficiently use what you've got at your disposal.