Insolite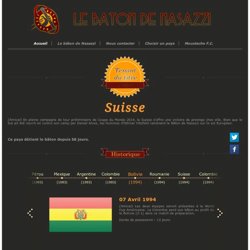 (Finale de la CM 1930) L'Uruguay, grande favorite de la compétition, remporte la première édition de la Coupe du Monde face à l'Argentine. Le bâton de Nasazzi est alors "décerné" à cette équipe. Il tient son nom du capitaine de la Celesta, José Nasazzi.
Le Bâton de Nasazzi - Site qui retrace l'histoire de ce trophée
Frédéric Antonetti : Le Best of !!!
NOUVEAU COUP DE GUEULE DE LOUIS NICOLLIN!
Nicollin s'énerve - 5 juin 2009
Ben Arfa vs Abou Diaby fight
best 10 football fights ever
compilation insulte foot
THE WORLDS WORST REFEREE DECISION EVER MADE!!! How is this a goal???
Cena Engraçada no jogo entre Internacional vs Confiança-SR 2- 1 Copa SP Futebol Jr 03-01-2011
Nouvelle technique pour tirer le penalty
Espinosa Erik Lambert in 18.4 seconden!!!!
Synchronized Bicycle Kicks
West Brom Mascot wont Shake Steven Gerrards Hand
lets all laugh at gerrard