Social Media Including Email
Get flash to fully experience Pearltrees
http://www.pearltrees.com/
Welcome to this presentation and brief tutorial on PearlTrees , a social curation/bookmarking tool to help you collect, organize, and share web pages of interest. Why Pearltrees? Using this ITEC 830 course as an example, let's look at some of the valuable resources we have available to us:
IDEA CITY - The Smartest People
FCC chairman Julius Genachowski Beyond the techno eye candy, digging out the substance at CES A n army of tech and gadget writers descended on the just-ended Consumer Electronics Show in Las Vegas. Rather than duplicate their coverage, I'll offer some snapshots from my three days at the conference: FCC chairman on the need for 'digital literacy' The Tech Policy Summit (for whom I've twice moderated panels in past years) held three days of sessions at CES, highlighed by Consumer Electronics Association CEO Gary Shapiro's on-stage chat with Federal Communications Commission chairman Julius Genachowski, whose appointment last year won rave reviews from reform groups.
At the Sungkyunkwan University in Seoul, Dr. Sang-Woo Kim is working on a revolutionary new technology that he hopes will change the way we use our cell phones in the future. So far there have been several ideas floating around for tapping into unused energy to charge up cell phones, including solar power, surrounding vibration, and even electromagnetic energy which fills the air around us at all times. So far one type of untapped energy source which has been overlooked according to Dr.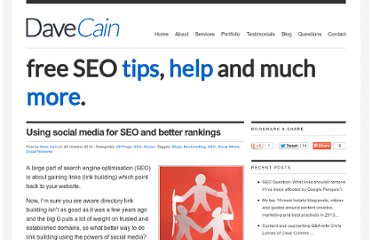 A large part of search engine optimisation (SEO) is about gaining links (link building) which point back to your website. Now, I'm sure you are aware directory link building isn't as good as it was a few years ago and the big G puts a lot of weight on trusted and established domains, so what better way to do link building using the powers of social media? Below you will find a list of websites I have used in the past and also my personal recommendations when using social sites for SEO.
November 11, 2009 by virtualmeeting Virtual Reality is becoming a multi-billion-dollar field with uses in education, health care, training and maintenance, design, military, information processing and entertainment. Why is this happening right now ? Several forces have accelerated the growth in elementary VR technology and expanded its application. Technology progresses has cut the cost and improved the performance of virtual reality systems, making the technology available for the public.