PaperCraft or PaperKraft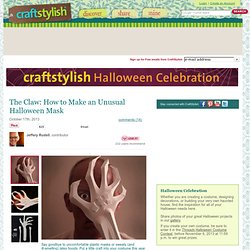 The Claw: How to Make an Unusual Halloween Mask
October 17th, 2013 Email 222 users recommend Say goodbye to uncomfortable plastic masks or sweaty (and ill-smelling) latex hoods. Put a little craft into your costume this year and have a ghoulishly good time doing it.
Robot vs Badger – Finding the weird and interesting so you don't have to!
Hello boys and girls, we at Robot VS Badger strive to get you the most awesome content available on the web. We love the oddities that the web has to throw at us and love sharing it with you guys even more. Check back daily as we update on a very regular basis. You can also join our FaceBook Fan Page to receive regular updates and check out some of the cooler stuff that doesn't always warrant a full post.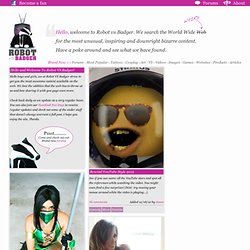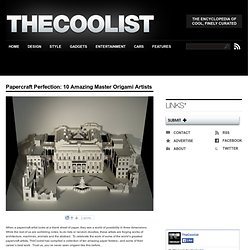 Papercraft Perfection: 10 Amazing Master Origami Artists When a papercraft artist looks at a blank sheet of paper, they see a world of possibility in three dimensions. While the rest of us are scribbling notes, to-do lists or random doodles, these artists are forging works of architecture, machines, animals and the abstract. To celebrate the work of some of the world's greatest papercraft artists, TheCoolist has compiled a collection of ten amazing paper folders– and some of their career's best work. Trust us, you've never seen origami like this before…
Papercraft Perfection: 10 Amazing Master Origami Artists
Amazing Paper part 2
Papercraft Perfection: 10 Amazing Master Origami Artists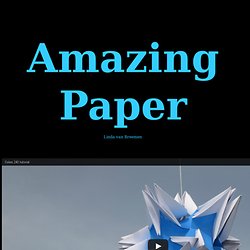 This is a site about making beautiful things with paper: origami architecture, origami, sliceforms, pop-up cards, knotology, flexagons, modular origami, .... I hope you will see things that will inspire you to give it a try yourselves. For this site I combined my love for beautiful paper creations with photos I made myselves. The creations you can see are made by me. The designs are by: Masahiro Chatani, Keiko Nakazawa, Marivi, Baud & Bui, Sakyo K., Darren, George Hart, Clark Britton, Roger Pattenden, Tiny van der Plas,Ramin Razani, Kenneth Kawamu, Carmen Sprung, Mio Tsugawa, Laura Azcoaga, Victoria Babinsky and many others...
Amazing Paper
Flexagon
origami fireworks
Companion Cube Papercraft
Gear's heart
Many are still baffled at how Paper Engineering KAMIKARA made their famous gear heart, but it looks like atom from Glue² Chronicle has figured out its inner workings. It's not the gear heart but a gear sphere papercraft, the designer has stated that he doesn't have any intention of test building it but feels that this has solved the mystery .
Gear Sphere Papercraft