Pastas
Italian Lasagna (with meat) My FIL absolutely loves my lasagna.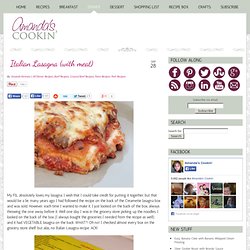 I wish that I could take credit for putting it together, but that would be a lie. many years ago I had followed the recipe on the back of the Creamette lasagna box and was sold. However, each time I wanted to make it, I just looked on the back of the box, always throwing the one away before it. Well one day I was in the grocery store picking up the noodles. I looked on the back of the box (I always bought the groceries I needed from the recipe as well) and it had VEGETABLE lasagna on the back.
Creamy Shrimp and Mushroom Pasta. October 18th, 2008 by katie I love this recipe.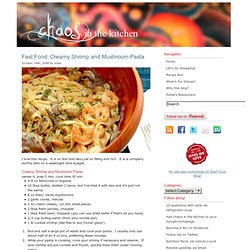 It is so fast and easy yet so filling and rich. It is a company worthy dish on a weeknight time budget. 4-8 oz fettuccine or linguine10 tbsp butter, divided (I know, but I've tried it with less and it's just not the same)8 oz fresh, sliced mushrooms2 garlic cloves, minced3 oz cream cheese, cut into small pieces2 tbsp fresh parsley, chopped1 tbsp fresh basil, chopped (you can use dried herbs if that's all you have)2/3 cup boiling water (from your noodle pot)1 lb cooked shrimp (feel free to buy frozen-gasp!)
Boil and salt a large pot of water and cook your pasta. Sausage Penne in Mustard Cream Sauce. A friend made this for dinner (well, actually her husband did) when I visited their London flat a couple of years ago.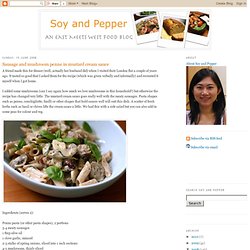 It tasted so good that I asked them for the recipe (which was given verbally and informally) and recreated it myself when I got home. I added some mushrooms (can I say again how much we love mushrooms in this household?) Penne with Creamy Vodka Tomato Sauce. As you have probably noticed, I am a huge fan of Patricia Wells and her recipes.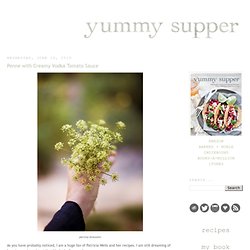 I am still dreaming of her cherry almond tart that I baked a few weeks ago. When P and I first lived together in an adorable garden cottage in Kensington, we cooked from Trattoria more than any other source. With Wells' recipes, we christened our newly acquired domestic tools: knives, dishes, and pots and pans.
---