Italian
Party Food! Pizza in a Bite. October 20th, 2008 by katie Getting together to watch a game?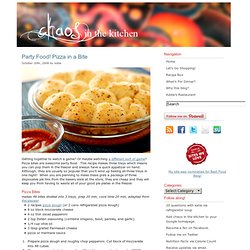 Or maybe watching a different sort of game? Pizza bites are awesome party food. This recipe makes three trays which means you can pop them in the freezer and always have a quick appetizer on hand. Mini Pizza's. Sometimes I buy the store-made pizza dough but instead of using it to make one big pizza out of it, I prefer to use it to make mini pizza's as a snack.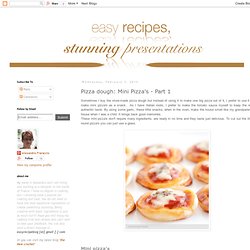 As I have Italian roots, I prefer to make the tomato sauce myself to keep the real authentic taste. By using some garlic, these little snacks, when in the oven, make the house smell like my grandparents house when I was a child. It brings back good memories. These mini pizza's don't require many ingredients, are ready in no time and they taste just delicious.
Muffin Shaped Calzone. In the continuation of my attempts with homemade pizza dough, I made for daughters and me a muffin shaped calzone.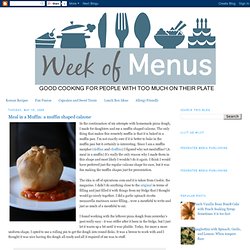 The only thing that makes this remotely muffin is that it is baked in a muffin pan. I'm not exactly sure if it is better to bake in the muffin pan but it certainly is interesting.
---