Covering
2tec2 | High Tech Flooring
Limited Edition | Fashion for floors
STEPEVI
STEPEVI
Index
BOLON - World leader in woven vinyl flooring
expert in synthetic applications
Floor To Heaven.com
zillydesign
Van Besouw Tapijt B.V. - Nederlands
Tajima Europe - Language Select
Société Européenne de Systèmes Optiques
Porcelaingres: Unglazed Porcelain Tile - Wall Tiles and Flooring
Parador bietet Premium-Produkte für wertvolles Wohnen. - Parador
nanimarquina ‹ Rugs and design articles from Barcelona. Welcome
Moso Bamboo - MOSO International BV
modulyss®
Mafi Parkett - Holzboden natur Landhausdiele geölt
LSI Floors, Beautiful, slip-resistant and durable floors
Contemporary rug art by Jan Kath
Welkom
I-AND-I
Hullebusch - blikvangers
Gibbon Group : Tretford Carpet | DESSO Business Carpets | Ambro Luminate | Metropol Carpet | Sallee Luxury Carpets |
Forbo >
Fletco Carpets / Fletco Carpet Tiles: Your selection
Estillon is dé totaalaanbieder van ondertapijt, ondervloeren en tapijt installatie accessoires.
Handcrafted Solid Wood Floors | Ebony and Co
Dinesen Trægulve - Dinesen Wood Floors - Dinesen Dielenboden - Dinesen Tregulv
Veneer flooring with a thin layer of real wood - PAR-KY
Casalis Carpets, all hand produced design carpets
Welkom - Carrières du Hainaut
BSW - Berleburger Schaumstoffwerk
Bruno spa - I migliori Parquet dal 1929
Bergo Flooring
ASHA CARPETS - Fine Art For Your Floor
Global Sites | Europe
Anker bietet exklusiven Teppichboden und Auslegeware | Anker-Teppichboden
Architectural Systems Inc.
Do you want a terrace with the natural look of wood & the low maintenance of PVC? Deceuninck decking combines the benefits of wood with the unique properties of PVC. By combining the natural look of wood and the low maintenance of PVC into a single new base material, our Twinson outdoor flooring solutions meet all the comfort demands you can make of your patio planks. This eco decking will transform both the appearance and performance of your terrace. Are you looking for an ecological terrace? The innovative, PEFC-certified Twinson decking is slip resistant and shatterproof.
Twinson - Deceuninck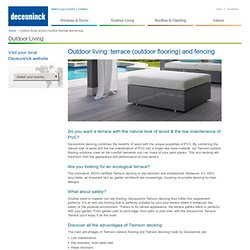 Almedahls