Langage
Tutorial - Learn Python in 10 minutes. NOTE: If you would like some Python development done, my company, Stochastic Technologies, is available for consulting.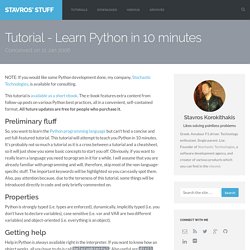 This tutorial is available as a short ebook. The e-book features extra content from follow-up posts on various Python best practices, all in a convenient, self-contained format. All future updates are free for people who purchase it. Fqblanc1. Oserais-je dire que le blanc est, en typographie, plus important que le noir ?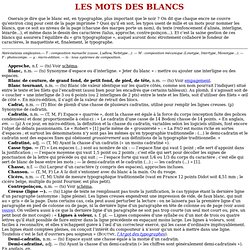 On dit que chaque encre ne couvre qu'environ cinq pour cent de la page imprimée ? Quoi qu'il en soit, les typos usent de mille et un mots pour nommer les blancs, que ce soit au niveau de la page (chacune des marges porte un nom), du texte (renfoncement d'alinéa, interligne, lézarde...), et même dans le dessin des caractères (talus, approche, contre-poinçon...). Et c'est la saine gestion de ces blancs qui assurera l'équilibre du « gris typographique », auquel auront donc étroitement collaboré le fondeur de caractères, le maquettiste et, finalement, le typographe. Abréviations employées.— T : composition manuelle (casse, Ludlow, Nebitype...). — M : composition mécanique (Linotype, Intertype, Monotype...). — F : photocompo. — µ : micro-édition. — ts : tous systèmes de composition. Approche, n.f. — (ts) Voir schéma.
And all that sort of thing.
Typo
---