Organizing
Have you ever purchased or sold anything on Craigslist ? If not, let me fill you in on what you're missing. It's like the ultimate online garage sale!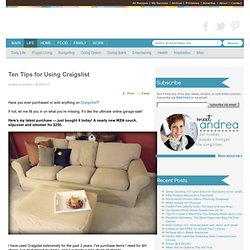 Ten Tips for Using Craigslist
Free Downloads
Are you looking to simplify and organize your life? Choose from a variety of FREE planning forms below. You can download each form individually by clicking on the form's name, or you can download all the forms in one category as a single file by clicking on the Master List beneath the heading.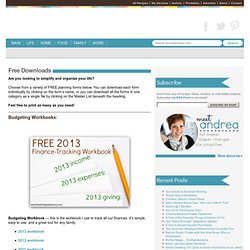 Track Your Finances
It's Day #3 of my "11 in 2011 Challenge" — and this goal is one of my favorites! How many times have you been told to "Create a budget"? You know you SHOULD create a budget…but have you ever actually taken the time to make one? And even if you have a budget, do you use it and stick to it? If you answered "no" to either of those questions, chances are you either hate budgets , or you don't know where to start…right? If you fall into the "hate budgets" category, there's really not much I can do for you.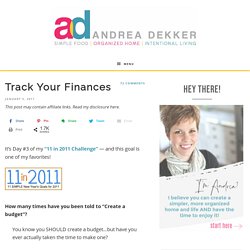 I've always thought it was/is really important to create a financial budget and implement limits for yourself as to what you will and will not spend money on. However, over the last few years, I've also realized how important it is to decide what you will and will not spend your time on — so I created a "time budget". This might be a foreign concept for some, but I'm convinced that a time budget is one of the best ways to stay focused, limit distractions, and get more done. What is a Time Budget? Don't worry, it's NOT fancy… I don't even have a fun spreadsheet like my financial budget !
My Time Budget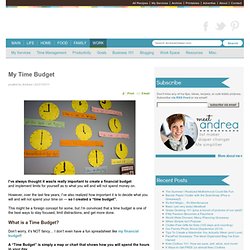 source & source About two months ago, I won a $100 American Express gift card from an affiliate program I'm involved in. Yes, I've won things before, but they were always "things"… not cold hard cash! Need-less-to-say, I was pretty excited! When the card came in the mail, my initial thought was, I could probably buy 3 – 4 weeks worth of groceries with this… But then I thought, NO — I'm not spending this gift on groceries, gas, utility bills, or any of our other boring monthly expenses.
Do You Have "Fun Money"?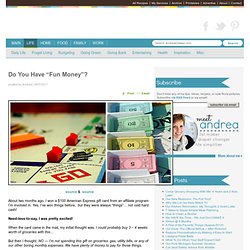 Life...Your Way Printables — Personalized Solutions for Intentional Living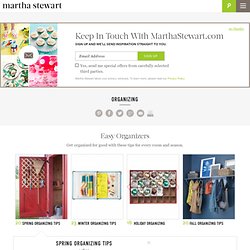 Organizing: Winter Organizing Tips - Martha Stewart
Keep sewing machine gears dust-free with a good-looking tea towel cover. Choose a cloth large enough to just drape over the machine; if it's too big, trim and hem it to fit. Next, cut four 14-inch pieces of cotton twill tape. Sew a double 1/4-inch hem at one end of each. Fold over the opposite ends 1/2 inch, and pin them to the cloth so that when the cover is on the machine, the ties line up on both sides; stitch ties in place.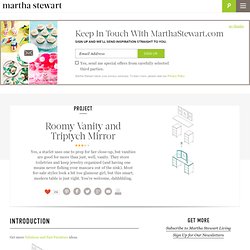 Roomy Vanity Yes, a starlet uses one to prep for her close-up, but vanities are good for more than just, well, vanity. They store toiletries and keep jewelry organized (and having one means never fishing your mascara out of the sink). Most for-sale styles look a bit too glamour girl, but this smart, modern table is just right. You're welcome, dahhhhling.
Roomy Vanity and Triptych Mirror - Martha Stewart DIY Decorating
Young crafters will always make workrooms of their bedrooms, and of the rest of the house as well, for that matter. With a little imagination and work, you can make a bedroom for your child that strikes the right balance between creativity and chaos; one that lets a child's imagination take wing. Canopy How-To Fabric quantity depends on bed size and whether the canopy will touch the floor. For a twin bed, use four 8-foot-long pieces of 45-inch-wide cotton voile. 1.
Craft Dreamroom - Martha Stewart Crafts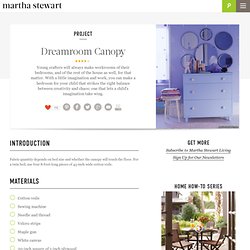 Home Smarts: Save Space in Bedrooms and Living Areas - Martha Stewart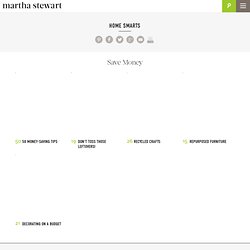 A hutch or sideboard can be quickly retrofitted to accommodate all your office essentials. Silverware caddies, painted to match the hutch's exterior, organize pens, scissors, and a stapler and can be carried to the table when needed. A pull-out shelf made with drawer glide hardware ensures hassle-free access to the laptop and printer. Cords are kept out of sight by a concealed surge protector (situated behind the computer).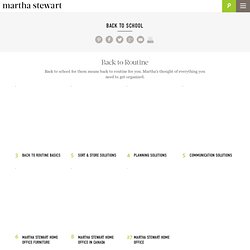 Back to School: Cool Kid's Room Ideas - Martha Stewart
Magnetic bulletin boards are handy, but the color options are limited. Make your own and you can match the powder blue of a child's room. First, paint a prestretched artist's canvas.
Bedroom and Bathroom Decorating: Bedroom Organization Tricks - Martha Stewart
Orphaned teacups and saucers are perfect vessels for sorting jewelry, and, when arranged in a velvet-lined drawer, they give you an easy-to-scan bird's-eye view of your bijoux. To set it up, measure the height of the drawer's side (not the front), then gather dishware that's slightly shorter. Line the drawer with velvet or felt to prevent rattling and sliding, then position the porcelain.
Office in a Chest - Martha Stewart Home & Garden
Transform a traditional piece of bedroom furniture into a multitasking mini office, complete with bulletin board and filing cabinet. You'll have easy access to all your essentials -- and be able to tuck them away at a moment's notice. It requires only minimal construction to reconfigure a chest.
Home Smarts: Repurposed Furniture and Decor - Martha Stewart
Garage sale, tag sale, yard sale--whatever you call it, the garage or yard sale is part and parcel of the American way of life. On sunny weekend mornings, slow-moving cars ("I brake for yard sales!") circle suburban neighborhoods as their occupants hunt baby toys and panini makers, auto parts and cocktail shakers. If you're in active declutter mode, the next stop is your house! A yard sale can clear clutter and score some cash, but it helps to have a road map. Getting organized for a garage sale can mean more money and less stress.
Garage Sale Tips: Clear Clutter With A Yard Sale
Get Organized
Face it: it's January. Dreary weather is matched only by the dreariness of a house stripped of holiday decorations. Children slog through the great dull stretch between New Year's Day and Spring Break, no longer distracted from their schoolwork by the excitements of the holiday season. December's crowded calendar gives way to January's social slump. Video rentals soar as comfy sweats replace dress clothes on Saturday nights. Take heart!
Ready to cut clutter on the homefront--but not sure where to start? Standing amid the stacks and piles, it can be hard to find a good spot to dive in and begin. Too often, de-clutter efforts fizzle along with the light of day.
Declutter 101: Where Do I Start?