Nummeh
.1. Be a Better Chef! / Cookie Dough Dip Recipe--- That's right, I said COOKIE DOUGH DIP!!! Sounds like awesome in a bowl! Savory Food / southwestern eggrolls with avocado ranch. Good food :) / grilled macaroni & cheese sandwich. Appetizers / Ham & Cheese Pretzel Bites. Food and Drinks / Gummy Bears soaked in Vodka - easier and better than jello shots! Party Food Ideas / Bacon-Cheddar Pinwheels. Earthquake Cake - Two Versions. PHOTO COURTESY OF HILARY Earthquake Cake One 2/3 cup shredded coconut 2/3 cup pecans -- chopped 2/3 cup chocolate chips 1 box German chocolate cake mix 8 ounces cream cheese 1/4 pound butter -- at room temperature 1 pound powdered sugar Sprinkle the coconut, pecans and chocolate chips over the bottom of a greased 9 X 12 inch cake pan.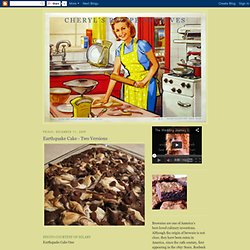 Prepare the cake, following the package directions, then pour batter into prepared pan. Foodgasm / Cheesecake-filled chocolate covered strawberries. So easy to make! Perfect for parties/holidays. Paper Coterie Review & Giveaway (US & Can) Watermelon cake pop with chocolate chips for seeds (!!) and flower cake pop. Desserts / Cookie Cups. Gotta try this / Freeze green grapes to keep white wine cold and to make a pretty presentation for guests. Bowl of Worms Anyone? Create tasty, edible worms.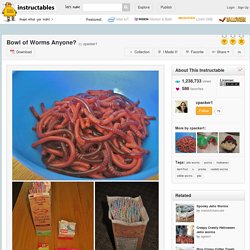 This recipe is simple and great for Halloween, April Fool's, or anytime you feel like snacking on wormy goodness! If you can make jello, then you can make these cool looking worms. Ingredients 2 packs (3 oz) Raspberry jello 1 pkg unflavored gelatin (for extra firmness) 3/4 cup whipping cream 3 cups boiling water 15 drops green food coloring 100 flexible straws (or enough to fill your container) Tall container (1 quart or 1 liter carton of milk) Directions 1) Combine gelatin in bowl and add boiling water. 2) Let it cool to lukewarm and then add the whipping cream and 15 drops green food coloring. Creamy Blackberry Frozen Yogurt.
Summer has been so good to us this year.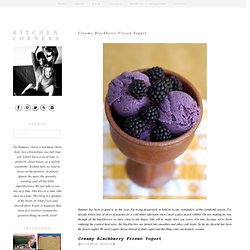 I'm trying desperately to hold on to any remainders of this wonderful season. I've already frozen tons of slices of peaches for a cold winter afternoon when I need a juicy peach cobbler. I'm now making my way through all the blackberries we have close to our house. Jam will be made, don't you worry. For My Sweet Tooth / Three eggless cookie dough recipes... made specifically for eating raw :) Food Glorious Food / Oven Baked Parmesan Seasoned Fries.
Yummy / pink chocolate chip cookies. Yummiest / Cucumber Cups Stuffed with Spicy Crab. Valentine's Day Hack: Make heart-shaped cupcakes with a regular tin. Nom nom nom / Oreo Cheesecake Cupcakes. My husband would die.
---