Nummeh
.1. Be a Better Chef! / Cookie Dough Dip Recipe--- That's right, I said COOKIE DOUGH DIP!!! Sounds like awesome in a bowl!
Savory Food / southwestern eggrolls with avocado ranch
good food :) / grilled macaroni & cheese sandwich
Appetizers / Ham & Cheese Pretzel Bites
Food and Drinks / Gummy Bears soaked in Vodka - easier and better than jello shots!
Party Food Ideas / Bacon-Cheddar Pinwheels
PHOTO COURTESY OF HILARY Earthquake Cake One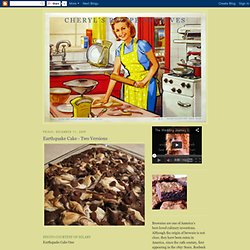 Earthquake Cake - Two Versions
foodgasm / Cheesecake-filled chocolate covered strawberries. So easy to make! Perfect for parties/holidays.
Paper Coterie Review & Giveaway (US & Can)
Watermelon cake pop with chocolate chips for seeds (!!) and flower cake pop
Desserts / Cookie Cups
gotta try this / Freeze green grapes to keep white wine cold and to make a pretty presentation for guests
Bowl of Worms Anyone?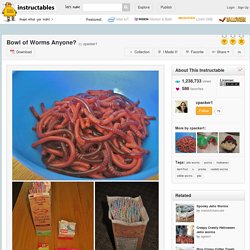 Create tasty, edible worms. This recipe is simple and great for Halloween, April Fool's, or anytime you feel like snacking on wormy goodness!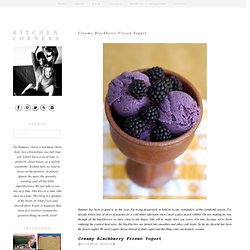 Summer has been so good to us this year.
For My Sweet Tooth / Three eggless cookie dough recipes... made specifically for eating raw :)
Food Glorious Food / Oven Baked Parmesan Seasoned Fries
Yummy / pink chocolate chip cookies
Yummiest / Cucumber Cups Stuffed with Spicy Crab
Valentine's Day Hack: Make heart-shaped cupcakes with a regular tin
Nom nom nom / Oreo Cheesecake Cupcakes. My husband would die.