Clay shtuff
How To Make A Quick Clay Owl: A Variation. Start with a small ball of Model Magic or clay.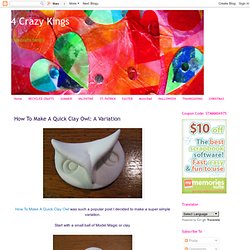 Flatten with your palm. Loosely fold in half. Pinch with your thumb and pointer finger. Gently pull up ears. Shape and pinch. Rubber Stamping on Polymer Clay 1. There are a number of polymer clays available, Fimo being the easiest to get in Britain (where I live).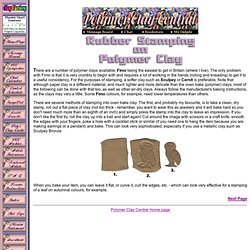 The only problem with Fimo is that it is very crumbly to begin with and requires a lot of working in the hands (rolling and kneading) to get it to a useful consistency. For the purposes of stamping, a softer clay such as Sculpey or Cernit is preferable. Note that although paper clay is a different material, and much lighter and more delicate than the oven bake (polymer) clays, most of the following can be done with that too, as well as other air-dry clays. Polymer Clay Stamps. Make Your Own Stamps out of Polymer Clay If there's a favorite design or word you like to carve or put into your clay, or if there's one you'd like to, but you can't find the rubber stamp for it (or you can't afford the stamp for it!)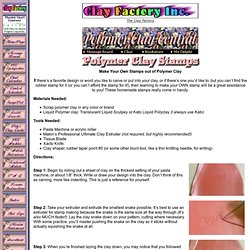 , then learning to make your OWN stamp will be a great assistance to you! These homemade stamps really come in handy. Materials Needed: Scrap polymer clay in any color or brand Liquid Polymer clay: Translucent Liquid Sculpey or Kato Liquid Polyclay (I always use Kato) Tools Needed: Pasta Machine or acrylic roller Makin's Professional Ultimate Clay Extruder (not required, but highly recommended!) Clay Projects - how to articles from wikiHow. How to Make Clay Dice: 8 steps (with pictures) Edit Article Edited by Y L, Nicole Willson, Zack, Flickety and 21 others Making your own clay dice to play games with is easy and fun for all ages.
All you will need is some clay, the ability to bake the dice, and a tool for making the number holes (dots). Follow these easy instructions to make a quick and fun creation. How to Animate Clay. Edit Article Edited by Krystle C., Jack Herrick, Ben Rubenstein, Josh W. and 44 others Clay animation is an obscure yet amazing art form.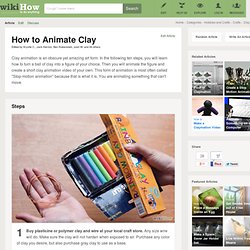 In the following ten steps, you will learn how to turn a ball of clay into a figure of your choice. PCC Clay Featured Artists - Sue Heaser's Victorian Birdcage 1. Equipment:A board to work on.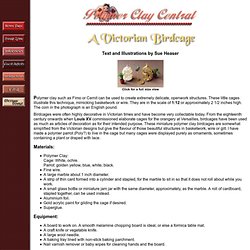 A smooth melamine chopping board is ideal, or else a formica table mat. A craft knife or vegetable knife. A large wool needle. A baking tray lined with non-stick baking parchment. Clay and Wire Earrings 1. Pamela's Rainstick. Materials: Strong, flexible clay (suggested brands: Premo, Kato or Fimo).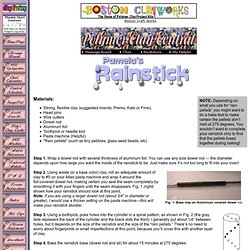 Head pins Wire cutters Dowel rod Aluminum foil Toothpick or needle tool Pasta machine (Helpful) "Rain pellets" (such as tiny pebbles, glass seed beads, etc) Step 1. Wrap a dowel rod with several thickness of aluminum foil. You can use any size dowel rod — the diameter depends upon how large you want the inside of the rainstick to be. PCC Clay Featured Artists -Gannie Stone Cottage Lesson. Grannie was kind enough to offer her design for all to use, but please observe the COPYRIGHT.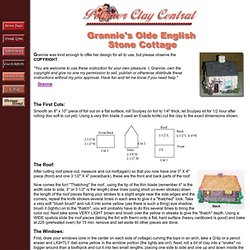 "You are welcome to use these instruction for your own pleasure. I, Grannie, own the copyright and give no one my permission to sell, publish or otherwise distribute these instructions without my prior approval. Millifiori and Organza Pendant. Here's a lovely project lesson from Marcia Tzigelnik.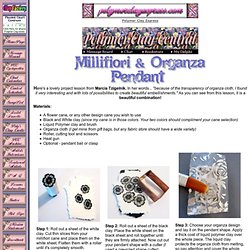 In her words... "because of the transparency of organza cloth, I found it very interesting and with lots of possibilities to create beautiful embellishments. " As you can see from this lesson, it is a beautiful combination! Materials: Clay Flower Hairpins. Umm, hairclips v. hairpins - oops, but I don't want to re-edit the picture, so it'll just say hairclips, but I mean hairpins - oh well.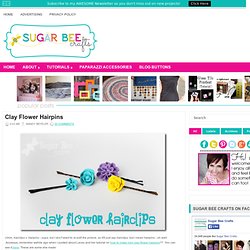 Anyways, remember awhile ago when I posted about Lacey and her tutorial on how to make mini clay flower hairpins?? You can see it here. These are some she made: Well, I finally got around to making some myself - wahoo! Polymer Clay Projects Kits - unique projects, fun, inexpensive. Kaleidoscopes and pen supplies too!! Polymer Clay Projects Kits - unique projects, fun, inexpensive. Kaleidoscopes and pen supplies too!! Don't let your purse dangle behind you on the back of a chair! Have it right in front of you, securely hung off the ground. Why take chances slinging your bag on the bag of a chair – they always end up on the floor, or susceptible to theft. Don't forget to order drawstring pouches to hold the hanger and carry with you everywhere! Polymer Clay Projects Kits - unique projects, fun, inexpensive. Kaleidoscopes and pen supplies too!! Polymer Clay Projects Kits - unique projects, fun, inexpensive. Kaleidoscopes and pen supplies too!! Valentine Heart Candy.
"When I was a little girl I used to go through entire bags of heart candies, looking for those hearts with those special sayings that were perfect for my prospective valentines. Now that I've been playing with polymer clay, I can make my own hearts that say just what I want them to! It's easy and fun and I hope you'll enjoy it as much as I have. One word of catuion, though - these look very realistic! How to Make a Dinko Skull. Grape Vine Candle Ring. Here's a lovely project lesson from Gwen Baker that utilizes the new Studio by Sculpey© clay, as well as some of their accessories. As can be seen below, Gwen has created a beautiful decoration, and she now shares her ideas for all to enjoy. Materials: 6 Inch Mirror Studio by Sculpey clay: 1 bar each Iris, Clover, and Nutmeg Studio by Sculpey tools and accessories: Basic Tool Kit or Style and Detail Set Optional: Warm White stain or Brown antiquing medium.
Studio by Sculpey Leaf Set II - Medium Ivy Texture Maker and Shape Maker Instructions: Preheat your oven to 275º. PCC Card Couch Lesson. Here are some fun clay "couches" I've been making out of scrap clay, then covering with canes. I'm actually a psychologist in my "spare" time (although I have to say I spend way more time thinking about clay) and thought it would be funny to have a business card holder that looks like a couch!
Also it drives me crazy to waste so much clay when caning, so these are great for using up all those odds and ends. Hope you like 'em! Materials: TLS Fairie Wings. Step 1: Measure and cut two pieces of wire 3 inches long, and two pieces 2 inches long. Step 2: Take one the wires and bend it in half so the two ends meet. Take the ends and twist them together, forming a loop out of the wire. Dainty Angel Project. Sue Heaser's Ornamental Trees 1. TrueLeigh Rose Cane 1. The Polymer Clayspot | Seven Petaled Rose. Ziggy's Pinch Bottles 1. PCC Instructions - Sue Heaser's Fantasy Fairies. Christmas Baby by Jacqueline van Hesse-Penning. Polymer Clay Central Master Index. Water Tattoos and Polymer Clay. Faux Scrimshaw.
---