Beautystuff
5 Natural Beauty Fixes From Around The World | Care, Tips, Organic Beauty for Skin, Skincare, Make Up, Pregnancy | Endless Beauty Media. Five Beauty Tricks to Do with a Toothbrush - DivineCaroline - StumbleUpon. Beauty magazines love to tell readers about all the high-tech tools that one simply must have in one's makeup bag.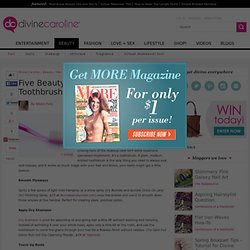 Lash separators, blending spatulas, and cuticle scissors may come in handy sometimes, but it's natural to want something a little more multipurpose. The hardest-working, most versatile, and most sorely unsung hero of the makeup case isn't some expensive specialized implement; it's a toothbrush. A plain, medium-bristled toothbrush is the only thing you need to always look well-tressed, and it works so much magic with your hair and brows, your teeth might get a little jealous. Classic Must Haves In Your Beauty Kit: Revealing The Top 10 Best Beauty Products Of All Time | Skin Care Beauty Zone.
92.1K Flares92.1K Flares × When the little black dress was first debuted by designer Coco Chanel way back in the 1920′s, it became an instant classic which ruled the runway up until now.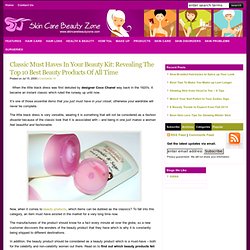 It's one of those essential items that you just must have in your closet, otherwise your wardrobe will never be complete. Ten Amazing Things You Can Do With Coconut Oil - Health - GOOD - StumbleUpon. If you've read No More Dirty Looks, or our blog, you know my co-author Alexandra and I are fond of oils, and coconut oil in particular because it's an amazing and cost-saving multitasker that has lots of qualities to recommend it.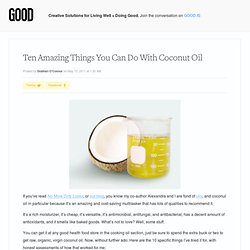 It's a rich moisturizer, it's cheap, it's versatile, it's antimicrobial, antifungal, and antibacterial, has a decent amount of antioxidants, and it smells like baked goods. What's not to love? Well, some stuff. Shampoo Recipe - Make Your Own Shampoo - Natural Shampoo - The Daily Green - StumbleUpon. "If you want to gather honey, don't kick over the beehive.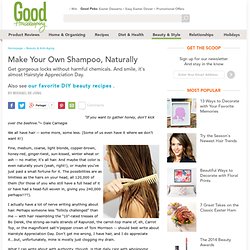 "~ Dale Carnegie. Jamaica: Ditch the Blow-Dryer - 50 Best Hair Tips From Around the World - Inside Beauty - Beauty. Darken & Shape Your Eyebrows - New, Innovative and Simple Eyebrows Solution - StumbleUpon. How to: pore strips - StumbleUpon. You know those Biore pore strips you buy at the drugstore for about $12 a pop? Yeah, those. Today I'm going to teach you how to make your own homemade pore strips. Henna Bee - Home. How To Put Your Hair Up In A Cute Bun | Guide « Wonder How To - StumbleUpon. Comb your hair carefully to eliminate any tangles or knots.Take some hair from the top of your head. 3.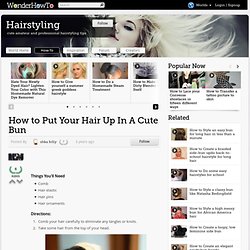 Tie off this hair with a hair elastic. 4. Don't pull off the ends. 5. How to Make Your Own Beauty Products from Scratch - Health - GOOD - StumbleUpon. Let's keep things simple this week.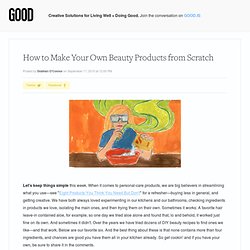 When it comes to personal-care products, we are big believers in streamlining what you use—see "Eight Products You Think You Need But Don't" for a refresher—buying less in general, and getting creative. We have both always loved experimenting in our kitchens and our bathrooms, checking ingredients in products we love, isolating the main ones, and then trying them on their own. Sometimes it works: A favorite hair leave-in contained aloe, for example, so one day we tried aloe alone and found that, lo and behold, it worked just fine on its own. And sometimes it didn't. Over the years we have tried dozens of DIY beauty recipes to find ones we like—and that work. Out of the ordinary Beauty Tips that work | Cher Cabulas Mindbox - StumbleUpon. Use toothpaste on yellow nails.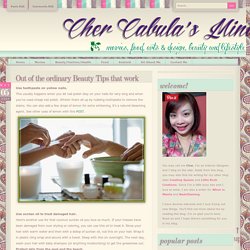 This usually happens when you let nail polish stay on your nails for very long and when you've used cheap nail polish. Whiten them all up by rubbing toothpaste to remove the stains. You can also add a few drops of lemon for extra whitening, it's a natural bleaching agent. See other uses of lemon with this POST. Use suntan oil to treat damaged hair. Skin Care Tip Of The Week *DIY rose water toner* - StumbleUpon. This weeks skin care DIY is one of my favorites!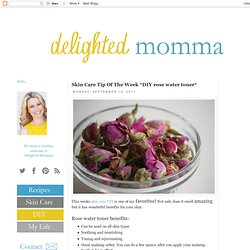 Not only does it smell amazing but it has wonderful benefits for your skin. Rose water toner benefits: Can be used on all skin typesSoothing and nourishingToning and rejuvenatingGreat makeup setter.
---