Outils
ABBYY
The Free Software Directory is a catalog of useful free software that runs under free operating systems. FSF staff and volunteers work together to collect detailed information about free software programs and organize it in a clear and accessible format. Free software is a matter of liberty, not price. Think of "free" as in "free speech," not as in "free beer." Free software is a matter of the users' freedom to run, copy, distribute, study, change and improve the software. Contribute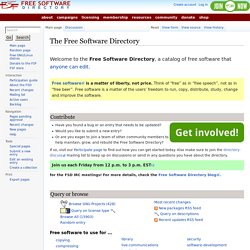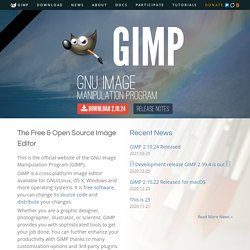 GIMP is the GNU Image Manipulation Program. It is a freely distributed piece of software for such tasks as photo retouching, image composition and image authoring. It works on many operating systems, in many languages. (more...) This is the official GIMP web site. It contains information about downloading, installing, using, and enhancing it.
QuickTime
AutoStitch works from unordered collections of images, automatically finding matches between images using the SIFT algorithm. It then robustly aligns all images and uses advanced blending algorithms to form seamless panoramas (see below). For more details, see our research papers. 25 of 57 images aligned All 57 images aligned Final Result
AutoStitch
BS Player
BS.Player - the best multimedia player (DivX, HD and AVC video, movie, audio, DVD, YouTube) in the world! BS.Player ™ is used by more than 70 million multi media users throughout the world and it has been translated into more than 90 languages worldwide. All downloaded versions of our FREE version exceed the sum of all downloads of competitive media players and payable DivX or DVD players. Because it does not use much of the CPU processing resources for multimedia playback it is suitable for all those who use slightly less capable computers. Now, you can finally enjoy the playback of HD DVD and AVCHD movies of the highest quality with minimal system requirements. BS.Player can playback any YouTube movie directly from the internet and save it to local disk.