3D Modeling
Pixarra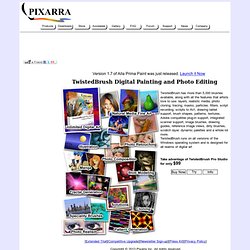 Get the <a href="http://www.widgetbox.com/widget/twistedbrush-competition-winners">TwistedBrush Competition Winners</a> widget and many other <a href="http://www.widgetbox.com/">great free widgets</a> at <a href="http://www.widgetbox.com">Widgetbox</a>! Not seeing a widget? (<a href="http://support.widgetbox.com/">More info</a>) TwistedBrush has more than 5,000 brushes available, along with all the features that artists love to use: layers, realistic media, photo cloning, tracing, masks, particles, filters, script recording, scripts to AVI, drawing tablet support, brush shapes, patterns, textures, Adobe compatible plug-in support, integrated scanner support, image brushes, drawing guides, reference image views, dirty brushes, scratch layer, dynamic palettes and a whole lot more. TwistedBrush runs on all versions of the Windows operating system and is designed for all realms of digital art
Quixel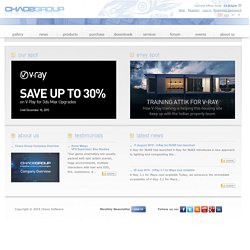 Chaos Group General Overview testimonials Chaos Group Company Overview Matthew ValeroFounder, Valero Studio V-Ray is the best rendering engine for SketchUp on the market today. High polygon proxies, RT rendering, and incredible accuracy at rapid speeds - sim...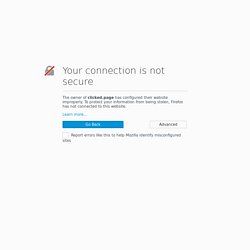 Buy Every Texture Buy every texture on this website for only $33. Bulk Downloading Please don't try to download every texture, our server will automatically block you. The download limit is 20 textures every day (per IP address - you may be sharing this with others). If you need lots of textures, please buy them. Questions
Top 20 developers in 2013 To salute and applaud the developers: here's a 2013 top-20 Blender developers page. Plans for 2014-2015 With the high quality demands users expect nowadays it's needed to involve more full-time developers. This will be made possible by supporting a new and massive feature film project – Project Gooseberry.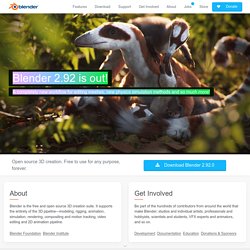 Free 3D Models
An introduction to Indigo Renderer Indigo Renderer is an unbiased, physically based and photorealistic renderer which simulates the physics of light to achieve near-perfect image realism. With an advanced physical camera model, a super-realistic materials system and the ability to simulate complex lighting situations through Metropolis Light Transport, Indigo Renderer is capable of producing the highest levels of realism demanded by architectural and product visualization. Learning more about Indigo