Web Design
76 Dirty, Extreme And Creative Free Grunge Fonts. 50 Fresh Free Fonts of 2010. Though there's a broad variety of fonts available for download online, designers keep on tracing the fresh ones to enhance their design copy, a website, brochure, or even an advertisement in a brand new an' awesome way.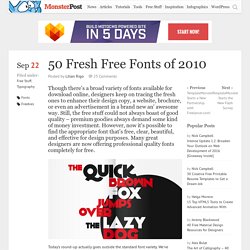 Still, the free stuff could not always boast of good quality – premium goodies always demand some kind of money investment. However, now it's possible to find the appropriate font that's free, clear, beautiful, and effective for design purposes. Many great designers are now offering professional quality fonts completely for free. Today's round-up actually goes outside the standard font variety.
20 Best Free Calligraphy Fonts for Download - OurTuts.com. 70 Professional Fonts For All Design Life Situations. Choosing the right fonts for your design is very important.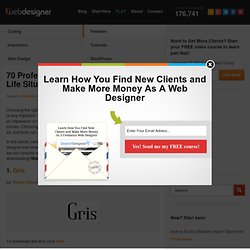 This gives your viewers an impression on what you promote or convey. Choosing of fonts can also be an art, and fonts can also be in style. In this article, I will give you the best fonts you can download and use to make your designs look clean, professional but stylish. The fonts you will see below are the fonts we can consider as clean, professional but stylish. Now, scroll down and enjoy downloading! Free CSS templates - Download Free CSS Templates. 50+ Pattern Sets To Spice Up Your Website's Background | Onextrapixel - S... Have you ever felt bored with the plain colored background on your website?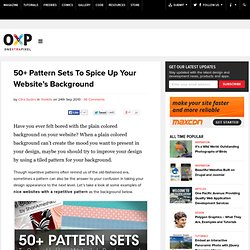 When a plain colored background can't create the mood you want to present in your design, maybe you should try to improve your design by using a tiled pattern for your background. Though repetitive patterns often remind us of the old-fashioned era, sometimes a pattern can also be the answer to your confusion in taking your design appearance to the next level. Let's take a look at some examples of nice websites with a repetitive pattern as the background below. Some Good Examples Kaleidoscope From Kaleidoscope website, we learn that a patterned background can be combined with some colorful elements and the result is still eye-catching.
Nice and Free CSS Templates. Freebies | Web Design Ledger. 599 shares 8 Must Have Free Fonts for your Designs Need some fresh fonts for your new projects?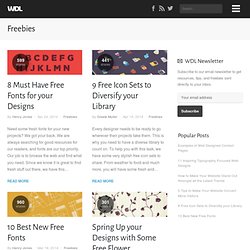 We got your back. We are always searching for good resources for our readers, and fonts are our top priority. Our job is to browse the web and find what you need.
---