Php
Certificados
GREG'S PLACE v4 : phpMyNewsletter. Présentation phpMyNewsletter est un script php de gestion de lettres d'information (Newsletter).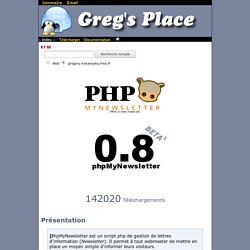 Il permet à tout webmaster de mettre en place un moyen simple d'informer leurs visiteurs. Fonctionnalités Simplicité d'utilisation. Plantillas de joomla 1.5. » 10 scripts para crear gráficas con Javascript, PHP, Flash, Java, ASP… Escrito por J.F. el Sunday, 15 de June del 2008 a las 12:10 Vamos a ver algunos scripts interesantes para crear gráficos, que utilizan Javascript, Flash, Actionscript y Java en un caso.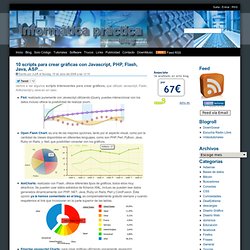 PHP Security Consortium: PHPSecInfo. What is it?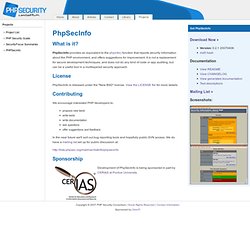 PhpSecInfo provides an equivalent to the phpinfo() function that reports security information about the PHP environment, and offers suggestions for improvement. It is not a replacement for secure development techniques, and does not do any kind of code or app auditing, but can be a useful tool in a multilayered security approach. License. CodeIgniter - Open source PHP web application framework. Symfony | Web PHP Framework. Web 2.0 & Online generators [100+] — ajaxflakes.com.
---