DIY paper
[free download] made with love
valentine's day isn't just for celebrating your sweetheart. let others know you love them too. a jar of chocolate chip cookies should do the trick. ;) and let them know those cookies were made with love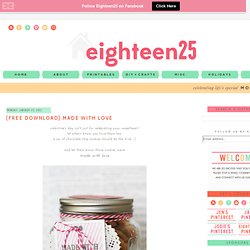 Sous la lame d'un cutter, de simples feuilles de papier blanc s'animent de décors ajourés à motifs végétaux très raffinés pour une déco de table printanière ! Le matériel 1 feuille A3 de papier blanc Une plaque de coupe Cutter de précision 1 crayon fin Adhésif repositionnable Poinçon Tapis en feutrine La réalisation
Je crée mes sets de table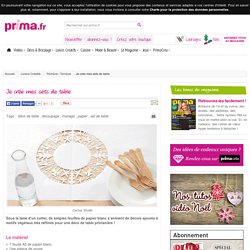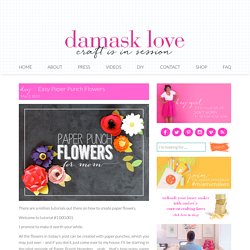 damask love | craft is in session
There are a million tutorials out there on how to create paper flowers. Welcome to tutorial #1,000,001. I promise to make it worth your while. All the flowers in today's post can be created with paper punches, which you may just own – and if you don't, just come over to my house.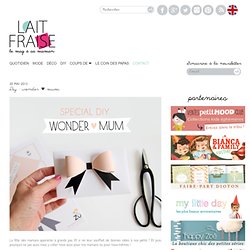 20 mai 2013 La fête des mamans approche à grands pas. Et si on leur soufflait de bonnes idées à nos petits ?
Diy : wonder ♥ mum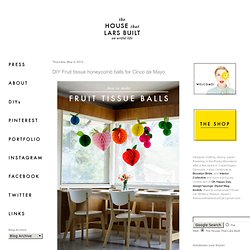 First thing, if you're reading this and you're in America and it's May 2nd at 9:15EST (or 10:15) turn it to NBC and watch yours truly vying to win the title of Best Hat on the Today Show Kentucky Derby contest. I guarantee an embarrassing flub with Al Roker. Do you remember my fruit balloons ? Well, I was at the darling shop Harmony on Center Street, Provo the other day (where I'm teaching a paper flower workshop on Saturday, May 11th. Sign up here ), and I was eyeing the honeycomb tissue hearts hanging up and all of a sudden it struck me: those hearts are strawberries!
: DIY Fruit tissue honeycomb balls for Cinco de Mayo
Home / Paper To Petal / 75 Whimsical Paper Flowers to Craft by Hand
Lollipop Flower Valentines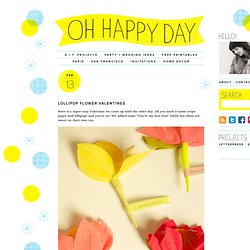 Feb 13 Here is a super easy Valentine we came up with the other day. All you need is some crepe paper and lollipops and you're set. We added some "You're my best bud" labels but these are sweet on their own too. Materials Needed: Crepe Paper, Glue, Scissors, Tape, Lollipops Step 1: Take a fold of crepe paper and cut out a stack of petal shapes with the paper grain going from top to bottom.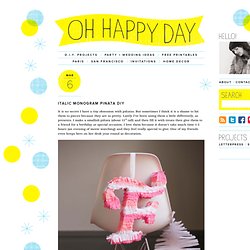 Mar 6 It is no secret I have a tiny obsession with piñatas. But sometimes I think it is a shame to hit them to pieces because they are so pretty.
Italic Monogram Pinata DIY
Bunny Ear Bags DIY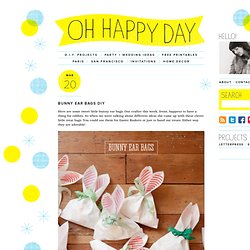 Mar 20 Here are some sweet little bunny ear bags. Our crafter this week, Irene, happens to have a thing for rabbits. So when we were talking about different ideas she came up with these clever little treat bags. You could use them for Easter Baskets or just to hand out treats.
DIY – Les petites banderoles
J'adore cette guirlande toute simple qui me rappelle les flocons de neige en papier de mon enfance.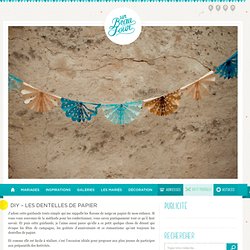 DIY – Les dentelles de papier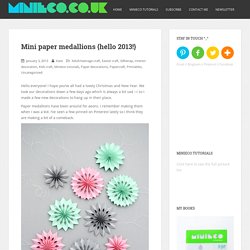 By Kate on January 3, 2013 H ello everyone!
Paper medallions
Ce kit à télécharger Un Beau Jour vous est proposé grâce à notre collaboration avec la maison Boucheron *.
DIY – L'écrin de vos alliances
Jeg har lavet nogle gavemærker, som du er velkommen til at downloade til julegaveindpakningen.
DIY gavemærker / DIY gift tags | minimega® designbureau
Ifølge Wikipedia er intensiteten af en overraskelse tæt forbundet med hvor meget man taber kæben, og hvor højt man løfter øjenbrynene.
DIY – Surprise Box/ Gaveæske | minimega® designbureau
Voilà un petit moment que l'idée d'une boîte qui évoque le chapiteau d'un cirque me trottait dans la tête pour y cacher des petites surprises à l'intention de ses invités. Mais il m'a fallu un moment avant de parvenir à dessiner une boîte qui fonctionne bien.
DIY – Le chapiteau de poche
Vellum Flower Cake DIY
Oct 3
Sparkle Power!: Hot Air Balloons
Tutorial on making the alphabet letters | Digitprop – Papercraft and Stuff
DIY cards with copper foil | How About Orange
Quick craft // DIY galaxy envelopes
Des berlingots maison
Des pyramides et des bonbons
Cocottes en papier
DIY Drink Umbrellas
DIY
Des enveloppes rigolotes | Mariages et babillages I Blog mariage
Pinwheel Party Favor DIY + Free Printable
Do It Yourself – Une boîte cadeau pour la fête des pères par MelleMarcel | Blog français d'Etsy
Elsa Mora: Tutorial about My Papercut on Polymer Clay Technique.
jige_blanc.pdf (Objet application/pdf)
Coquette: Hermes Jige Clasp - DIY Paper Craft
Coquette: DIY Paper Hermes Kelly Bag
Afternoon crafts
DIY Paper Flower Corsages
Photobooth Props Set #2 Free Printable
DIY Easy Crepe Paper Garland
DIY Fall Envelopes + Free Printable
Stamped Envelope Liners
Paper Calla Lilies DIY
The DIY Origami Heart Invitations are in the mail!
Kirigami... - Les demoizelles