rubyonrails
Get flash to fully experience Pearltrees
Bom, este post é uma tradução, adaptação e compactação do excelente tutorial de RoR que eu acabei de ler, para a versão original é só acessar este site . Quatro dias de Ruby On Rails – Primeiro dia
Bruno Ferrari, de INFO Online 9 de abril de 2009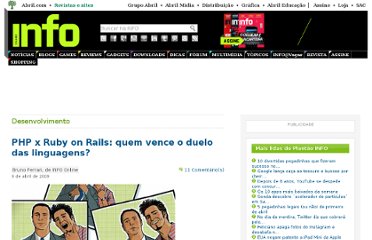 12 de março de 2007 às 19h20
NOTE to Reader: A Rails web application can run under virtually any web server. The Apache web server comes packaged with and is configured for use in the normal course of installing and configuring Instant Rails.
What a great September for Ruby On Rails.
Below is a list of all files of the project.