Lightbox
Slideshow
Popup. 10+ promising jQuery Lightbox-Clones Plugin | INSIC 2.0 Web Deve. 1. jQuery FancyZoom Orderlist develop a lighbox clone powered by jQuery.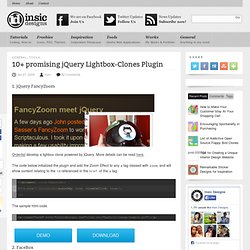 More details can be read here. The code below initialized the plugin and add the Zoom Effect to any a tag classed with zoom, and will show content relating to the id referenced in the href of the a tag. The sample html code. Lightbox Gone Wild Demo. Lightbox Gone Wild Demo This demo illustrates a few of the possibilities of available to a developer using Particletree's Lightbox Gone Wild Script.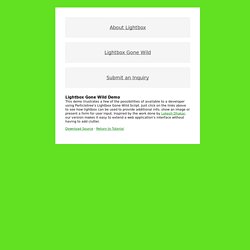 Just click on the links above to see how lightbox can be used to provide additional info, show an image or present a form for user input. Inspired by the work done by Lokesh Dhakar , our version makes it easy to extend a web application's interface without having to add clutter. Download Source · Return to Tutorial.
---