Fonts
TTF Titles
Pixel Fonts, Screen Fonts, Bitmap Font, LED Fonts, Download Free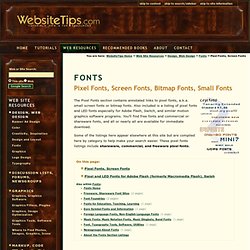 The Pixel Fonts section contains annotated links to pixel fonts, a.k.a. small screen fonts or bitmap fonts. Also included is a listing of pixel fonts and LED fonts especially for Adobe Flash, Switch, and similar motion graphics software programs. You'll find free fonts and commercial or shareware fonts, and all or nearly all are available for immediate download. Some of the listings here appear elsewhere at this site but are compiled here by category to help make your search easier.
Font Viewer - myFontbook.com
20 Awesome and Free Fonts for Web Designers (Serif Family) | Tut
If you are looking some awesome and exciting new fonts then your search ends here. In this post I'm sharing a bunch of some new and exciting fonts for web designers and desktop publishers (for printing). The following list covers most of Serif and Sans Serif family fonts like Serifan, Serifab, Serifat, Vaground, Bitstream Vera Serif, Stonsans, Bastardus Sans, Museo Sans, Ambrosia Demo etc. Serifan | Download Serifab | Download Serifat | Download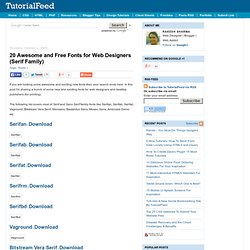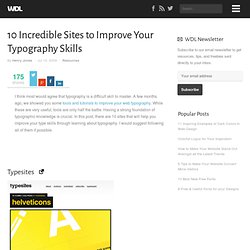 10 Incredible Sites to Improve Your Typography Skills | Web Desi
I think most would agree that typography is a difficult skill to master. A few months ago, we showed you some tools and tutorials to improve your web typography . While these are very useful, tools are only half the battle.
No matter you want to design a banner or logo, text effect is very important. Why? It is because a beautiful text effect on the banner or logo will attracts the visitor and also delivers a better message.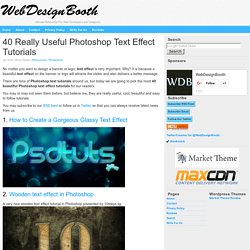 Top 10 Free Wallpaper, Fonts and Icon Sources - Downloads
ban comic sans :: Putting the Sans in Comic Sans
Free font - Rapidshare download
List of Web Safe Fonts - Font Tester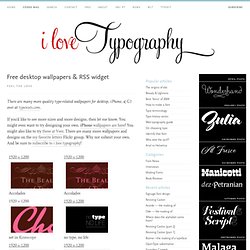 Feel the Love There are many more quality type-related wallpapers for desktop, iPhone, & G1 over at typenuts.com . If you'd like to see more sizes and more designs, then let me know. You might even want to try designing your own. iPhone wallpapers are here !
Typography desktop wallpapers. fonts on your desktop! | i love t
Beyond the Blue » Blog Archive » Tooltips #3 - The Basics of Typ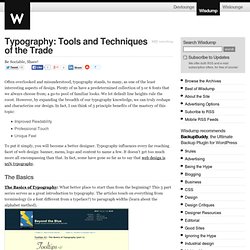 Typography: Tools and Techniques of the Trade
Be Sociable, Share! Often overlooked and misunderstood, typography stands, to many, as one of the least interesting aspects of design. Plenty of us have a predetermined collection of 5 or 6 fonts that we always choose from; a go-to pool of familiar looks. We let default line heights rule the roost.
Webdesign Javascript Wallpaper Icons Fonts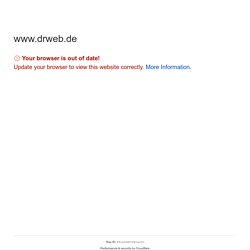 Web 2.0 Webdesign-Tutorials » Webdesign, Web 2.0
Motion Type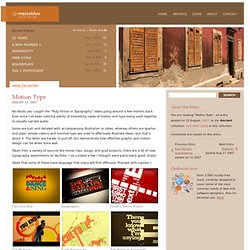 August 13, 2007 No doubt you caught the "Pulp Fiction in Typography" video going around a few months back. Ever since I've been noticing plenty of interesting cases of motion and type being used together to visually narrate audio. Some are lush and detailed with accompanying illustration or video, whereas others are spartan and plain; simple colours and minimal type are used to effectively illustrate ideas, and that's about it.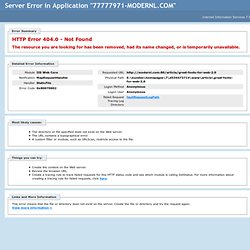 Posted in Design , Web 2.0 Tagged with: web2 , web , fonts , typography , typeface , design Fonts are an essential part of design - but there are thousands of fonts out there, so knowing which ones to use can be quite daunting. Here's a roundup of some fonts that have found popularity recently. American Typewriter is like Courier on steroids - More stylized, prettier - and great for that faux-typewriter effect. 43Things uses it well, and is a pleasant break from san serif fonts. Clarendon is another great serifed font (and, for those interested, is used by a certain antipodean lager ), and Web2.0 social web app site Ning uses it, complemented with a nice shade of green. Din Engschrift originates from German vehicle registration plates, but the clean condensed font is a popular choice amongst designers.
Information Architects Japan » Blog Archive » Web Design is 95%
by Oliver Reichenstein 95% of the information on the web is written language. It is only logical to say that a web designer should get good training in the main discipline of shaping written information, in other words: Typography. Back in 1969, Emil Ruder, a famous Swiss typographer, wrote on behalf of his contemporary print materials what we could easily say about our contemporary websites: Today we are inundated with such an immense flood of printed matter that the value of the individual work has depreciated, for our harassed contemporaries simply cannot take everything that is printed today. It is the typographer's task to divide up and organize and interpret this mass of printed matter in such a way that the reader will have a good chance of finding what is of interest to him.