Demo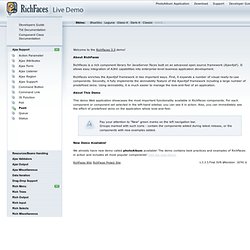 Welcome to the RichFaces 3.3 demo! About RichFaces RichFaces is a rich component library for JavaServer Faces built on an advanced open source framework (Ajax4jsf). It allows easy integration of AJAX capabilities into enterprise-level business application development. RichFaces enriches the Ajax4jsf framework in two important ways. First, it expands a number of visual ready-to-use components.
RichFaces - Open Source Rich JSF Components
try ruby! (in your browser)
Woopra
SExpand Windows only: Text substitution app Texter saves you countless keystrokes by replacing abbreviations with commonly used phrases you define. Unlike software-specific text replacement features, Texter runs in the Windows system tray and works in any application you're typing in. Texter can also set return-to markers for your cursor and insert clipboard contents into your replacement text, in addition to more advanced keyboard macros. Did we mention it's free? Hit the jump for a a quick video demonstration, a full feature rundown with screenshots, and the download link.