Lunch
Roast Pork & Provolone Sandwiches. Big Red Kitchen: White Castle-like Sliders: A How To. Long before Himself and children, my roommate Sara and I would make the trek to White Castle's for some sliders or Gut Busters as we liked to call them.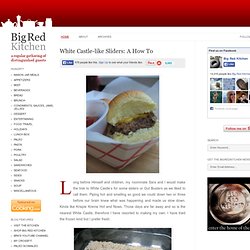 Piping hot and smelling so good we could down two or three before our brain knew what was happening and made us slow down. Kinda like Krispie Kreme Hot and Nows. Those days are far away and so is the nearest White Castle, therefore I have resorted to making my own. I have tried the frozen kind but I prefer fresh. Let's start. Healthy Baked Chicken Nuggets. Chunks of all white meat chicken breasts coated in breadcrumbs and parmesan cheese then baked until golden.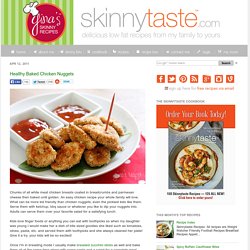 An easy chicken recipe your whole family will love. What can be more kid friendly than chicken nuggets, even the pickiest kids like them. Serve them with ketchup, bbq sauce or whatever you like to dip your nuggets into. Adults can serve them over your favorite salad for a satisfying lunch. 10 Braised Recipes For Weekend Cooking. Braising is one of those cooking techniques that once you try it, you'll wonder why you haven't attempted it sooner.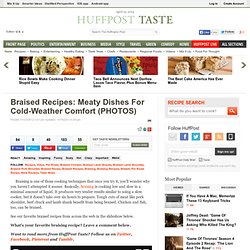 Basically, braising is cooking low and slow in a minimal amount of liquid. It produces very tender results similar to using a slow cooker, but it doesn't take over six hours to prepare. Elephantine: the baked mac and cheese. My favorite thing to eat, hands down, is noodles.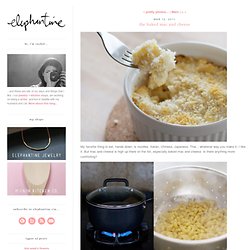 Italian, Chinese, Japanese, Thai... whatever way you make it, I like it. But mac and cheese is high up there on the list, especially baked mac and cheese. Is there anything more comforting? First things first: cook the pasta. I always sneak a few into my mouth after draining it. Bacon and Cheddar Macaroni & Cheese. 1 Bring a medium (6- to 8-quart) pot of water to a boil.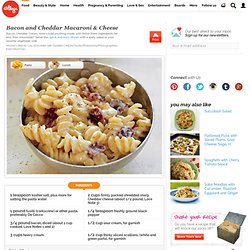 Salt it generously (it should taste like the sea). Stir in the pasta and cook according to the package directions. Rainy day gal » buffalo chicken mac and cheese.
---