UX
Apple's tongue-tied Siri faces 'Singlish' rival (AFP) – Oct 28, 2011 SINGAPORE — Singapore's SingTel has developed an application to rival the voice-activated Siri on the iPhone 4S that is sure to go down well in the island state -- because it can understand "Singlish". When Apple unveiled its latest handset earlier this month most of the talk was about Siri, which can give directions or even advice to users simply by asking a question into the speaker. However, since the new phone went on sale there have been numerous reports of Siri either responding with a completely irrelevant answer or simply saying it does not understand. YouTube videos of Siri misinterpreting the heavily accented words of iPhone 4S users in Japan -- the first Asian country to get the device on October 14 -- have been widely circulated on the Internet.
Apple's tongue-tied Siri faces 'Singlish' rival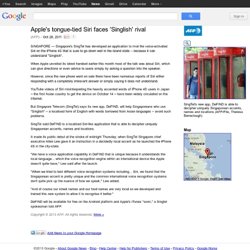 Easy user testing for any website.
With hundreds of thousands of new websites, products and services sprouting up every day, it's more important than ever to have an engaging and usable solution.
Hillcrest Labs
Sensory Acumen, Inc.
Movea - Motion is life