Sicmu
Liz Green sur MySpace Music - Ecoute gratuite de MP3, Photos et clips vidéos
villeneuve sur MySpace Music - Ecoute gratuite de MP3, Photos et clips vidéos
Ray LaMontagne sur MySpace Music - Ecoute gratuite de MP3, Photos et clips vidéos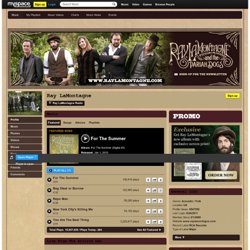 With his remarkable, rough hewn vocals and evocative, finely etched songs, Ray LaMontagne has, in but a few short years, become the rare artist of whom the world waits with to see what each new work will reveal. Now, on his much anticipated third album, the Maine-based singer and songwriter has crafted a warm and welcoming record which unveils heretofore untapped depths of ingenuity and optimism. Touching upon a range of styles and musical setting – spanning pastoral folk, railroad blues, front porch country, and plangent balladry – "GOSSIP IN THE GRAIN" proves to be LaMontagne's most creative and emotionally expansive collection to date. LaMontagne's 2004 debut, "TROUBLE," became one of that year's most acclaimed debuts, spawning an instant classic single in the album's title track. He returned two years later with the stunning "TILL THE SUN TURNS BLACK," a deeply personal work haunted by a complex and compelling melancholy.
The Drums sur MySpace Music - Ecoute gratuite de MP3, Photos et clips vidéos
las ondas marteles sur MySpace Music - Ecoute gratuite de MP3, P
Bio: Watch Las Ondas' Take away shows directed by JEREMIAH and produced by KIDAM : Fin des années 50, début des années 80. Le claquement d'une contrebasse boisée qui swingue, les grincements d'un synthé qui hulule.
New York rock radio station 101.9 WRXP has just announced the line up for their summer concert series, taking place at the Williamsburg Waterfront Park (the same location that Jay-Z and Beyonce were spotted basking in Grizzly Bear's warmth last August). The concert is scheduled for Saturday, June 20th and will feature performances from Band of Horses, Grizzly Bear and Karen Elson. Tickets on sale this Saturday, May 1 at noon EST. Special pre-sale from 10am EST Thursday April 29 to 10pm EST this Friday April 30. Visit 1019RXP.com for pre-salePassword is LAREDO
Grizzly Bear / Confirmed To Join Band of Horses for WR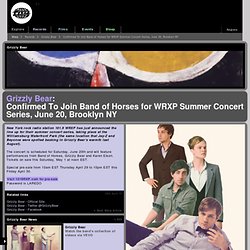 Max Richter - The Nature of Daylight
gOnj@$ufi (opn24hrs) _______________ sur MySpace Music - Ecoute
1973 sur MySpace Music - Ecoute gratuite de MP3, Photos et clips vidéos
El Nino - Production Company - Commercials, Music videos, Web fi
THE DILLINGER ESCAPE PLAN - Black Bubblegum par The Dillinger Es
Barry Lyndon, Trio op 100 (Schubert)
DA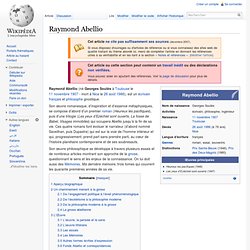 Raymond Abellio
Un article de Wikipédia, l'encyclopédie libre. Raymond Abellio Œuvres principales Heureux les pacifiques (1946)Les yeux d'Ezéchiel sont ouverts (1947) Raymond Abellio (né Georges Soulès à Toulouse le - mort à Nice le ), est un écrivain français et philosophe gnostique.
Aloe Blacc - I need a Dollar