Learn
Prévoir un site pour toutes les résolutions - Alsacréations. La question des dimensions idéales d'un site est souvent posée.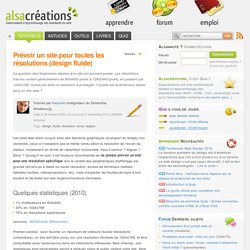 Les résolutions d'écran varient généralement de 800x600 pixels à 1280x960 pixels, en passant par 1024x768. Quelle est donc la résolution à privilégier ? Quelle est la dimension idéale pour un site web ? Les sites web étant conçus avec des éléments graphiques (la plupart du temps) non vectoriels, ceux-ci n'adoptent pas le même rendu selon la résolution de l'écran du visiteur, notamment en terme de répartition horizontale. Faut-il centrer ? 10 Business Models That Rocked 2010. I've caught on to this SlideShare presentation fairly late, so there's a chance you've already seen it (it's garnered nearly 50,000 views so far), but it's definitely worth sharing here.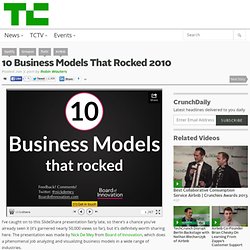 The presentation was made by Nick De Mey from Board of Innovation, which does a phenomenal job analyzing and visualizing business models in a wide range of industries. For an example, check their recent look at Newsgrape, a startup I'm personally very curious about. The Board of Innovation blog is well worth subscribing to. Featured in the presentation of the 10 business models that rocked 2010, at least according to De Mey, are Groupon, Flattr, Spotify and Airbnb, among others. Learn How to Code this Weekend. Electrical Engineering and Computer Science | 6.00 Introduction to Computer Science and Programming, Fall 2008.
Les formulaires HTML. Avril 2014 Intérêt d'un formulaire Les formulaires interactifs permettent aux auteurs de pages Web de doter leur page web d'éléments interactifs permettant par exemple un dialogue avec les internaute, à la manière des coupons-réponse présents dans certains magazines.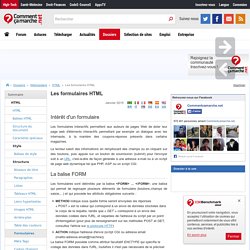 Le lecteur saisit des informations en remplissant des champs ou en cliquant sur des boutons, puis appuie sur un bouton de soumission (submit) pour l'envoyer soit à un URL, c'est-à-dire de façon générale à une adresse e-mail ou à un script de page web dynamique tel que PHP, ASP ou un script CGI.
---