Coworking
Home | Centre for Social Innovation. Managing coworking spaces. Shared Spaces for Social Innovation.
Places
Home | Centre for Social Innovation. Coworking. Coworking Brussels BetaGroup - Home. Coworking wiki. If you are a coworker, space owner, or coworking enthusiast, this site belongs to you.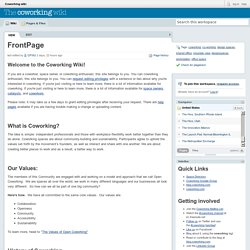 You can request editing privileges with a sentence or two about why you're interested in coworking. If you're just visiting or here to learn more, there is a lot of information available for space owners, catalysts, and coworkers. August 9, 2013 was International Coworking Day, and we celebrated all over the world. Check the hashtag #coworkingday or our Facebook Page to see the party, and come check out our stories! Please note: it may take us a few days to grant editing privileges after receiving your request.
Deskmag - A magazine about coworking and new workspaces.
---