Thomasvds
Thomas van der Straten
la cité de la peur - Recherche Google
Crowdfunding, Investment in startups, microinvest, mymicroinvest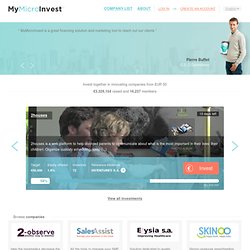 Close Terms and conditions By registering as a member on http://www.mymicroinvest.com, you acknowledge and agree that your personal data shall be processed by MyMicroInvest SA (a Belgian company with registered office rue de Wavre 27, 1301 Bierges, with company number: 0837.496.614), in particular for the purpose of (i) allowing you to access and use the functionalities of (http://www.mymicroinvest.com), the "Website" and (ii) market research, advertisement, or direct marketing and more generally to allow MyMicroInvest SA to communicate with you and keep you informed of any other operation initiated by MyMicroInvest SA that may be of interest for you. You therefor agree that you may receive commercial communications or communications relating to advertisement, market research or direct marketing by regular mail, email, facsimile and telephone from MyMicroInvest SA.
Holstee Manifesto Poster
Shapeways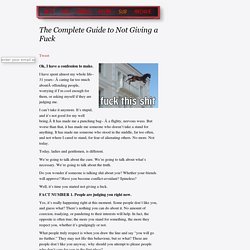 The Complete Guide to Not Giving a Fuck
Ok, I have a confession to make. I have spent almost my whole life– 31 years– caring far too much about offending people, worrying if I'm cool enough for them, or asking myself if they are judging me. I can't take it anymore.
Some good readings on Design Thinking Towards an Epistemological Merger of Design Thinking, Strategy and Innovation – Ulla Johansson and Jill Woodilla Design, Arte, Artesanato: Territórios e Práticas de Integração: – 2º Fórum Internacional De Design Como Processo
Doc – Design Thinking