Cloud
Les PME se méfient du Cloud computing::Cloud et Grid Computing
Le Coud computing séduit-il les petites et moyennes entreprises européennes ?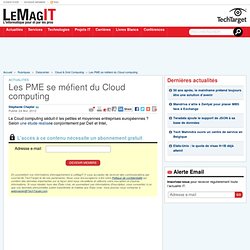 Selon un communiqué de l'agence française pour les investissements internationaux (AFII, aussi connue sous le nom "Invest In France" à l'étranger), le marché français du Cloud Computing a atteint 1,85 milliard d'euros en 2010, dont 672 millions d'euros pour les PME, et devrait dépasser la barre des 2 milliards d'euros en 2011.
Le Cloud en France : plus de 2 Md€ en 2011, 6% de l'industrie IT en 2012::Cloud et Grid Computing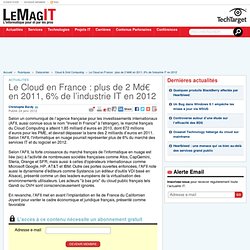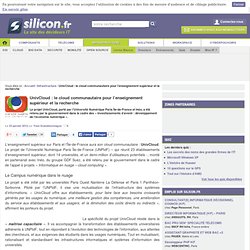 UnivCloud : le cloud communautaire pour l'enseignement supérieur et la recherche
L'enseignement supérieur sur Paris et l'Île-de-France aura son cloud communautaire : UnivCloud. Le projet de l'Université Numérique Paris Île-de-France (UNPIdF) – qui réunit 23 établissements d'enseignement supérieur, dont 14 universités, et un demi-million d'utilisateurs potentiels -, monté en partenariat avec Inéo, du groupe GDF Suez, a été retenu par le gouvernement dans le cadre de l'appel à projets « Informatique en nuage – cloud computing ». Le Campus numérique dans le nuage Le projet a été initié par les universités Paris Ouest Nanterre La Défense et Paris 1 Panthéon-Sorbonne.
How Cloud Computing is Changing Many Job Descriptions
10 cloud startups to watch in 2012 — Cloud Computing News
Vous êtes ici : Accueil / CyberPouvoirs / Joyent lève 85 millions de dollars pour développer ses offres cloud L'Américain Joyent vient de réaliser un joli tour de table de 85 millions de dollars. Parmi les investisseurs, Telefonica, qui compte utiliser les technologies de Joyent pour améliorer ses offres cloud. Joyent est aujourd'hui un acteur leader dans le monde des logiciels et services cloud. La société vient de boucler un tour de table qui lui a permis de récolter 85 millions de dollars (un peu plus de 65 millions d'euros).
Joyent lève 85 millions de dollars pour développer ses offres cloud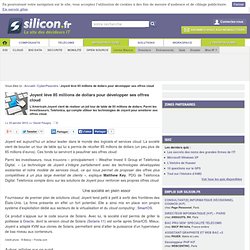 Tendances 2012 : le cloud computing
Le cloud est partout, dans les discours, dans les intentions, dans les analyses et dans les catalogues. Les études se multiplient pour démontrer sa présence devenue incontournable dans les projets. Sauf que jusqu'à présent ces derniers se sont peu montrés.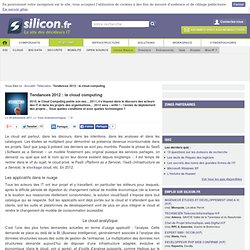 Cloud Computing and its Benefit to Businesses | axon IT
Cloud computing.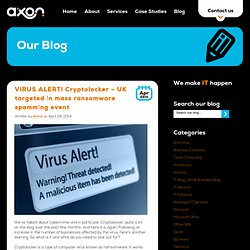 How Can Cloud Computing Really Help My Business? | axon IT
The Fear of Cloud Computing | axon IT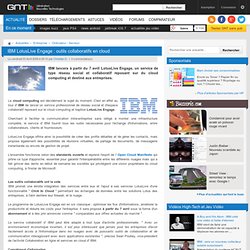 INFORMATION : Si vous souhaitez la survie d'un accès gratuit aux sites web, nous vous remercions de bien vouloir désactiver votre bloqueur de publicité ou de nous mettre en liste blanche. Merci de votre compréhension afin de nous aider à continuer de vous fournir gratuitement de l'information de qualité.Plus d'explications Le cloud computing est décidément le sujet du moment.
IBM LotusLive Engage : outils collaboratifs en cloud
Open Cloud Manifesto.org
Infographic: The future of the Cloud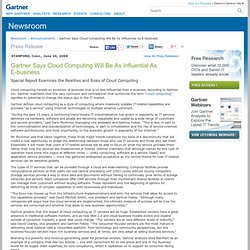 STAMFORD, Conn., June 26, 2008 View All Press Releases Special Report Examines the Realities and Risks of Cloud Computing Cloud computing heralds an evolution of business that is no less influential than e-business, according to Gartner Inc. Gartner maintains that the very confusion and contradiction that surrounds the term "cloud computing" signifies its potential to change the status quo in the IT market. Gartner defines cloud computing as a style of computing where massively scalable IT-related capabilities are provided "as a service" using Internet technologies to multiple external customers.
Says Cloud Computing Will Be As Influential As E-business
the NIST Definition of Cloud Computing
What Is Cloud Computing?
Cloud computing is the next stage in the Internet's evolution, providing the means through which everything — from computing power to computing infrastructure, applications, business processes to personal collaboration — can be delivered to you as a service wherever and whenever you need. The "cloud" in cloud computing can be defined as the set of hardware, networks, storage, services, and interfaces that combine to deliver aspects of computing as a service. Cloud services include the delivery of software, infrastructure, and storage over the Internet (either as separate components or a complete platform) based on user demand. (See Cloud Computing Models for the lowdown on the way clouds are used.) Cloud computing has four essential characteristics: elasticity and the ability to scale up and down, self-service provisioning and automatic deprovisioning, application programming interfaces (APIs), billing and metering of service usage in a pay-as-you-go model.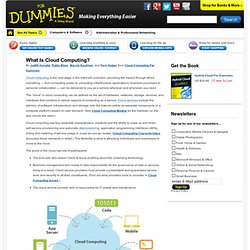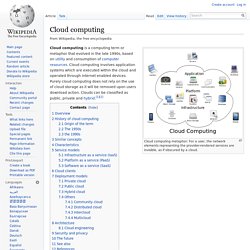 Cloud computing is a phrase used to describe a variety of computing concepts that involve a large number of computers connected through a real-time communication network such as the Internet.[1] In science, cloud computing is a synonym for distributed computing over a network, and means the ability to run a program or application on many connected computers at the same time. The phrase also more commonly refers to network-based services, which appear to be provided by real server hardware, and are in fact served up by virtual hardware, simulated by software running on one or more real machines. Such virtual servers do not physically exist and can therefore be moved around and scaled up (or down) on the fly without affecting the end user - arguably, rather like a cloud.
80% des entreprises françaises marchent vers le cloud
La vague n'est pas prête de se tarir et commence surtout à prendre une forme reconnaissable… Le Cloud Computing dépasserait désormais le stade du concept pour devenir une réalité, au point, selon une étude KPMG – réalisée en début d'année auprès de 900 cadres dirigeants – d'être en voie d'adoption. 74% des entreprises interrogées et 80% en France ont déclaré qu'elles avaient démarré un projet Cloud ou qu'elles vont en démarrer un au cours de la prochaine année. Cette adoption qui s'annonce massive pourrait bien changer en profondeur les processus en entreprise. 88% d'entre elles ont ainsi déclaré que le Cloud pourrait transformer leur business et leur façon d'exercer leurs activités. Le Cloud pour quoi faire ?
Grand Emprunt : l'Etat investit 19 millions d'euros dans le Cloud::Cloud et Grid Computing
Dans le cadre des investissements d'Avenir du Grand Emprunt, le ministre de l'Industrie Eric Besson a sélectionné les 5 projets de R&D dans le secteur Cloud Computing qui bénéficieront de 19 millions d'euros d'investissement. Cinq projets sélectionnés parmi les 18 qui avaient candidaté dans le cadre d'un appel à projets. Ces cinq projets représentent un investissement total en recherche et développement de 50 millions d'euros, ajoute le ministère dans un communiqué.
Est-ce enfin un signe de maturité pour le Cloud Computing ? Selon une étude d'IDC, les bénéfices perçus sur le cloud par les entreprises et les administrations françaises dépasseraient les inconvénients redoutés. Au delà des chiffres, cette seule affirmation suffit en tant qu'indicateur du niveau d'acceptation atteint par ces organisations sur le Cloud Computing. D'un concept nuageux, le Cloud s'affirme donc enfin comme un marché, avec un chiffre d'affaires « Cloud Public » qui devrait en 2011 s'afficher à 846 millions d'euros, en progression de 61% par rapport à 2010.
9 entreprises françaises sur 10 pensent nuage