development
Get flash to fully experience Pearltrees
Last year we rolled out a major reimplementation of the Twitter website. In addition to shifting the rendering of our page content to the server (which achieved significant performance gains), we re-envisioned the entire client-side infrastructure with a clean, robust and easy-to-learn framework which we call Flight . Today we're making Flight available to the open source community under the liberal MIT license as a framework for structuring web applications.
(publié le 15/12/2007 ) Tutorial : développement d'applications Eclipse RCP (1ère partie) Framework Eclipse et notion d'applications La création d'une application Eclipse RCP minimale se fait en utilisant un assistant proposé par le PDE. Avant de découvrir cet assistant, voyons la notion de base qui permet de transformer un plug-in en application : le point d'extension org.eclipse.core.runtime.applications .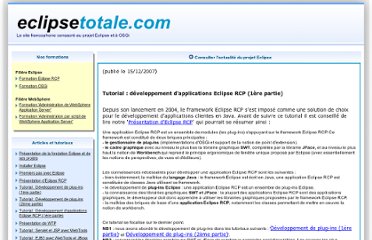 Serge SIMON. 12/06/2012. Updated 31/07/2012. Présentation propulsée sous Deck.js . Navigation par ←, →, m (menu), t (toc), g (goto), F11 (fullscreen). Eclipse « Astuces, utilisation avancée & optimisations »
Le 26 Juin 2012, le service "Android Cloud to Device Messaging" (C2DM) a été officiellement déprécié par Google laissant sa place à "Google Cloud Messaging" (GCM). Comme son prédécesseur ce service permet à une application tiers d'envoyer des messages à des terminaux connectés Android. Au travers d'une série de deux articles nous découvrirons ensemble les différents aspects de GCM en s'appuyant sur un cas concret. Ce premier article a pour but de vous présenter comment fonctionne GCM, ce qu'il est possible de faire avec et en quoi il pourrait vous être utile.
Ah source control, if there's a more essential tool which indiscriminately spans programming languages without favour, I'm yet to see it. It's an essential component of how so many of us work; the lifeblood of many development teams, if you like. So why do we often get it so wrong? Why are some of the really core, fundamentals of version control systems often so poorly understood?
Peity (sounds like deity) is a simple jQuery plugin that converts an element's content into a simple <canvas> mini pie 2/5 line 5,3,9,6,5,9,7,3,5,2 or bar chart 5,3,9,6,5,9,7,3,5,2 and is compatible with any browser that supports <canvas> : Chrome, Firefox, IE9+, Opera, Safari. Download version 1.2.0 Uncompressed 6.4Kb jquery.peity.js Minified 3.0Kb (+gzipped 1.4Kb) jquery.peity.min.js
Il y a quelques jours, je me faisais interpeller sur Twitter : Oui, je sais, il y a un gros mot dans ce tweet... Mais ne vous arrêtez pas à ça car c'est un moyen comme un autre d'attirer l'attention et sur le fond il a peut être raison... En effet, si on se réfère à la vision basique qu'ont les gens sur le téléchargement illégal, il y a 2 catégories de personnes...
HTML5 and CSS3 represent the near future of the web. The last versions of all major browsers support many of the new features introduced by these versions. If you want to try the new HTML5 properties (Canvas, Geolocalization, …) or new CSS3 rules (media queries, …) you can also use the frameworks examined in this article. These frameworks are used to create your HTML5/CSS3 templates, to develop your mobile applications, to draw graphs easily and much more. Read on to choose your next framework. 52Framework