Social media monitoring
Social media monitoring | social CRM | online reputation management
Tweet A screen grab from Sysomos. A comparison of the major monitoring & engagement services: Radian6, Lithium, Attensity360 & 17 more Target audience: Brands, corporations, mid-size to large businesses.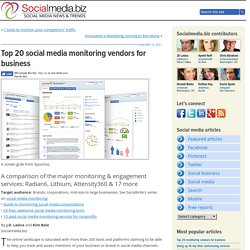 Top 20 social media monitoring vendors for business
Social Media Monitoring Platforms: a little market overview - Fachartikel - Aktuell - Goldbach Interactive
Brand monitoring identifies relevant platforms, subjects and influential factors for a social media strategy and can be used to evaluate measures or as a supplement for market research.