Social media monitoring
TrendyBuzz - Institut pureplayer de la gestion de l'E-Réputation. Social media monitoring | social CRM | online reputation management. Social Media Monitoring Wiki - A Wiki of Social Media Monitoring Solutions. Top 20 social media monitoring vendors for business. A screen grab from Sysomos.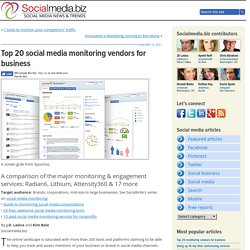 A comparison of the major monitoring & engagement services: Radian6, Lithium, Attensity360 & 17 more Target audience: Brands, corporations, mid-size to large businesses. See Socialbrite's series on social media monitoring: • Guide to monitoring social media conversations • 20 free, awesome social media monitoring tools • 10 paid social media monitoring services for nonprofits. Social Media Monitoring Platforms: a little market overview - Fachartikel - Aktuell - Goldbach Interactive. Brand monitoring identifies relevant platforms, subjects and influential factors for a social media strategy and can be used to evaluate measures or as a supplement for market research.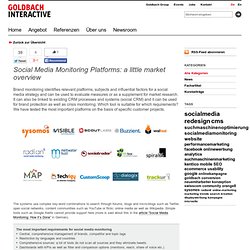 It can also be linked to existing CRM processes and systems (social CRM) and it can be used for brand protection as well as crisis monitoring. Which tool is suitable for which requirements? We have tested the most important platforms on the basis of specific customer projects. The systems use complex key-word combinations to search through forums, blogs and micro-blogs such as Twitter, open social networks, content communities such as YouTube or flickr, online media as well as Wikipedia. Social Media Monitoring Tools.
---