SEO
The Science of SEO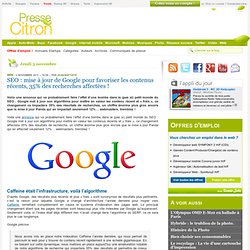 Jeudi 3 novembre Web - 3 novembre 2011 :: 18:58 :: Par Jean-Baptiste Voila une annonce qui va probablement faire l'effet d'une bombe dans le (pas si) petit monde du SEO : Google met à jour son algorithme pour mettre en valeur les contenu récent et « frais », ce changement va impactera 35% des résultats de recherches, un chiffre énorme plus gros encore que la mise à jour Panda qui en impactait seulement 12%… webmasters, tremblez ! Voilà une annonce qui va probablement faire l'effet d'une bombe dans le (pas si) petit monde du SEO : Google met à jour son algorithme pour mettre en valeur les contenus récents et « frais », ce changement affectera 35% des résultats de recherche, un chiffre énorme plus gros encore que la mise à jour Panda qui en affectait seulement 12%… webmasters, tremblez ! Caffeine était l'infrastructure, voilà l'algorithme
SEO : mise à jour de Google pour favoriser les contenus récents, 35% des recherches affectées !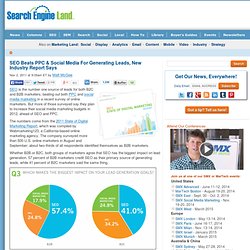 SEO Beats PPC & Social Media For Generating Leads, New Industry Report Says
SEO is the number one source of leads for both B2C and B2B marketers, beating out both PPC and social media marketing in a recent survey of online marketers. But more of those surveyed say they plan to increase their social media marketing budgets in 2012, ahead of SEO and PPC. The numbers come from the 2011 State of Digital Marketing Report, which was compiled by Webmarketing123, a California-based online marketing agency.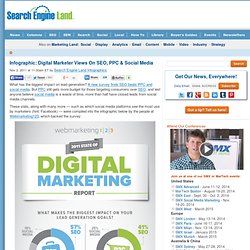 Infographic: Digital Marketer Views On SEO, PPC & Social Media
What has the biggest impact on lead generation? A new survey finds SEO beats PPC and social media. But PPC still gets more budget for those targeting consumers over SEO, and lest anyone believe social media is a waste of time, more than half have closed leads from social media channels.