Personal data protection
Le W3C se penche sur la protection de la vie privée sur le Web. Le W3C (World Wide Web Consortium) a publié cette semaine le premier brouillon d'un standard du Web concernant le contrôle de la vie privée sur la toile, un ensemble d'outils qui permettront à votre navigateur de bloquer toute activité de pistage.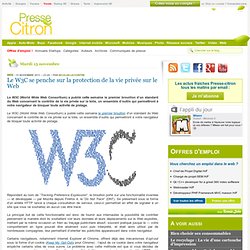 Répondant au nom de "Tracking Preference Expression", le brouillon porte sur une fonctionnalité inventée — et développée — par Mozilla depuis Firefox 4, le "Do Not Track" (DNT). Se présentant sous la forme d'un entête HTTP lancé à chaque consultation de serveur, celui-ci permettrait en effet de signaler à un site que vous ne souhaitez en aucun cas être tracé. Personal data protection- facebook. EU Commissioner Reding Misquoted on Data Protection Reform. The Associated Press this afternoon quoted European Commission Vice President Viviane Reding as stating that the E.U. government should not only federalize its approach to granting safe harbor for social networks, but essentially should hold all Internet service providers on the continent, including social networks, responsible for informing Internet users when personal information is being collected from them.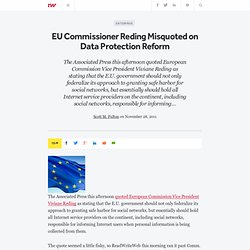 The quote seemed a little fishy, so ReadWriteWeb this morning ran it past Comm. Reding's spokesperson, Matthew Newman. As it turns out, according to Newman's information, the AP quote was indeed taken out of context. [Infographie] Vie privée et sécurité sur les réseaux sociaux. Barracuda Labs, solution de sécurité informatique, a récemment publié une étude sur la sécurité et la vie privée dans les réseaux sociaux.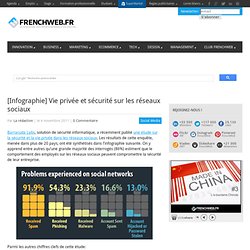 Les résultats de cette enquête, menée dans plus de 20 pays, ont été synthétisés dans l'infographie suivante. On y apprend entre autres qu'une grande majorité des interrogés (86%) estiment que le comportement des employés sur les réseaux sociaux peuvent compromettre la sécurité de leur entreprise. Parmi les autres chiffres clefs de cette étude:
---