Outils management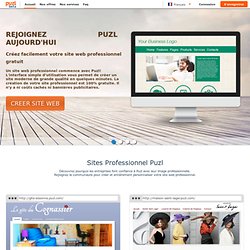 Un hébergement web gratuit pour améliorer le référencement de site internet des membres. L'outil de création de site gratuit Puzl permet aux TPE, PME, micro entreprise ou encore auto entrepreneurs de pouvoir bénéficier d'un hébergement web gratuit tout en jouissant d'un référencement naturel performant. Comment est-ce possible ? L'outil de création de site gratuit Puzl fait de chaque site crée gratuitement sur la plate-forme un sous domaine de Puzl. En effet, l'adresse url a toujours la même structure : nomdevotresociété.puzl.com.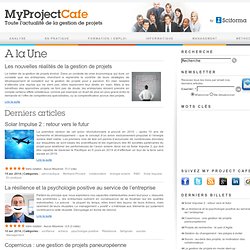 Le métier de la gestion de projets évolue. Dans un contexte de crise économique qui dure, on constate que les entreprises cherchent à reprendre le contrôle de leurs stratégies de développement et comptent sur la gestion de projets pour y parvenir. En clair, lassées d'attendre une reprise qui ne vient pas, elles reprennent leur destin en main. Mais si les bénéfices des approches projets ne font pas de doute, les entreprises doivent prendre en compte certains effets collatéraux, comme par exemple un écart de plus en plus grand entre la demande et l'offre de compétences spécialisées, ou la complexification accrue des projets.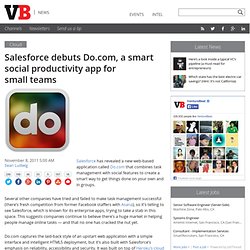 Salesforce has revealed a new web-based application called Do.com that combines task management with social features to create a smart way to get things done on your own and in groups. Several other companies have tried and failed to make task management successful (there's fresh competition from former Facebook staffers with Asana), so it's telling to see Salesforce, which is known for its enterprise apps, trying to take a stab in this space. This suggests companies continue to believe there's a huge market in helping people manage online tasks — and that no one has cracked the nut yet. Do.com captures the laid-back style of an upstart web application with a simple interface and intelligent HTML5 deployment, but it's also built with Salesforce's emphasis on reliability, accessibility and security.
Salesforce debuts Do.com, a smart social productivity app for small teams
Writing software isn't half as hard as all the talking, emails, and meetings needed to reconcile shifting requirements and slipping deadlines. We get it, we've been there. In fact, we're still there. We're Pivotal Labs, a web and mobile development consultancy. In 2006 we built Tracker for our developers and clients to facilitate constructive communication, reflect the status of a project and help forecast its future. Today Tracker is a staple of the developer's toolkit.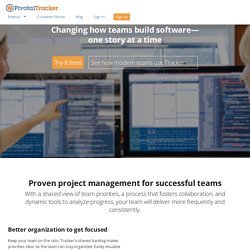 Highly recommended. Primarily through word-of-mouth alone, Basecamp has become the world's #1 project management tool. For the last 10 years, companies have been switching to Basecamp because it's famously easy-to-use, reliable, and It Just Works™. Combine that with our best-in-the-biz customer service, and you've got a unique and delightful package.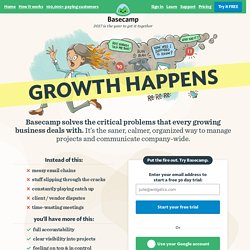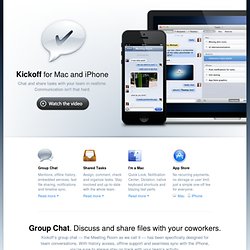 Collaboration tool for small groups - Kickoff
Kickoff's group chat — the Meeting Room as we call it — has been specifically designed for team conversations. With history access, offline support and seamless sync with the iPhone, you're sure to always stay on track with your team's activity. Chat with your whole team or privately with any coworker. Get someone's attention by mentioning him. Just type @ followed by your coworker's name.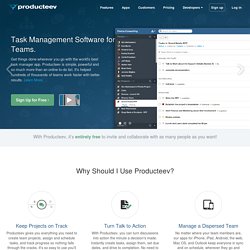 Founded in 2008 in NYC, Producteev was born out of a simple for a full-featured task management application designed with simplicity in mind. We needed to be able to collaborate effortlessly from anywhere: via the web, email, IM, mobile, desktop... And we needed to be able to share information in real time with all our team members, no matter how computer-savvy they are … or aren't. We couldn't find that perfect application, so we decided to build it!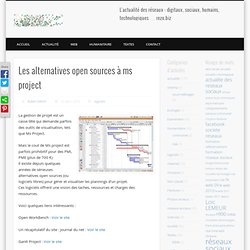 La gestion de projet est un casse tête qui demande parfois des outils de visualisation, tels que Ms Project. Mais le cout de Ms project est parfois prohibitif pour des PMI, PME (plus de 700 €) Il existe depuis quelques années de sérieuses alternatives open sources (ou logiciels libres) pour gérer et visualiser les plannings d'un projet. Ces logiciels offrent une vision des taches, ressources et charges des ressources. Voici quelques liens intéressants : Open WorkBench : Voir le site
Les alternatives open sources à ms project « Les réseaux sociaux, les nouvelles technologies, les idées en réseaux …