Outils management
Royalty Free Icons & Clipart Stock Images ~ Icons Etc. Creer un site gratuit visible dans les moteurs de recherche – L'outil de création de site internet professionnel et gratuit. MyProjectCafe | Toute l'actualité de la gestion de projets. Salesforce debuts Do.com, a smart social productivity app for small teams. Salesforce has revealed a new web-based application called Do.com that combines task management with social features to create a smart way to get things done on your own and in groups.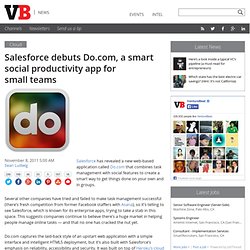 Several other companies have tried and failed to make task management successful (there's fresh competition from former Facebook staffers with Asana), so it's telling to see Salesforce, which is known for its enterprise apps, trying to take a stab in this space. This suggests companies continue to believe there's a huge market in helping people manage online tasks — and that no one has cracked the nut yet. Do.com captures the laid-back style of an upstart web application with a simple interface and intelligent HTML5 deployment, but it's also built with Salesforce's emphasis on reliability, accessibility and security. Pivotal Tracker - Simple, Effective Agile Project Management & Team Collaboration, from Pivotal Labs. Cohuman. Project management software, online collaboration: Basecamp. Netvibes. Collaboration tool for small groups - Kickoff.
Minutes.io. Online Task Management - Producteev. Les alternatives open sources à ms project « Les réseaux sociaux, les nouvelles technologies, les idées en réseaux … La gestion de projet est un casse tête qui demande parfois des outils de visualisation, tels que Ms Project.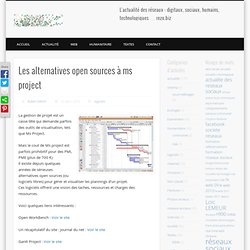 Mais le cout de Ms project est parfois prohibitif pour des PMI, PME (plus de 700 €) Il existe depuis quelques années de sérieuses alternatives open sources (ou logiciels libres) pour gérer et visualiser les plannings d'un projet. Ces logiciels offrent une vision des taches, ressources et charges des ressources. Voici quelques liens intéressants : Open WorkBench : Voir le site.
---