Mobile apps
Sunrise Brilliantly Redefines Calendar Apps On iOS. Meet Sunrise, the calendar app that will replace every calendar app that you've tried so far.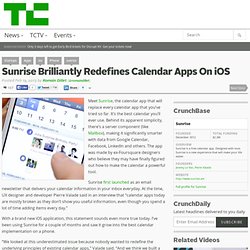 It's the best calendar you'll ever use. Behind its apparent simplicity, there's a server component (like Mailbox), making it significantly smarter with data from Google Calendar, Facebook, LinkedIn and others. The app was made by ex-Foursquare designers who believe they may have finally figured out how to make the calendar a powerful tool. Sunrise first launched as an email newsletter that delivers your calendar information in your inbox everyday. Food Discovery App Burpple Now Available On Android.
Burpple, the social discovery app that seeks to connect food lovers from around the world, just released their Android app in public beta.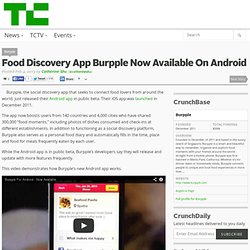 Their iOS app was launched in December 2011. The app now boosts users from 140 countries and 4,000 cities who have shared 300,000 "food moments," including photos of dishes consumed and check-ins at different establishments. In addition to functioning as a social discovery platform, Burpple also serves as a personal food diary and automatically fills in the time, place and food for meals frequently eaten by each user. While the Android app is in public beta, Burpple's developers say they will release and update with more features frequently.
This video demonstrates how Burpple's new Android app works. Avec cette application, votre smartphone prend en photo celui qui l'a volé. Lundi 28 janvier Mobiles et PDA - 28 janvier 2013 :: 09:13 :: Par Eric Lookout Mobile Security pour Android est une application qui prend en photo à son insu le voleur ou celui qui tente de dérober votre précieux mobile.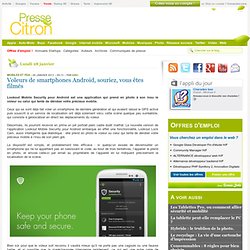 Ceux qui se sont déjà fait voler un smartphone de dernière génération et qui avaient laissé le GPS activé puis souscrit à un service de localisation ont déjà sûrement vécu cette scène quelque peu surréaliste, qui consiste à géolocaliser en direct les déplacements du voleur. Désormais, ils pourront recevoir en prime un joli portrait plein cadre dudit malfrat. La nouvelle version de l'application Lookout Mobile Security pour Android embarque en effet une fonctionnalité, Lookout Lock Cam, aussi intelligente que diabolique : elle prend en photo le voleur ou celui qui tente de dérober votre précieux mobile à l'insu de son plein gré.
Fuelled By A $200K Seed, Free Mobile Marketplace Vendly Wants To Be A 'Twitter For E-Commerce' Chilean startup Vendly, backed by a $200,000 seed from UDD Ventures – and now relocated to San Francisco and looking to raise a Series A this spring – wants to cash in on mobile by turning your smartphone into a free mobile marketplace.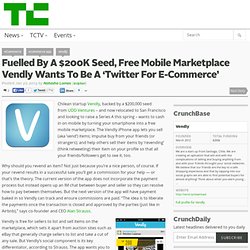 The Vendly iPhone app lets you sell (aka 'vend') items; impulse buy from your friends (or strangers); and help others sell their items by 'revending' (think retweeting) their item on your profile so that all your friends/followers get to see it, too. Vendly is free for sellers to list and sell items on the marketplace, which sets it apart from auction sites such as eBay that generally charge sellers to list and take a cut of any sale. But Vendly's social component is its key differentiator, according to Strauss. The app wants you to find and follow existing friends to create a trusted network to sell to and buy from — letting you link Vendly with your Facebook account, or invite friends and contacts via email to help build this circle. L'application gratuite du jour : Footalk - Téléphoner gratuitement. Que diriez-vous de pouvoir téléphoner gratuitement, sans limite de durée, avec tous vos contacts ?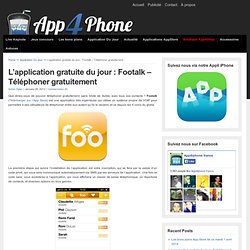 Footalk (Télécharger sur l'App Store) est une application très ingénieuse qui utilise un système propre de VOIP pour permettre à ses utilisateurs de téléphoner entre eux autant qu'ils le veulent, et ce depuis les 4 coins du globe. La première étape qui suivra l'installation de l'application est votre inscription, qui se fera par la saisie d'un code privé, qui vous sera communiqué automatiquement via SMS par les serveurs de l'application. Spraffl Launches As An Anonymous, Location-Based 'Social Experiment' Spraffl is a new iOS app that's attempting to buck the trend of real name policy, or even semi-identifiable pseudonyms, in favour of an entirely anonymous social network, tied to a user's location.
I say social network, when in actual fact the UK startup is dubbing the app a 'social experiment', and in some ways the concept is reminiscent of the anarchic and experimental nature of the Internet of yesteryear. And that may be both its appeal and its ultimate downfall. Can Your Mobile Apps Be Trusted? [INFOGRAPHIC] Kicksend Releases An Android App For Sharing All Your Photos, Videos, and More. Last December, file-sharing startup Kicksend went mobile, with an iPhone app designed to enable easy sharing of photos and videos that are captured from your mobile device.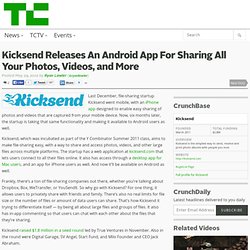 Now, six months later, the startup is taking that same functionality and making it available to Android users as well. Kicksend, which was incubated as part of the Y Combinator Summer 2011 class, aims to make file-sharing easy, with a way to share and access photos, videos, and other large files across multiple platforms. The startup has a web application at kicksend.com that lets users connect to all their files online. KurbKarma: A Social Network, And App, To Find Parking Where And When You Need It. We have all been there: you are in your car, you need to park, and you cannot, no matter how much you try, find a space.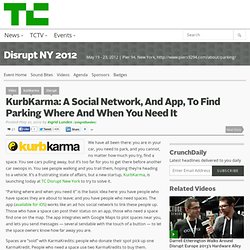 You see cars pulling away, but it's too far for you to get there before another car swoops in. You see people walking and you trail them, hoping they're heading to a vehicle. It's a frustrating state of affairs, but a new startup, KurbKarma, is launching today at TC Disrupt New York to try to solve it. "Parking where and when you need it" is the basic idea here: you have people who have spaces they are about to leave; and you have people who need spaces. The app (available for iOS) works like an ad hoc social network to link these people up. About Last Night Wants To Improve Your Nightlife By Making It Even More Social. They say that all work and no play makes for some dull boys, and I think brothers Darren and Derek Dodge would definitely agree with that sentiment.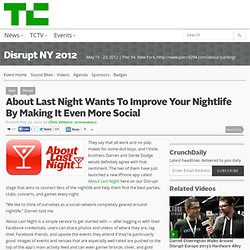 The two of them have just launched a new iPhone app called About Last Night here on our Disrupt stage that aims to connect fans of the nightlife and help them find the best parties, clubs, concerts, and games every night. "We like to think of ourselves as a social network completely geared around nightlife," Darren told me. About Last Night is a simple service to get started with — after logging in with their Facebook credentials, users can share photos and videos of where they are, tag their Facebook friends, and upvote the events they attend if they're particularly good. Pair, the Social Network for Two, Launches an Android App.
Pair, an app that helps couples stay in touch, no longer discriminates against cross-platform romance.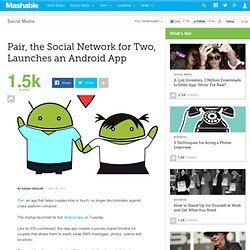 The startup launched its first Android app on Tuesday. Like its iOS counterpart, the new app creates a private shared timeline for couples that allows them to easily swap SMS messages, photos, videos and locations.
Photos & Videos apps. Ephemeral messaging. Social Networking And Gaming Mobile Apps Are Now Neck-And-Neck For Time Spent On Android, iOS. In another sign that something fundamental is changing on the iOS and Android platforms, mobile analytics provider Flurry has found that consumers are spending as much time in social networking apps as they are in mobile games. Games have historically led usage on mobile. The last time that Flurry took a look back in January, it found that half of app sessions were spent in games while 30 percent was spent in social networking apps.
Cinemagram, an app for creating and sharing animated GIFs, adds 1 million users in six weeks. The animated GIF is one of the few native art forms on the web, a delightful micro-movie which has spawned countless memes. Cinemagram combines the stylish filters and simple sharing of Instagram with a app that allows users to turn short three-second videos into animated GIFs. In the six weeks since it was released as a free app on iOS, it has added more than one million users. "We released it as a paid app back in February and tried to keep the community small while we worked out the kinks," said co-founder and CEO Temo Chalasani. "We built a strong group of creative minds, figured out to flag inappropriate content, and since launching the free version in March, have just seen incredible growth." Chalasani is in Silicon Valley right now raising money — we hear a round in the million dollar range.
The 25 Most Important Online Project Management Solutions. You will find in this infographic factual information about 25 online project management solutions, however we don't consider this as a list of "best" applications. The solutions are not ranked in any specific order except alphabetically. We prefer giving you information on important decision factors when choosing online project management software so that you can decide which one is the best for your business needs. Brought to you by getapp.com. Brought to you by getapp.com. Ski Lift Ticket Retailer Liftopia Goes Live On iPhone. San Francisco-based Liftopia, an online retailer of lift tickets and mountain resort activities, is launching its iPhone app today. The app's title is quite the mouthful: "Liftopia Ski Reports, Snow Conditions and Ultimate Lift Ticket Deal Engine App." Whoa! So there's the news, I guess – it's all in the app's name.
Mappy lance un GPS gratuit pour Android et l'iPhone. Lightbank Backs Belly, A Customer Loyalty And Rewards Platform For Local Businesses. Ness Adds Social Sharing To Its Mobile Restaurant Recommendation App. [La Start-Up française de la Semaine] : Europa Apps. [LeWeb'11] Foursquare, Instagram, les derniers chiffres clés ! Appoke et Genymobile lancent une solution d'app store clé en main.
[Chiffres] 85% des applications payantes vendues dans le monde sont sous iOS. The mobile app is going the way of the CD-ROM: To the dustbin of history. Stop Making Apps.
---