Groupon
Groupon Picks Up Breadcrumb For A Little Point-of-Sale Magic. Groupon just announced via its blog that it has acquired Breadcrumb, the creators of an affordable point of sale system and iPad app that targets local restaurants.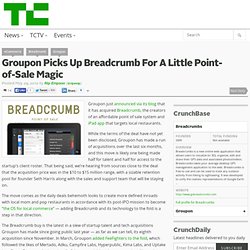 While the terms of the deal have not yet been disclosed, Groupon has made a run of acquisitions over the last six months, and this move is likely one being made half for talent and half for access to the startup's client roster. That being said, we're hearing from sources close to the deal that the acquisition price was in the $10 to $15 million range, with a sizable retention pool for founder Seth Harris along with the sales and support team that will be staying on.
The move comes as the daily deals behemoth looks to create more defined inroads with local mom and pop restaurants in accordance with its post-IPO mission to become "the OS for local commerce" — adding Breadcrumb and its technology to the fold is a step in that direction. Groupon Now! Reaches 1.5m Real-Time Deals Sold in 12 Months. Daily deals pioneer Groupon announced today that its real-time, location-based offers service Groupon Now!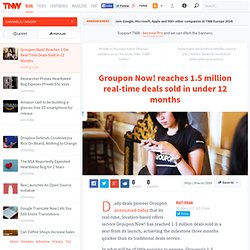 Has reached 1.5 million deals sold in a year from its launch, achieving the milestone three months quicker than its traditional deals service. In what will be of little surprise to anyone, Groupon's 1.5 millionth deal was a beauty treatment — a $30 manicure from a nail bar in Chicago. Groupon-travel. Why Groupon is poised for collapse. Groupon was forced to restate fourth quarter earnings, sending its stock down 6% in after-hours trading.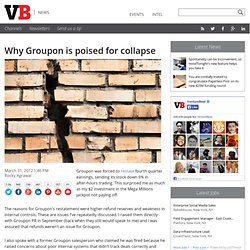 This surprised me as much as my $2 investment in the Mega Millions jackpot not paying off. The reasons for Groupon's restatement were higher refund reserves and weakness in internal controls. These are issues I've repeatedly discussed. Groupon Reports Mobile App Growth, International Expansion Plans. Groupon announced at the 2012 Mobile World Congress in Barcelona on Monday that it experienced a record-breaking month in December among mobile app users, as one quarter of all Groupon vouchers were purchased via a mobile device.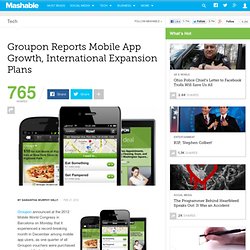 The deal-of-the-day site said usage of its mobile app more than tripled over the previous year to 9 million users as of December. To expand the reach of its app, Groupon also revealed plans to roll out mobile service to more than 30 countries in the near future. [Groupon] 308 millions de dollars de pertes en 2011. Une enquête de Capital.fr revient sur le modèle très fragile de Groupon.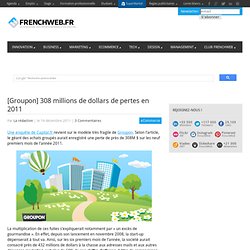 Selon l'article, le géant des achats groupés aurait enregistré une perte de près de 308M $ sur les neuf premiers mois de l'année 2011. La multiplication de ces fuites s'expliquerait notamment par « un excès de gourmandise ». En effet, depuis son lancement en novembre 2008, la start-up dépenserait à tout va. Ainsi, sur les six premiers mois de l'année, la société aurait consacré près de 432 millions de dollars à la chasse aux adresses mails et aux autres dépenses marketing, soit plus de 60% de son chiffre d'affaires. A titre de comparaison, Amazon, ne consacrerait, pour sa part, que 10% de ses revenus à ce type d'investissement. Groupon Buys OpenCal, Launches Online Appointment Booking Service 'Scheduler'
Now this makes a lot of sense.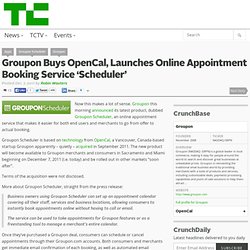 Groupon this morning announced its latest product, dubbed Groupon Scheduler, an online appointment service that makes it easier for both end users and merchants to go from offer to actual booking. Groupon Scheduler is based on technology from OpenCal, a Vancouver, Canada-based startup Groupon apparently – quietly – acquired in September 2011. The new product will become available to Groupon merchants and consumers in Sacramento and Miami beginning on December 7, 2011 (i.e. today) and be rolled out in other markets "soon after". Terms of the acquisition were not disclosed. More about Groupon Scheduler, straight from the press release: Groupon Is Now Worth Less Than $10 Billion. It just won't stop dropping.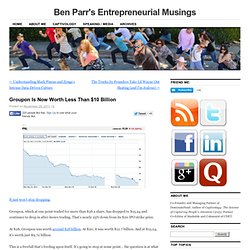 Groupon, which at one point traded for more than $26 a share, has dropped to $15.24 and continues to drop in after-hours trading. That's nearly 25% down from its $20 IPO strike price. Groupon dévisse en bourse. A peine un mois après son introduction en Bourse, le titre de Groupon a fortement chuté hier.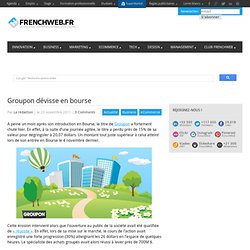 En effet, à la suite d'une journée agitée, le titre a perdu près de 15% de sa valeur pour dégringoler à 20,07 dollars. Un montant tout juste supérieur à celui atteint lors de son entrée en Bourse le 4 novembre dernier. Cette érosion intervient alors que l'ouverture au public de la société avait été qualifiée de « réussite ». Groupon Prices Its IPO At A $12.7B Valuation, Has A Lot To Prove. Groupon has priced its IPO at $20 a share according to reports, which would give the company a $12.7 billion valuation and mean that it'd be seeking $690 million in tomorrow's offering, by floating only 5.4 percent of its shares.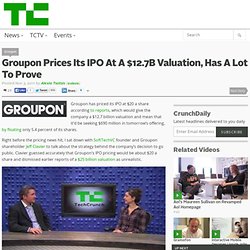 Right before the pricing news hit, I sat down with SoftTechVC founder and Groupon shareholder Jeff Clavier to talk about the strategy behind the company's decision to go public. Clavier guessed accurately that Groupon's IPO pricing would be about $20 a share and dismissed earlier reports of a $25 billion valuation as unrealistic. Groupon Prices Its IPO At A $12.7B Valuation, Has A Lot To Prove On the more modest pricing; "They need a warm reception in the public market, because they have all this baggage — They have all this bad history of press and analysts hating the company," Clavier said, referring to press coverage of their unconventional accounting on Groupon's S-I as well as its tricky international expansion and scaling issues.
Groupon IPO Shares Pop 40% On First Trade, Debuts At $17.8B Market Cap. After some timing drama, daily deal site Groupon finally has begun trading on the NASDAQ this morning, in the most hotly anticipated and largest Internet company IPO since Google.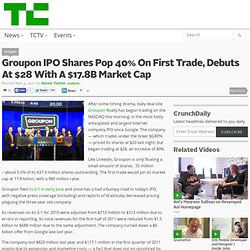 The company — which trades under the ticker $GRPN — priced its shares at $20 last night, but began trading at $28, an increase of 40%. Like LinkedIn, Groupon is only floating a small amount of shares, 35 million – about 5.5% of its 637.3 million shares outstanding. The first trade would pin its market cap at 17.8 billion, with a 980 million raise. Groupon filed its S-1 in early June and since has a had a bumpy road to today's IPO, with negative press coverage (including) and reports of drastically decreased pricing plaguing the three-year old company.
Its revenues on its S-1 for 2010 were adjusted from $713 million to $313 million due to errors in reporting. Groupon : les clés du succès. Où s'arrêtera Groupon ? La plateforme de vente de services et produits promotionnels géolocalisés, qui vient de décliner une offre d'achat historique de Google, n'en finit pas de surprendre. Deux ans à peine après sa création, sa valeur estimée dépasse aujourd'hui les six milliards de dollars. De nombreux observateurs n'hésitent pas à dresser un parallèle entre la « Success Story » de Groupon et celle de Facebook ou Google. L'occasion de disséquer le succès actuel de ce nouvel acteur majeur du e-commerce, en présentant les points clés de son business model, mais aussi les difficultés auxquelles ce géant aux pieds d'argile devra faire face. Des débuts fulgurants.
---