Google+
Is a Google+ Profile Going to be Essential to Future Job Searches? Despite heavy promotion, Google+ has you suspect not delivered the results hoped for by Google (yet).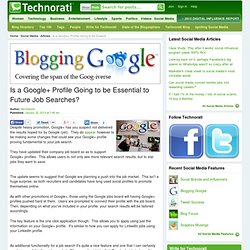 They do appear however to be making some changes that could see your Google+ profile proving fundamental to your job search. They have updated their company job board so as to support Google+ profiles. Google+ désormais intégré au Chrome Web Store. Mercredi 4 juillet Réseaux sociaux - 4 juillet 2012 :: 12:12 :: Par Rénald Google vient de mettre en place l'intégration de Google+ dans son Chrome Web Store.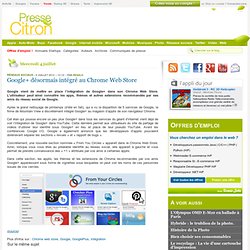 L'utilisateur peut ainsi connaître les apps, thèmes et autres extensions recommandés par ses amis du réseau social de Google. Après le grand nettoyage de printemps (d'été en fait), qui a vu la disparition de 5 services de Google, la firme de Mountain View a discrètement intégré Google+ au magasin d'applis de son navigateur Chrome. Google+ Now Has A Tablet Version, Events, 250M Users, 75M Daily, More Mobile Than Desktop. Today at Google I/O , Google announced it has 250 million total users, 150 million monthly users, and 75 million daily users, with more usage from mobile than desktop.
It released an Android tablet version too, and an iPad version is coming soon. Both as well as Google+ for Android smartphones offer brand new navigation, a new ribbon bar, new notifications, and brand new profiles. Google+ today launches Events , with a focus on beautiful invites, a deep integration with Google Calendar, and real-time automatic photo uploads through Party Mode.
[Infographie] 20 bonnes raisons de passer à Google + Vous songez à quitter Facebook pour Google+ et ainsi en faire votre réseau social de prédilection?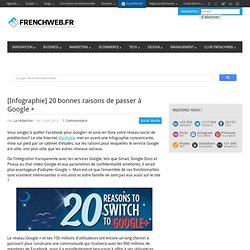 Le site Internet Mashable met en avant une infographie convaincante, mise sur pied par un cabinet d'études, sur les raisons pour lesquelles le service Google est utile, voir plus utile que les autres réseaux sociaux. De l'intégration transparente avec les services Google, tels que Gmail, Google Docs et Picasa au chat vidéo Google et aux paramètres de confidentialité améliorés, il serait plus avantageux d'adopter Google +.
Mais est-ce que l'ensemble de ces fonctionnalités sont vraiment intéressantes si vos amis et votre famille ne sont pas eux aussi sur le site ? Google+ Local, les recommandations locales et sociales. Par Olivier Duffez, Vendredi 1 juin 2012 Google vient de lancer Google+ Local, une sorte de guide de lieux recommandés en fonction de votre position bien sûr mais aussi de vos contacts sur Google+, complété par des avis complets issus du guide Zagat.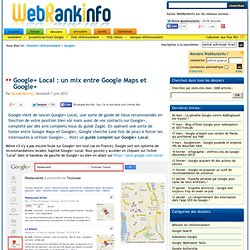 En opérant une sorte de fusion entre Google Maps et Google+, Google cherche (une fois de plus) à forcer les internautes à utiliser Google+... Voici un guide complet sur Google+ Local. Même s'il n'y a pas encore foule sur Google+ (en tout cas en France), Google sort son système de recommandations locales, baptisé Google+ Local. Vous pouvez y accéder en cliquant sur l'icône "Local" dans le bandeau de gauche de Google+ ou bien en allant sur. Exclusive: New Google+ Study Reveals Minimal Social Activity, Weak User Engagement. Larry Page recently called Google+ the company's "social spine.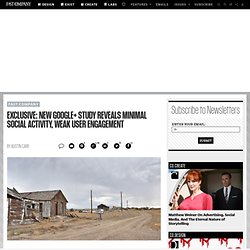 " If that's the case, then Google's backbone might be much weaker than Page has been letting on, at least according to a new report from RJ Metrics. This week, the data analytics firm provided Fast Company with exclusive new insights on Google+. The findings paint a very poor picture of the search giant's social network--a picture of waning interest, weak user engagement, and minimal social activity. With Its New Google+ iPhone App, Google Finally Gets It Right.
Some people just love Google+ and others just hate the company's efforts to create a social network and a social layer across all of its services.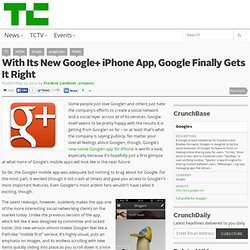 Google itself seems to be pretty happy with the results it is getting from Google+ so far – or at least that's what the company is saying publicly. No matter your overall feelings about Google+, though, Google's new native Google+ app for iPhone is worth a look, especially because it's hopefully just a first glimpse at what more of Google's mobile apps will look like in the near future.
Google+ reached 20 Million Unique Visitors, Facebook still tops with 171 Million Unique Visitors | It's all about tech. Digg The recent report of unique visitor's traffic from Compete shows great growth in all of the social media platforms.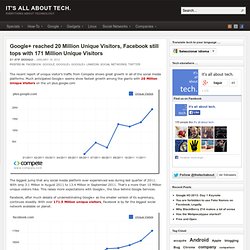 Much anticipated Google+ seems show fastest growth among the giants with 20 Million Unique Visitors on the url plus.google.com The biggest jump that any social media platform ever experienced was during last quarter of 2011. With only 3.1 Million in August 2011 to 13.4 Million in September 2011. That's a more than 10 Million unique visitors hike. Google+ Gets Video Status Updates. Google+ just got a feature that takes a bite out of YouTube.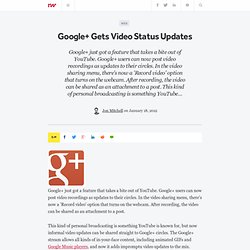 Google+ users can now post video recordings as updates to their circles. In the video sharing menu, there's now a 'Record video' option that turns on the webcam. After recording, the video can be shared as an attachment to a post. This kind of personal broadcasting is something YouTube is known for, but now informal video updates can be shared straight to Google+ circles. Oh Great. Google+ Got A Built-In LOLcat Generator. Google+ now has a meme text generator for images, allowing the Internet to parody itself until it's no longer funny.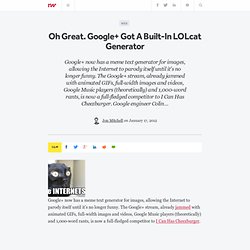 The Google+ stream, already jammed with animated GIFs, full-width images and videos, Google Music players (theoretically) and 1,000-word rants, is now a full-fledged competitor to I Can Has Cheezburger. Google engineer Colin McMillen announced the feature this morning. The Google+ Creative Kit for editing images already had a text tool with lots of fonts to choose from, but this "funny text" tool is more brutal. Just drag an image into the share box, click 'Add Text,' and then there are boxes for top, middle and bottom text.
Google+ dans le collimateur des autorités de la concurrence ? L'annonce la semaine dernière de Google d'intégrer dans les résultats de son moteur les contenus issus de Google+ et de Picasa n'a pas laissé insensible. Twitter a été le premier à réagir et à attaquer la stratégie de Google, qui pourrait faire de l'ombre au service de micro-blogging. L'EPIC (Electronic Privacy Information Center) a rapidement réagi également à cette annonce autour de Google+. Très actif sur les questions de vie privée et de confidentialité, l'EPIC a envoyé une lettre au régulateur américain, la FTC. Et si Google+ était en fait un succès ? Passée l'euphorie des premiers jours, les analystes ont été nombreux à qualifier Google+ d'échec. Les utilisateurs se sont inscrits en masse… pour ne pas faire grand chose. Un réseau social que personne n'utilise, c'est forcément, un échec, non ?
Tout dépend des objectifs que s'est fixé Google lorsqu'il a lancé le projet Google+. Si l'objectif était d'être numéro un sur les vidéos de chatons partagées, c'est raté. Mais le but n'était probablement pas là. Google+ Is Coming To Gmail & Contacts, Including An Automatically Updated Address Book. Been avoiding Google+? Too bad! Google announced today that Google+ is being deeply integrated into both Gmail and Google Contacts. Through a widget on the side of your Gmail screen, you'll be able to see the most recent Google+ post from the person whose email you're viewing, and you'll be able to add them to your Google+ Circles right there. You'll also be able to sort your email and your contact lists using the Google+ Circles you've created.
But the absolute best part? Google+ Introduces Automatic Face Recognition To Photo Tagging (But It's Completely Opt-In) No, Google is not launching super-creepy facial recognition, so put those pitchforks down. But it is introducing a new feature to Google+'s photo app, which now makes it a bit easier to quickly tag your friends. It's called 'Find My Face', and while the name leads me to recall scenes in the classic Nic Cage/John Travolta film Face/Off, it's a feature that plenty of users will find handy.
It's pretty straightforward: opt into Find My Face, and the next time one of your friends uploads a photo that you're in, they'll see your name as a suggested tag. It's very similar to the semi-automated facial tagging that Facebook launched earlier this year, though with one key difference: unlike Facebook's feature, which automatically opted users in, Google is asking for explicit permission before it turns it on. Of course, the fact that the feature is opt-in means that fewer people are going to be using it. Google+ To Take On Foursquare With Upcoming "Check-in Offers" Feature.
It looks like Google+ is adding a feature that will allow users to "check-in" via the Google+ mobile application in order to receive a time-sensitive deal or discount. This feature is mentioned in Google Places's help documentation, but has not yet been made available to business owners using the Google Places service. Google check-ins have a confusing history, it has to be said. To be clear, the ability to check in via Google+ is not new. Google's location-based social service Google Latitude launched checkins in February, prior to the launch of Google+.
And when Google+ arrived on mobile, it offered a check-in feature of its own, seemingly based on Latitude, which pulls up a list of nearby Google Places. Participate in a Google+ Hangout Without an Android or iPhone. [Infographie] Qui sont les adeptes de Google + ? Google+ Was Never a Facebook Competitor.
Google+ Gets Its TV Commercial. La plateforme Google+ contre Facebook, ou l'enjeu des données personnelles pour la publicité online. Google+ intègre YouTube. Google+ Launches Brand Pages [updated] Is Google+ worth your time and effort? The Brand Pages Faceoff: Google+ vs. Facebook. 4 Excellent Examples of Creative Google+ Business Pages. La gestion multi-administrateurs sur les pages Google+ : pas avant 2012 !
Google+ lance les "Tendances" (Trends) Google Plus Installs Photo Face Recognition.
---