Facebook-corporate
Le mannequin du pouce « J'aime » gagne son procès contre Facebook. Furieux !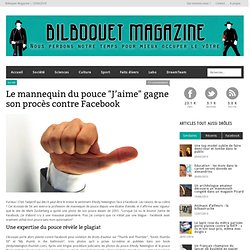 C'est l'adjectif qui décrit peut-être le mieux le sentiment d'Andy Newington face à Facebook. Les raisons de sa colère ? Cet écossais de 34 ans exerce la profession de mannequin de pouce depuis une dizaine d'année, et il affirme avec vigueur que le site de Mark Zuckerberg a spolié une photo de son pouce datant de 2003. How Long Till Facebook Clones Vine? No, Facebook Should Have Invented Vine. Facebook used to build the future, but since the mobile era began it's been chasing what's next — buying Instagram, reskinning Beluga as Messenger, copying Snapchat as Poke, and now getting beat to animated photos by Twitter's Vine and Cinemagram.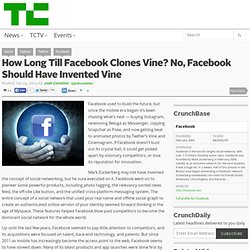 If Facebook doesn't bust out its crystal ball, it could get picked apart by visionary competitors, or lose its reputation for innovation. Mark Zuckerberg may not have invented the concept of social networking, but he sure executed on it. Facebook went on to pioneer some powerful products, including photo tagging, the relevancy-sorted news feed, the off-site Like button, and the unified cross-platform messaging system.
The entire concept of a social network that used your real name and offline social graph to create an authenticated online version of your identity seemed forward thinking in the age of Myspace. These features helped Facebook blow past competitors to become the dominant social network for the whole world. The Future Fruits Of Apple + Facebook. When CEO Tim Cook kept saying "stay tuned" at D10 about new Apple collaborations with Facebook, he may have meant it literally.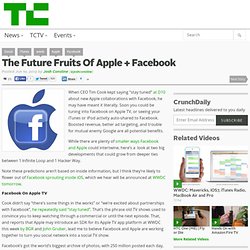 Soon you could be tuning into Facebook on Apple TV, or seeing your iTunes or iPod activity auto-shared to Facebook. Boosted revenue, better ad targeting, and trouble for mutual enemy Google are all potential benefits. While there are plenty of smaller ways Facebook and Apple could intertwine, here's a look at two big developments that could grow from deeper ties between 1 Infinite Loop and 1 Hacker Way. Facebook's New App Center Is Here: The Details. Okay folks, we're live at Facebook's press event for… sure enough, its new mobile App Center, the one that started leaking out earlier today.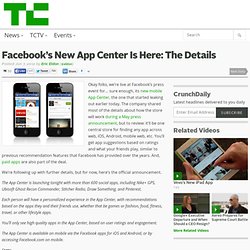 The company shared most of the details about how the store will work during a May press announcement, but to review: it'll be one central store for finding any app across web, iOS, Android, mobile web, etc. You'll get app suggestions based on ratings and what your friends play, similar to previous recommendation features that Facebook has provided over the years. And, paid apps are also part of the deal. Facebook's Acquisition of Karma Brings Mobile Commerce, App Monetization Prowess. Facebook has just acquired mobile commerce startup Karma, which makes apps for gifting friends and family.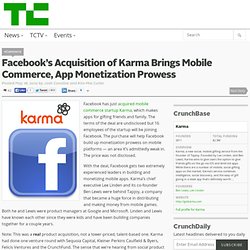 The terms of the deal are undisclosed but 16 employees of the startup will be joining Facebook. The purchase will help Facebook build up monetization prowess on mobile platforms — an area it's admittedly weak in. Facebook s'offre l'application de géolocalisation Glancee. A quelques jours seulement de son introduction en bourse, Facebook vient de s'offrir la start-up Glancee.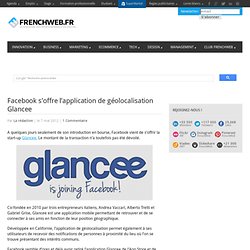 Le montant de la transaction n'a toutefois pas été dévoilé. Co-fondée en 2010 par trois entrepreneurs italiens, Andrea Vaccari, Alberto Tretti et Gabriel Grise, Glancee est une application mobile permettant de retrouver et de se connecter à ses amis en fonction de leur position géographique. Développée en Californie, l'application de géolocalisation permet également à ses utilisateurs de recevoir des notifications de personnes à proximité du lieu où l'on se trouve présentant des intérêts communs.
Due To Revenue Decline, Bankers Lower Facebook IPO Pricing To $27-35 Range. We are hearing from bankers underwriting Facebook's initial public offering, that it will IPO at a $70 billion to $90 billion valuation, or $27-$35 a share.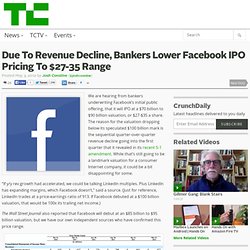 The reason for the valuation dropping below its speculated $100 billion mark is the sequential quarter-over-quarter revenue decline going into the first quarter that it revealed in its recent S-1 amendment. While that's still going to be a landmark valuation for a consumer Internet company, it could be a bit disappointing for some. "If y/y rev growth had accelerated, we could be talking LinkedIn multiples. Plus LinkedIn has expanding margins, which Facebook doesn't," said a source.
Facebook IPO: It's Set for May 18 [REPORT] Facebook's long-awaited Initial Public Offering is happening in just two and a half weeks time, the Wall Street Journal reports Tuesday.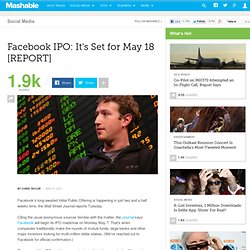 Citing the usual anonymous sources familiar with the matter, the Journal says Facebook will begin its IPO roadshow on Monday May 7. That's when companies traditionally make the rounds of mutual funds, large banks and other major investors looking for multi-million dollar stakes. Facebook's Patent Acquisitions? They're More About Google Than Yahoo. Editor's Note: Leonid ("Lenny") Kravets is a patent attorney at Panitch, Schwarze, Belisario and Nadel, LLP in Philadelphia, PA.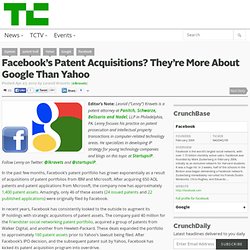 Lenny focuses his practice on patent prosecution and intellectual property transactions in computer-related technology areas. He specializes in developing IP strategy for young technology companies and blogs on this topic at StartupsIP. With Instagram Buy, Facebook Officially Pushes M&A Strategy Beyond The 'Acqui-hire' The very surprising announcement this morning that Facebook is acquiring Instagram for $1 billion says a lot about the state of the web startup ecosystem and the tech world at large — and no doubt, a large part of the industry (and the blogs that breathlessly cover it) will be analyzing what it all means for a while.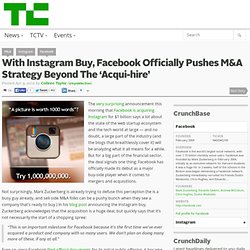 But for a big part of the financial sector, the deal signals one thing: Facebook has officially made its debut as a major buy-side player when it comes to mergers and acquisitions. Not surprisingly, Mark Zuckerberg is already trying to defuse this perception (he is a busy guy already, and sell-side M&A folks can be a pushy bunch when they see a company that's ready to buy.)
In his blog post announcing the Instagram buy, Zuckerberg acknowledges that the acquisition is a huge deal, but quickly says that it's not necessarily the start of a shopping spree: Right Before Acquisition, Instagram Closed $50M At A $500M Valuation From Sequoia, Thrive, Greylock And Benchmark. Welcome to the Monday where Facebook buys Instagram. Actually I'm as shocked as you are about this acquisition, namely because I was working on it as a funding story all morning. From what I'm hearing investors were shocked as well … The details: Facebook spent $68 million on acquisitions last year. The details: Facebook spent $68 million on acquisitions last year Facebook revealed that it spent $68 million in cash and stock on acquisitions last year, according to its filing for an initial public offering. The company said all of the deals were not material. Here's more details on how much Facebook has paid for companies in stock. Why Greedy Stockholders and A $100 Billion IPO Could Hurt Facebook.
Facebook will IPO in April or June 2012, right on time with our prediction and when it would need to start filing public financial reports, according the the Wall Street Journal. The outlet's sources say Facebook could raise $10 billion at a $100 billon valuation, and hasn't chosen which banks to go with yet. But is this the right move? Facebook Confirms Gowalla Acquisition.
Facebook on Monday confirmed its purchase of Gowalla, which had been reported on Friday, but says it isn't buying the brand's service or location-based technology but will instead absorb the management team behind the company. "While Facebook isn't acquiring the Gowalla service or technology, we're sure that the inspiration behind Gowalla will make its way into Facebook over time," reads a statement issued by Facebook. Gowalla's team, including CEO Josh Williams and co-founder Scott Raymond will move from the company's Austin, Texas, headquarters to Facebook home base in Palo Alto, Calif. It's not clear how Facebook will integrate Gowalla's technology. The latter company created a location-based social network that lets users check in to various locations. The service was similar to that of Foursquare, but Foursquare has a much larger user base — 10 million vs. Facebook Confirms Corporate Reorganization, Focusing On Mobile, Ads, Product, Engineering, Profile.
Facebook has confirmed with me that it has undergone a corporate reorganization. "We can confirm that in order to streamline the product development process, we have reorganized our technical teams into product groups that report into Mark. These groups will be lead by Bret Taylor, Chris Cox, Greg Badros, Mike Schroepfer, and Sam Lessin." Though Facebook didn't formally name the divisions headed by these company leaders, their areas of focus are CTO Taylor – mobile, VP of Product Cox – general product, Badros – ads engineering, VP of Engineering Schroepfer – engineering, and Lessin – Timeline / profile. Rumors of the reorganization were first published by AllThingsD's Liz Gannes last night. The company has grown quickly over the last few years, making it difficult to keep those working on related products in sync. List of acquisitions by Facebook.
---