Business on mobile
Mobile-General statistics
comScore: Google Sites Top Facebook On Mobile; 4 Out Of 5 Mobile Media Minutes Spent In Apps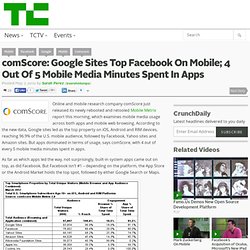 Online and mobile research company comScore just released its newly rebooted and retooled Mobile Metrix report this morning, which examines mobile media usage across both apps and mobile web browsing. According to the new data, Google sites led as the top property on iOS, Android and RIM devices, reaching 96.9% of the U.S. mobile audience, followed by Facebook, Yahoo sites and Amazon sites. But apps dominated in terms of usage, says comScore, with 4 out of every 5 mobile media minutes spent in apps. As far as which apps led the way, not surprisingly, built-in system apps came out on top, as did Facebook. But Facebook isn't #1 – depending on the platform, the App Store or the Android Market holds the top spot, followed by either Google Search or Maps.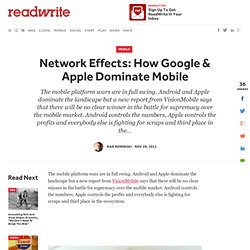 Network Effects: How Google & Apple Dominate Mobile
The mobile platform wars are in full swing. Android and Apple dominate the landscape but a new report from VisionMobile says that there will be no clear winner in the battle for supremacy over the mobile market. Android controls the numbers, Apple controls the profits and everybody else is fighting for scraps and third place in the ecosystem. Developers are the front line soldiers of the platform wars. "iOS and Android are winning not only by virtue of technological sophistication, but primarily by the strength of their application ecosystems," the VisionMobile report states. The "network effect" drives the ecosystem, more sales equals more developers and more applications which in turn drives more developers.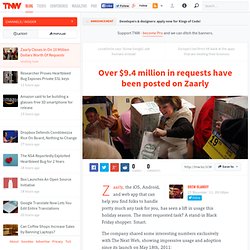 Zaarly, the iOS, Android, and web app that can help you find folks to handle pretty much any task for you, has seen a lift in usage this holiday season. The most requested task? A stand-in Black Friday shopper.
Zaarly Closes In On 10 Million Dollars Worth Of Requests
BYOD : un tiers des responsables informatiques français ne sont pas prêts
Alors que Dell vient de lancer un outil de gestion et de sécurisation centralisé de flottes mobiles hétérogènes (Android et iOS) pour les entreprises, le texan publie fort opportunément une étude démontrant que le BYOD est loin d'être réalité pour les entreprises françaises. Réalisée en octobre et novembre 2012 auprès d'un panel de 250 responsables informatiques travaillant au sein d'entreprises de tailles variées, issues de divers secteurs d'activité, cette étude montre "que si les équipes de support informatiques sont de manière générale satisfaites de leur capacité à détecter et venir à bout des problèmes qui se posent, seul un tiers d'entre elles est en mesure de prendre en charge les nouveaux équipements s'intégrant dans le réseau". Concrètement, 34% des participants ont affirmé leur capacité à intégrer les équipements mobiles traditionnels s'intégrant dans le réseau, mais seulement 32% disent pouvoir prendre en charge les nouveaux terminaux (smartphones, tablettes, etc).
Lundi 21 novembre Vidéo - 21 novembre 2011 :: 14:33 :: Par Nicolas-Lecointre Vimessa, une startup soutenue par Y Combinator et basée à San Francisco, a lancé la semaine dernière son application qui porte le même nom, et qui vous permet d'envoyer des messages vidéos privés en toute gratuité ! Les SMS vous paraissent dépassés ? L'application Vimessa vous propose d'envoyer des messages plus personnels au format vidéo, en utilisant la caméra frontale de votre device . Les utilisateurs du service peuvent envoyer des vidéos haute résolution vers n'importe quel numéro et/ou adresse e-mail, et cela sans débourser le moindre centime.
Découvrez Vimessa, le SMS de la vidéo