People
The Inner Circle
Vice Chairman, BNY Mellon "Confidence is what leadership is really all about." • Generates roughly half of BNY Mellon's pretax income • Manages a third of its 52,000 employees in 115 cities around the globe • Is the first female vice chairman in the company's 227-year history • Started, and still leads, the bank's wildly successful women's network. It's easy to prove Karen Peetz is powerful in the traditional sense of the word. She generates roughly half of BNY Mellon's pretax income.
The 25 Most Powerful Women in Banking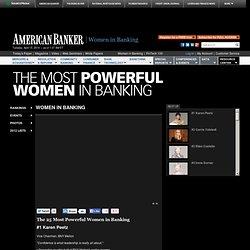 Andy Haldane is Executive Director for Financial Stability. Andy has responsibility for developing Bank policy on financial stability issues and the management of the Financial Stability Area. He is a member of the Financial Policy Committee as well as several senior management committees of the Bank. He is also a member of the Basel Committee.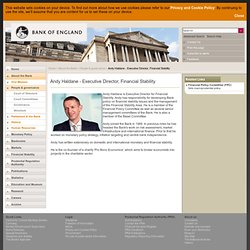 About the Bank | People | Andy Haldane, Executive Director, Financial Stability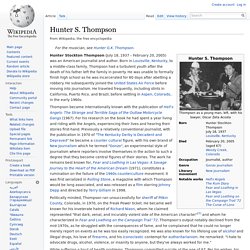 Hunter S. Thompson
Hunter Stockton Thompson (July 18, 1937 – February 20, 2005) was an American journalist and author. Born in Louisville, Kentucky, to a middle-class family, Thompson had a turbulent youth after the death of his father left the family in poverty. He was unable to formally finish high school as he was incarcerated for 60 days after abetting a robbery.
Marwan Ammoun (imar1
I Emilie, I Blog
Ollie Henderson
Featured Publications A remarkably deft work of storytelling that reveals how the blueprint for the postwar economic order was actually drawn. See more in International Finance; United States A fascinating intellectual history of monetary nationalism from the ancient world to the present exploring why, in its modern incarnation, it represents the single greatest threat to globalization. See more in Financial Regulation; Financial Markets; Global Over the past two decades, another form of economic exchange besides imports and exports has risen to a level of vastly greater significance and political concern: the purchase and sale of financial assets across borders.
Benn Steil
!_Who Runs the Government
Michael S. Barr - Former Assistant Treasury Secretary for Financial Institutions (May 2009 to January 2011) - WhoRunsGov.com/TheWashingtonPost
Indra Krishnamurthy Nooyi (born 28 October 1955) is an Indian-American business executive and the current Chairperson and Chief Executive Officer of PepsiCo, the second largest food and beverage business in the world by net revenue.[3] According to Forbes, she is consistently ranked among the World's 100 Most Powerful Women.[4] In 2013, she has been ranked 10th in the list of Forbes World's 100 most powerful women. Early life and career[edit] Nooyi was born in Madras (presently Chennai), Tamil Nadu, India. She was educated at Holy Angels Anglo Indian Higher Secondary School in Madras.
Indra Nooyi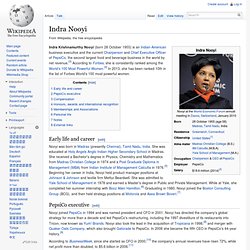 Ben S. Bernanke News
Gerald Celente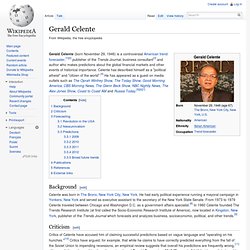 Background[edit] Celente was born in The Bronx, New York City, New York. He had early political experience running a mayoral campaign in Yonkers, New York and served as executive assistant to the secretary of the New York State Senate. From 1973 to 1979 Celente traveled between Chicago and Washington D.C. as a government affairs specialist.[8] In 1980 Celente founded The Trends Research Institute (at first called the Socio-Economic Research Institute of America), now located in Kingston, New York, publisher of the Trends Journal which forecasts and analyzes business, socioeconomic, political, and other trends.[9]
Thomas Day - MarketsWiki, A Commonwealth of Market Knowledge
Thomas Day is managing director, risk and policy, financial services at SunGard Ambit in Arlington, Va.[1] He has held the position since May of 2010. Day has more than 20 years of banking and risk management experience. He has worked at the senior vice president level in portfolio management, derivatives, balance sheet modeling and strategies.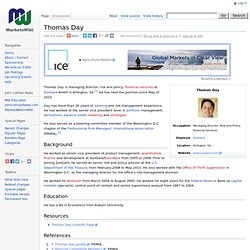 Hank Prybylski video interview - Ernst & Young - United States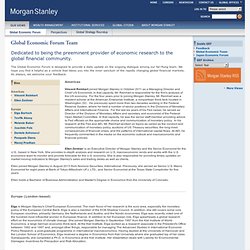 Morgan Stanley - Global Economic Forum Team
Dedicated to being the preeminent provider of economic research to the global financial community. The Global Economic Forum is designed to provide a daily update on the ongoing dialogue among our far-flung team. We hope you find it helpful as a vehicle that takes you into the inner sanctum of the rapidly changing global financial markets. As always, we welcome your feedback.
Richard Christopher Whalen
This is the personal home page of author and investment banker Christopher Whalen, who lives and works in New York City. He is the author of the 2010 book, Inflated: How Money and Debt Built the American Dream, now in its second edition from John Wiley & Sons. Christopher is completing a new book co-authored with Frederick Feldkamp entitled Financial Stability: Fraud, Confidence & the Wealth of Nations which is scheduled to be published by John Wiley & Sons in the second half of 2014. From 2003 through the end of 2013, Christopher edited The Institutional Risk Analyst, a weekly news analysis and commentary on risk and the global political economy.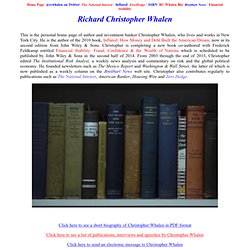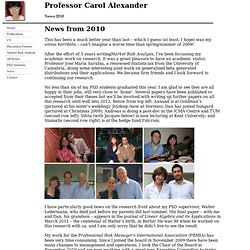 Professor Carol Alexander - Market Risk Analysis: News 2010
News from 2010 This has been a much better year than last – which I guess (at least, I hope) was my annus horribilis – can't imagine a worse time than spring/summer of 2009! After the effort of 5 years writingMarket Risk Analysis, I've been focussing my academic work on research. It was a great pleasure to have an academic visitor, Professor José María Sarabia, a renowned Statistician from the University of Cantabria, doing some interesting joint work on generalized beta generated distributions and their applications. We became firm friends and I look forward to continuing our research. No less than six of my PhD students graduated this year.
Regulations Smothering Small Banks | William Isaac
Regulations Smothering Small Banks Posted: Apr 4, 2011 by William M. Isaac & Robert H Smith for American Banker Everyone has an interest in policies that will foster a strong economy and sustainable job growth. While some steps have been taken, we are not getting the job done. Over half of U.S. job growth is initiated by small businesses.
Note on this post: In the last while we have been provided with plenty of fodder for reflections on the virtual society. A virtual girlfriend that is (surprise) not real; a new product to help connect the dots across our indelible social network footprints; another product gathering steam that allows us to create footprints that, like those of real humans, wash away.
Rick Bookstaber
FDIC Isaac Remarks at Roundtable on Brokered Deposits Posted: Mar 18, 2011 During my tenure as Chairman of the FDIC, the practice of money brokers bundling vast sums of money from investors and placing those funds in high-risk banks and S&Ls paying the highest interest rates cost the FDIC and taxpayers tens of billions of dollars in losses. The FDIC had a similar experience with brokered funds during the most recent crisis. It was my honor to participate in an FDIC Roundtable on this subject on March 18, 2011. The agenda of that Roundtable is below followed by my opening remarks.
FDIC Isaac Remarks at Roundtable on Brokered Deposits | William Isaac
David R. Koenig
Bert Ely has specialized in deposit insurance and banking structure issues since 1981. As the S&L situation worsened, he became in 1986 one of the first persons to publicly predict a taxpayer bailout of the FSLIC. In 1991, he was the first person to correctly predict the non-crisis in commercial banking; in 1992, he predicted the forthcoming taxpayer bailout of the Japanese banking system. In recent years Bert has been sounding the alarm about the financial risks posed to taxpayers by the two government-sponsored enterprises Fannie Mae and Freddie Mac. He has co-authored two monographs on Fannie and Freddie issues that were published by the American Enterprise Institute, and has testified before Congress about the Fannie/Freddie problem.
Bert Ely | Washington Association of Money Managers
Kevin on the Street
This post also published at TabbFORUM.com Regulations will have a significant impact on how SEF aggregators function and how widely these aggregators will be adopted by various market participants. Some of the most contentious rule proposals are those that will have the greatest impact on liquidity fragmentation. They include the 15-second rule, the ability to voice trade, the "block trade" definition, best execution requirements, and the requirement to send an RFQ to five dealers. The Smart Automated Agency Broker (SAAB), think swaps smart order router on steroids, will not only help traders execute the right product at the right price, but it will also mitigate regulatory complexities.
Darrell Duffie, Graduate School of Business, Stanford University