People
The Inner Circle
Vice Chairman, BNY Mellon
The 25 Most Powerful Women in Banking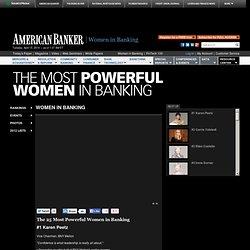 Andy Haldane is Executive Director for Financial Stability. Andy has responsibility for developing Bank policy on financial stability issues and the management of the Financial Stability Area. He is a member of the newly established Financial Policy Committee as well as several senior management committees of the Bank.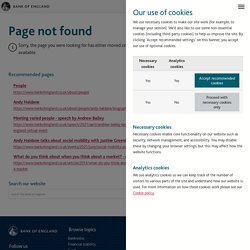 About the Bank | People | Andy Haldane, Executive Director, Financial Stability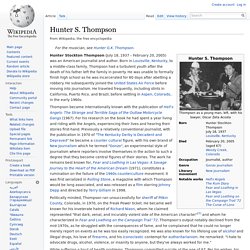 Hunter S. Thompson
Hunter Stockton Thompson (July 18, 1937 – February 20, 2005) was an American author and journalist. Born in Louisville, Kentucky to a middle class family, Thompson went off the rails in his teens after the death of his father left the family in poverty. He was unable to formally finish high school as he was incarcerated for 60 days after abetting a robbery.
Laurence J. Kotlikoff | www.kotlikoff.net
Marwan Ammoun (imar1
I Emilie, I Blog
Ollie Henderson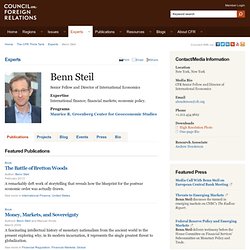 Featured Publications A remarkably deft work of storytelling that reveals how the blueprint for the postwar economic order was actually drawn.
Benn Steil
!_Who Runs the Government
Michael S. Barr - Former Assistant Treasury Secretary for Financial Institutions (May 2009 to January 2011) - WhoRunsGov.com/TheWashingtonPost
Indra Krishnamurthy Nooyi (born 28 October 1955) is an Indian-American business executive and the current Chairman and Chief Executive Officer of PepsiCo , the second largest food and beverage business in the world by net revenue. [ 2 ] According to Forbes , she is consistently ranked among World's 100 Most Powerful Women . [ 3 ]
Indra Nooyi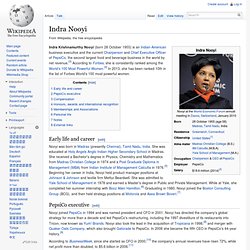 Ben S. Bernanke News
Gerald Celente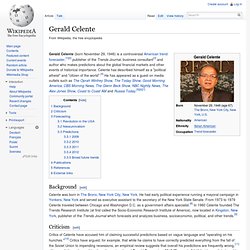 Gerald Celente (born November 29, 1946) is an American trend forecaster , [ 1 ] [ 2 ] publisher of the Trends Journal , business consultant [ 3 ] and author who makes predictions about the global financial markets and other events of historical importance.
Thomas Day - MarketsWiki, A Commonwealth of Market Knowledge
Thomas Day is managing director, risk and policy, financial services at Sungard Ambit in Arlington, Va. [1] He has held the position since May of 2010. Day has more than 20 years of banking and risk management experience. He has worked at the senior vice president level in portfolio management, derivatives , balance sheet modeling and strategies .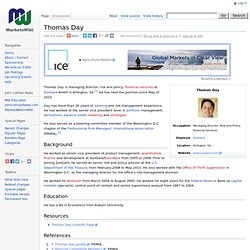 Hank Prybylski video interview - Ernst & Young - United States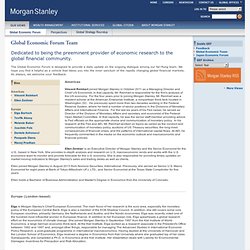 Morgan Stanley - Global Economic Forum Team
Dedicated to being the preeminent provider of economic research to the global financial community.
Richard Christopher Whalen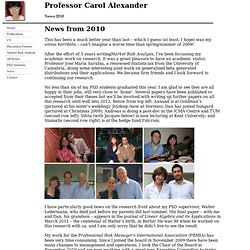 Professor Carol Alexander - Market Risk Analysis: News 2010
News from 2010 This has been a much better year than last – which I guess (at least, I hope) was my annus horribilis – can't imagine a worse time than spring/summer of 2009!
Andrea Psoras's Page
Regulations Smothering Small Banks | William Isaac
Regulations Smothering Small Banks Posted: Apr 4, 2011 by William M.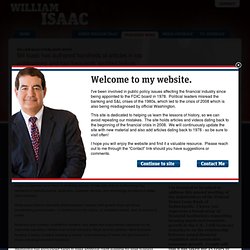 Rick Bookstaber
FDIC Isaac Remarks at Roundtable on Brokered Deposits Posted: Mar 18, 2011
FDIC Isaac Remarks at Roundtable on Brokered Deposits | William Isaac
David R. Koenig
Bert Ely has specialized in deposit insurance and banking structure issues since 1981.
Bert Ely | Washington Association of Money Managers
Kevin on the Street
Darrell Duffie, Graduate School of Business, Stanford University