FRB
Fed Confronts Limited Tools to Stir Economy. A - Z Index. ESPAÑOL Página de niños de la Reserva Federal Margin requirements--SeeSecurities.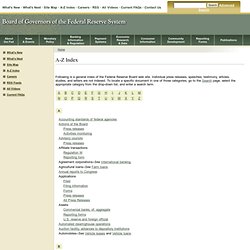 MeetingsMicro Data Reference ManualMinority-business creditMinority-owned banksMissionMonetary policy Money laundering--SeeBank Secrecy Act. Money market ratesMonthly Report on Credit and Liquidity ProgramsMoney stock measures Mortgages ESPAÑOL 5 Consejos para evitar estafas en la ejecución hipotecaria (Foreclosure) Federal Reserve Board: Proposals for Comment. Proposals for Comment Skip to content The Board has requested public comment on the proposals listed below.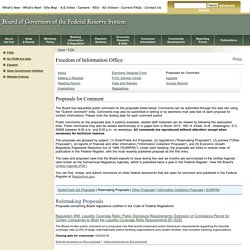 Comments can be submitted through this web site using the "Submit comment" links. Comments may also be submitted in writing or by electronic mail (see text of each proposal for contact information). Please note the closing date for each comment period.
FRA of 1913
West creek operations center. CFR. SR Letters. Board of Governors of the Federal Reserve System. Supervision and Regulation Letters -- 2010. Supervision and Regulation Letters, commonly known as SR Letters, address significant policy and procedural matters related to the Federal Reserve System's supervisory responsibilities.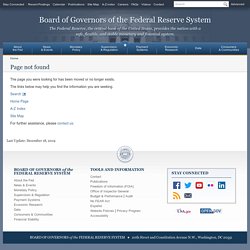 Active SR letters are listed here in reverse chronological order. Obsolete letters or letters that contain confidential supervisory information are not included. Learn more about SR Letters Guidance on Model Risk Management Guidance on Accepting Accounts from Foreign Embassies, Consulates and Missions (foreign missions)
---