Financial News Blogs
International Financing Review
Forex - Unofficial Problem Bank list increases to 985 Institutions - March 26 11 8:15 EDT - ForexTV.com
The Investing News Source for Financial Advisers
Vesteo
Login Close Lost password | New account
London Banker
I've been hesitant to write about the LIBOR scandal because what I want to say goes so much further. We now know that Barclays and other major global banks have been manipulating the calculation of LIBOR through the quotation data they provided to the British Bankers Association. What I suspect is that this is not a flaw but a feature of modern financial markets.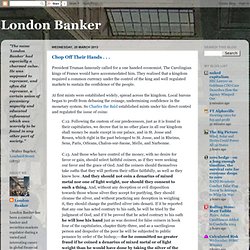 Welcome to 2014: The year of the deal maker berman@globeandmail.com There's every sign that 2014 will be the year private-equity deals come roaring back, led by more huge transactions that recall the mega-acquisitions of the pre-crisis era. Tuesday, January 07, 2014 Balanced funds buoyed by equity gains jnelson@globeandmail.comWhat are we looking for? Funds that posted the best gains in the popular balanced funds category.The screen We searched for the 15 top performers among all Canadian, global and tactical balanced funds in the year to Nov. 30.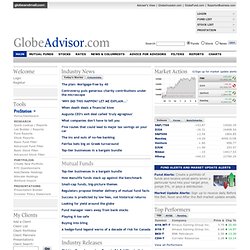 globeadvisor.com
NT Times - DealBook
Mary Cybulski/Paramount PicturesLeonardo DiCaprio portrayed Jordan Belfort in Martin Scorsese's "The Wolf of Wall Street." The Real Belfort Story Missing From 'Wolf' Movie Jordan Belfort has had a great cinematic run in the new Martin Scorsese film "The Wolf of Wall Street," but for many of his victims, the ending is beyond an insult, writes Joel M.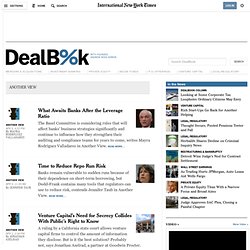 Financial resources, articles, concepts and opinions from QFINANCE
Finance and Business Blog
Skip to main content Skip to primary navigation Submit an article Register Log in Contact us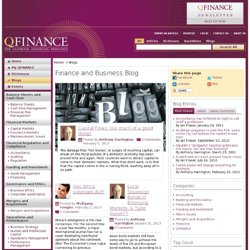 The company also practices dirty accounting tricks like "forward funding," "advance funding," and "delayed obligations," deceptive tricks that hide its precipitous finances from auditors and its investors. This company routinely borrows from its workers' pension plan to pay off its debt. Its accountants then claim that because the company owes the borrowed money to its own pensioners and not to outside creditors, the resulting hole in the pension plan doesn't really count as a liability. Sometimes, the company's executives neglect to pass a budget at all.
DAILYBAIL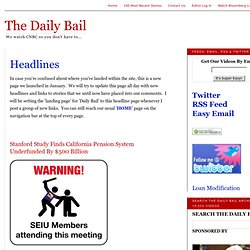 By James Kwak Which is to say, a basket case. Along with Citigroup, and Bank of America. We all know that JPMorgan Chase is too big to fail. We all know that this means that it enjoys the benefit of a likely bailout from the federal government and the Federal Reserve should it ever collapse in a financial crisis. So why does that make it a poorly run company?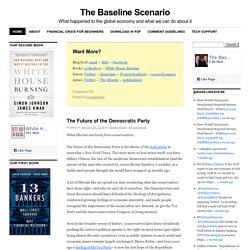 The Myth Of The Resolution Authority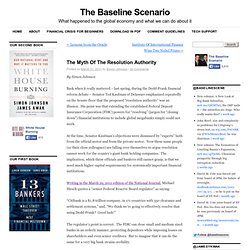 By Simon Johnson Back when it really mattered – last spring, during the Dodd-Frank financial reform debate – Senator Ted Kaufman of Delaware emphasized repeatedly on the Senate floor that the proposed "resolution authority" was an illusion. His point was that extending the established Federal Deposit Insurance Corporation (FDIC) powers for "resolving" (jargon for "closing down") financial institutions to include global megabanks simply could not work. At the time, Senator Kaufman's objections were dismissed by "experts" both from the official sector and from the private sector. Now these same people (or their close colleagues) are falling over themselves to argue resolution cannot work for the country's giant bank holding companies. The implication, which these officials and bankers still cannot grasp, is that we need much higher capital requirements for systemically important financial institutions.
- At the risk of oversimplifying, there seems to be a single overriding driver of the global capital markets in the coming days - The US real sector data, like retail sales, industrial production and housing starts, risk being on the soft side; but there are some other important data reports elsewhere - We note that the tight link between dollar-yen and the Nikkei has lessened - Despite the growing tensions in Thailand and the risk of military involvement, the SET index bounced higher today by 2.2% while the THB is roughly stable. - The Shanghai Composite failed to react to the delays for new listings and more stringent approval rules - We also provide a short preview of EM developments in the week ahead Read more ›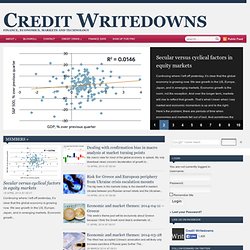 IRA Analyst - A Crime Called Private Mortgage Insurance; Alex Pollock on the Political Finance of Covered Bonds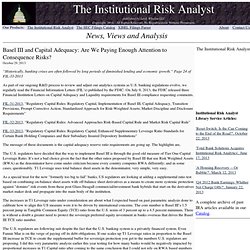 Basel III and Capital Adequacy: Are We Paying Enough Attention to Consequence Risks?October 29, 2013 As part of our ongoing R&D process to review and adjust our analytics systems as U.S. banking regulations evolve, we regularly read the Financial Information Letters (FIL's) published by the FDIC. On July 9, 2013, the FDIC released three Financial Institution Letters on Capital Adequacy and Liquidity requirements for Basel III compliance requesting comments. FIL-31-2013, "Regulatory Capital Rules: Regulatory Capital, Implementation of Basel III, Capital Adequacy, Transition Provisions, Prompt Corrective Action; Standardized Approach for Risk-Weighted Assets; Market Discipline and Disclosure Requirements" FIL-32-2013, "Regulatory Capital Rules: Advanced Approaches Risk-Based Capital Rule and Market Risk Capital Rule"
by Bill McBride on 1/17/2014 04:20:00 PM From housing economist Tom Lawler: Based on realtor association/MLS reports from across the country, I estimate that US existing home sales as measured by the National Association of Realtors ran at a seasonally adjusted annual rate of 4.96 million in December, up 1.2% from both November's seasonally adjusted pace and last December's seasonally adjusted pace. I estimate that unadjusted sales (as measured by the NAR) showed a slightly higher YOY growth than SA sales, reflecting this December's higher business day count than last December. YOY sales results varied massively across the country. California home sales showed a sizable YOY drop last month, reflecting a large decline in "distressed" sales as well as a steep decrease in investor buying of both distressed and non-distressed sales, combined with relatively flat sales to owner occupants.
Credit Slips
One of the huge questions hanging over the mortgage market today is what will happen to access to credit for credit impaired or non-traditional borrowers. There is a real concern that the Dodd-Frank Act's mortgage reforms will reduce the availability of mortgage credit because lenders' fear liability for making mortgage loans that fail to qualify as "Qualified Mortgages" (QM) and are thus potentially subject to an Ability-to-Repay (ATR) defense. I've blogged on aspect of QM before (here, here, here, here, here, here, here, and here).