Financial News Blogs
International Financing Review
Forex - Unofficial Problem Bank list increases to 985 Institutions - March 26 11 8:15 EDT - ForexTV.com
The Investing News Source for Financial Advisers
Vesteo
London Banker
globeadvisor.com
NT Times - DealBook
Rebutting the Contention That Small Is Better for Banks In relation to the economy it supports, the United States banking system is relatively small compared with those of other developed countries, so breaking up banks doesn't seem justified, the author writes. Re-examining Board Priorities in an Era of Activism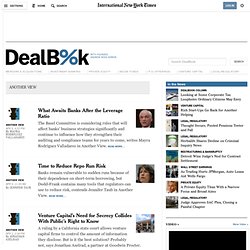 Financial resources, articles, concepts and opinions from QFINANCE
Finance and Business Blog
Skip to main content Skip to primary navigation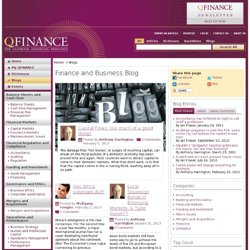 The company also practices dirty accounting tricks like "forward funding," "advance funding," and "delayed obligations," deceptive tricks that hide its precipitous finances from auditors and its investors.
DAILYBAIL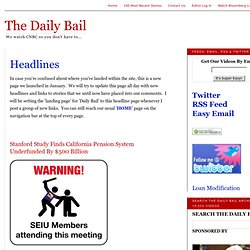 The Myth Of The Resolution Authority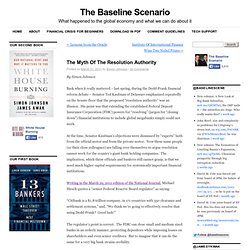 By Simon Johnson Back when it really mattered – last spring, during the Dodd-Frank financial reform debate – Senator Ted Kaufman of Delaware emphasized repeatedly on the Senate floor that the proposed "resolution authority" was an illusion.
Credit Writedowns
IRA Analyst - A Crime Called Private Mortgage Insurance; Alex Pollock on the Political Finance of Covered Bonds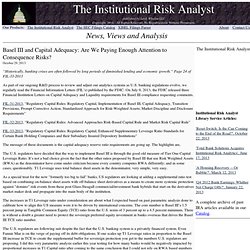 Kotok on EU Madness Over Cyprus; Feldkamp: Fraud is Fraud at JP Morgan March 18, 2013 This week in The Institutional Risk Analyst , we hear from attorney Fred Feldkamp on the situation at JPMorgan in the wake of the report by the Senate Permanent Subcommittee on Investigations. Good faith, it seems, is not enough.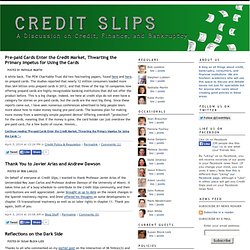 Credit Slips
The New York Fed has posted a new analysis of student loan debt . Depending on how you read the data, student loan borrowers are either in serious trouble, or are no worse off than consumers with credit card debt or car loans. The bad news is that only 39% of borrowers are paying down their student loan debt.