Financial News Blogs
International Financing Review
Forex - Unofficial Problem Bank list increases to 985 Institutions - March 26 11 8:15 EDT - ForexTV.com
The Investing News Source for Financial Advisers
Vesteo
London Banker
globeadvisor.com
NT Times - DealBook
Mary Cybulski/Paramount PicturesLeonardo DiCaprio portrayed Jordan Belfort in Martin Scorsese's "The Wolf of Wall Street." The Real Belfort Story Missing From 'Wolf' Movie Jordan Belfort has had a great cinematic run in the new Martin Scorsese film "The Wolf of Wall Street," but for many of his victims, the ending is beyond an insult, writes Joel M.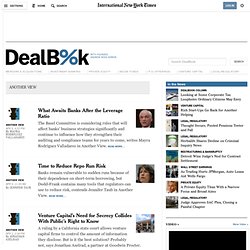 Financial resources, articles, concepts and opinions from QFINANCE
Finance and Business Blog
Skip to main content Skip to primary navigation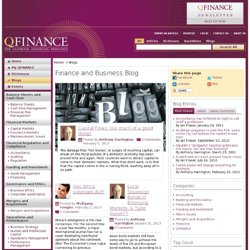 The company also practices dirty accounting tricks like "forward funding," "advance funding," and "delayed obligations," deceptive tricks that hide its precipitous finances from auditors and its investors.
DAILYBAIL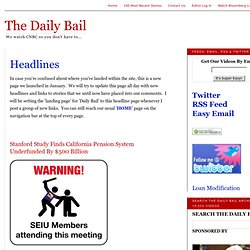 The Myth Of The Resolution Authority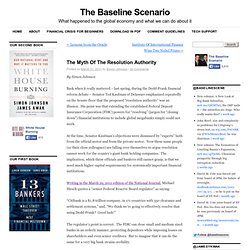 By Simon Johnson Back when it really mattered – last spring, during the Dodd-Frank financial reform debate – Senator Ted Kaufman of Delaware emphasized repeatedly on the Senate floor that the proposed "resolution authority" was an illusion.
Credit Writedowns
IRA Analyst - A Crime Called Private Mortgage Insurance; Alex Pollock on the Political Finance of Covered Bonds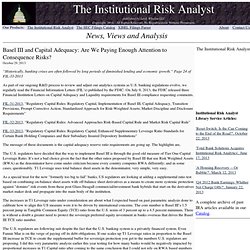 Basel III and Capital Adequacy: Are We Paying Enough Attention to Consequence Risks?October 29, 2013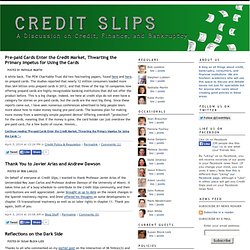 Credit Slips
One of the huge questions hanging over the mortgage market today is what will happen to access to credit for credit impaired or non-traditional borrowers. There is a real concern that the Dodd-Frank Act's mortgage reforms will reduce the availability of mortgage credit because lenders' fear liability for making mortgage loans that fail to qualify as "Qualified Mortgages" (QM) and are thus potentially subject to an Ability-to-Repay (ATR) defense. I've blogged on aspect of QM before (here, here, here, here, here, here, here, and here).