Congress and Politics
University of Iowa - Historical Testimony
Committee on Homeland Security
Senate - Banking Housing and Urban Affairs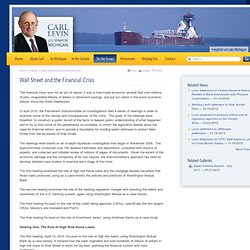 Carl Levin - United States Senator for Michigan: Issues - Wall Street and the Financial Crisis
The financial crisis was not an act of nature; it was a man-made economic assault that cost millions of jobs, evaporated billions of dollars in retirement savings, and put our nation in the worst economic tailspin since the Great Depression. In April 2010, the Permanent Subcommittee on Investigations held a series of hearings in order to examine some of the causes and consequences of the crisis. The goals of the hearings were threefold: to construct a public record of the facts to deepen public understanding of what happened and to try to hold some of the perpetrators accountable; to inform the legislative debate about the need for financial reform; and to provide a foundation for building better defenses to protect Main Street from the excesses of Wall Street. The hearings were based on an in-depth bipartisan investigation that began in November 2008.
Joint Economic Committee of Congress
Senate - Small Business and Entrepreneurship
Committee on Financial Services_House
United States Senate Committee on Banking, Housing and Urban Affairs : Home
U.S. Congress Joint Economic Committee
close spaceplay / pause escstop ffullscreen shift + ←→slower / faster (latest Chrome and Safari)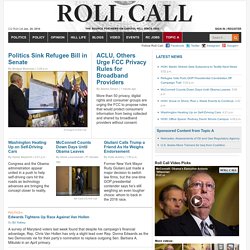 Choices for Deficit Reduction: An Update Federal debt is projected to rise significantly over the long term as the aging of the population, rising health care costs, and the expansion of federal subsidies for health insurance put increasing pressure on the federal budget. What policy changes could reduce future budget deficits and thus lower the trajectory of federal debt? What criteria might be used to evaluate those policy changes? Read the report Projected Costs of U.S.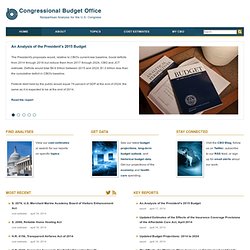 Office of the Clerk of the U.S. House of Representatives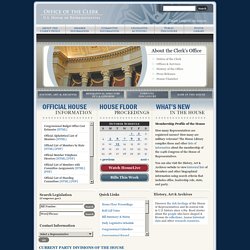 Official List of Members with Committee Assignments [HTML] [PDF] Member Mailing Labels [MS Word] [Word Perfect] [Excel] [ASCII] (right click link and select Save Target As) List of Duplicate and Similar Names of Members [PDF] State of the Union Address The President's 2011 State of the Union address to a Joint Session of Congress took place January 25, at 9 p.m. Explore facts, history and precedents of the State of the Union Message, from George Washington to today.
THOMAS provides many options for finding legislation and information about legislation. These options are described below. Search Bill Text Search the full text of legislation for words or phrases or search by bill number. Coverage: The Bill Text feature covers the 101st Congress (1989) to the current Congress.
Bills, Resolutions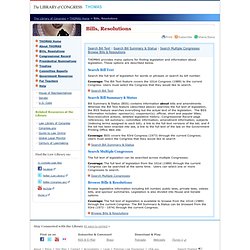 United States Senate Committee on Banking, Housing and Urban Affairs : Home
Home | Financial Services Committee | U.S. House of Representatives