ARTICLES
AICPA | www.IFRS.com : Updates : FASB
Mortgage Modification and Strategic Behavior: Evidence from a Legal Settlement with Countrywide by Christopher Mayer, Edward Morrison, Tomasz Piskorski, Arpit Gupta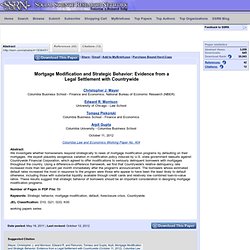 Christopher J. Mayer Columbia Business School - Finance and Economics; National Bureau of Economic Research (NBER) Edward R.
President Obama said Sunday evening that leaders of both parties have reached an agreement to lift the debt ceiling, reduce the deficit and avoid a credit default.
White House Issues Fact Sheet on Debt Deal - Washington Wire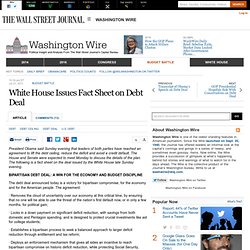 Article Excerpt The black-and-white borders of the bond market are graying. As the pristine credit rating of the U.S. remains under threat, and the debt crisis in Europe rolls on, investors, traders and policy makers are grappling with fundamental changes in the global bond markets.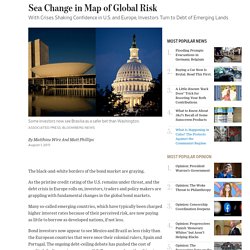 Government Debt World Undergoes Sea Change
Introduction_Final
The President Surrenders on Debt Ceiling
For the deal itself, given the available information, is a disaster, and not just for President Obama and his party. It will damage an already depressed economy; it will probably make America's long-run deficit problem worse, not better; and most important, by demonstrating that raw extortion works and carries no political cost, it will take America a long way down the road to banana-republic status.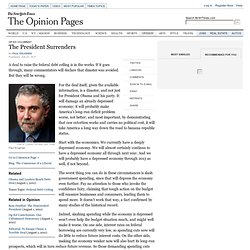 The page you requested could not be found. You can access the site search function from our homepage , alternatively here is a current site map . If you want to talk to someone at PwC about a current business issue, or find out more information about a particular issue or about PwC and the services we provide, you can call our main switchboard number on +44 (0) 20 7583 5000. Here is an overview of all our UK office locations , including local telephone numbers. The contact details of many individual service and/or industry specialists are listed on the relevant pages across the site. You can also send us an e-mail with your comments or suggestions.
A View from the Top: Credit Risk Management Dashboard Reporting for Financial Institutions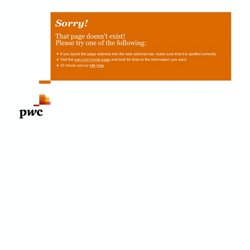 Time to Go it Alone and Bolt from Basel?
Former Tarp Executive Calls for Big Bank Breakup
Nervous Investors Chase Low-Risk Assets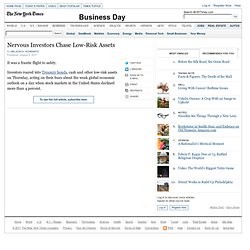 Investors roared into , cash and other low-risk assets on Thursday, acting on their fears about the weak global economic outlook on a day when stock markets in the United States declined more than 4 percent. Just last week, the markets showed signs of nervousness about the government's creditworthiness during a standoff over Washington's . But on Thursday, yields on two-year Treasury notes touched 0.26 percent, the lowest ever, while the yield on the benchmark 10-year bond dropped 21 basis points to 2.41.
Is Fat Good in Finance? Looking at the Vickers Report - Bank Think Article
"In financial ecosystems, evolutionary forces have often been survival of the fattest rather than the fittest." So says Andrew Haldane, Executive Director for Financial Stability at the Bank of England. He is right.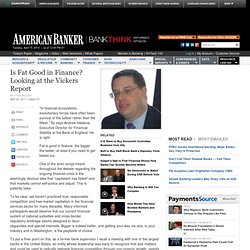 by Bill Taylor | 8:24 AM February 1, 2011 In a recent issue of The New Yorker , Atul Gawande, the gifted writer and accomplished doctor, published yet another of his must-read accounts of the health-care crisis and the innovators trying to change things for the better. One of the organizations he highlighted was a physician practice in Atlantic City, N.J., that has "reinvented the idea of a primary-care clinic in almost every way." The Special Care Center does all kinds of things differently from other medical practices, including hiring full-time "health coaches" who work with the doctors but spend almost all of their time with the practice's low-income patients, helping them manage chronic illnesses and improve their lifestyles.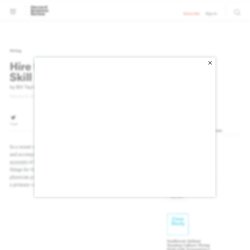 Hire for Attitude, Train for Skill - Bill Taylor
By Peter Elstob LONDON, Aug. 15 (Thomson Reuters Accelus) – The bans on short-selling the shares in a number of banks and insurance companies (and one stock exchange) that four member states imposed on Friday did not bring the single European rulebook any closer. However, the European Commission will be hoping that the separate initiatives by the Belgian, French, Italian and Spanish market regulators, which came out of "coordinated discussions" during a conference call on Thursday evening involving all 27 members of the European Securities and Markets Authority, do not put it further away.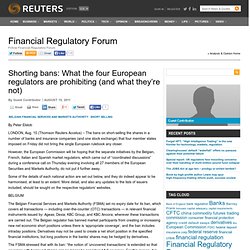 Shorting bans: What the four European regulators are prohibiting (and what they're not) | Financial Regulatory Forum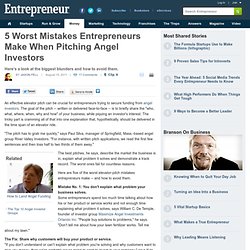 Five Worst Mistakes Entrepreneurs Make When Pitching Angel Investors
Here's a look at the biggest blunders and how to avoid them. An effective elevator pitch can be crucial for entrepreneurs trying to secure funding from angel investors . The goal of the pitch -- written or delivered face-to-face -- is to briefly share the "who, what, where, when, why and how" of your business, while piquing an investor's interest. The tricky part is cramming all of that into one explanation that, hypothetically, should be delivered in the time span of an elevator ride. "The pitch has to grab me quickly," says Paul Silva, manager of Springfield, Mass.
Recovery Plans Need More Attention than Living Wills - Bank Think Article
One of the vital lessons learned from our ongoing financial crisis is the difficulty in measuring the potential impacts of a large, cross-border bank failure. Variance in supervisory processes, regulatory and firm readiness, bankruptcy laws, resolution regimes, policy responses, and official sector coordination mechanisms exposed a vacuum of information necessary to reduce the amplification of stress. These gaps impose enormous un-funded costs to the system. In the United States the Dodd-Frank Act attempts to enhance the government's ability to cope with stress events by requiring "living wills," formally known as "resolution" or sometimes "death" plans. The theory is that during the next material and potentially irrecoverable stress, the government will have a "roadmap" for how it might proceed to unwind a systemic, or firm-wide failure.
Steve Jobs, who stepped down as CEO of Apple Wednesday after having been on medical leave, reflected on his life, career and mortality in a well-known commencement address at Stanford University in 2005. Here, read the text of of that address: I am honored to be with you today at your commencement from one of the finest universities in the world.
Steve Jobs' Commencement Address at Stanford University
George Soros is right; the world's financial system does need to be reformed, but just not in the way he and his collectivist cohorts envision. So moved by the ongoing financial crisis, Soros felt compelled to take action. The world has suffered as a result of "unfettered" financial markets and Soros decided now is the time to rethink how the global economy and markets should function.
American Thinker: The Soros Plan to Remake Global Finance
The Concept of Justice in the History of Economic Thought by Matthias Lennig
Goethe University Frankfurt; Goethe University Frankfurt - Cluster of Excellence Normative Orders May 31, 2011 Abstract: Economic thought has shifted its focus from an essentially normative approach, dealing with the question of justice, to an emphasis on efficiency and equilibria.
Moody's: Chinese Agency Understated Risk From Local Government Loans
Bernanke On Trial For Crimes Against Humanity; To Be Judged By Citizen Councils Led By Glenn Greenwald & Alex Jones
Upside Potential Ratio
J.P. Morgan | From Alpha to Omega: The Omega Measure
Yesterday's Heroes: Compensation and Creative Risk-Taking by Ing-Haw Cheng, Harrison Hong, Jose Scheinkman
The Irresponsible Investor - The New York Times
text.pdf (application/pdf Object)
Speeches & Testimony - 4/14/2011
HEARD ON THE STREET: J.P. Morgan Still Chasing Growth
Heard on the Street: Bank, Pray, Plan
Fed 'Beige Book' Report Says Economy Continues to Improve
Regulators Order 14 Banks to Revamp Foreclosure Practices
Senate Report Lays Bare Mortgage Mess
U.S. Asks if Banks Colluded on Libor
Financial Crisis With Few Prosecutions
President Open to Deal on Debt Cap