Asset Managers and Alternative Investment
Managed Funds Association
Since 1848, Lazard has remained a trusted advisor to governments, financial institutions, public and private retirement plans, and individuals around the world. Our clients are discerning, and seek high-quality and versatile investment solutions; we provide an array of strategies to meet their diverse objectives. Our investment professionals operate independently and collaborate globally, vetting our best ideas through rigorous analysis to deliver the return patterns our clients expect.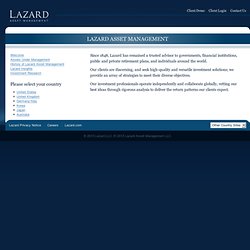 Lazard Asset Management LLC - Welcome
Kingdon Capital
Annual Chairman's Video 2013: "A Year of Innovation" Neither this video nor any of the information contained herein constitutes an offer of any Blackstone fund. Past performance is not indicative of future results and there is no assurance that any Blackstone fund will achieve its objectives or avoid significant losses. This video may contain forward-looking statements; such statements are subject to various risks and uncertainties. For information about Blackstone's business, including risks and financial information, please refer to our most recent Annual Report on Form 10-K filed with the Securities and Exchange Commission.
The Blackstone Group LP – Leading Investment and Advisory Firm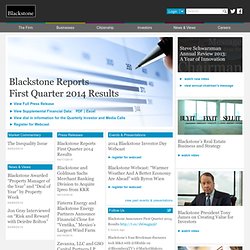 AUM and AI - Research and News
AllianceBernstein
Defined Benefit Many of the world's largest defined benefit and defined contribution plans, as well as smaller plans around the world, invest with us. Among them are corporate, public and union funds. Defined Contribution US and UK defined contribution plans, large and small, invest with us.