Agencies
Federal Deposit Insurance Corporation
Conference of State Bank Supervisors
National Credit Union Administration (NCUA)
The OTC Derivatives Regulators' Forum
Financial Stability Board
Pittsburgh Summit
Releases Its Most Recent Report On The Recovery Act | Following the Money | GAO.gov
Across the United States, as of March 8, 2013, the Department of the Treasury has paid out $265.6 billion in Recovery Act funds for use in states and localities. Of that amount, $5.5 billion has been paid out since the beginning of fiscal year 2013 (October 1, 2012). The Recovery Act provided $6.6 billion to the Department of Energy's (DOE) Office of Environmental Management (EM), which it is using to expand and accelerate cleanup activities in 17 sites around the country. The latest GAO report on the uses of Recovery Act funds focuses on funding for Department of Energy (DOE) cleanup projects. See full report GAO-13-23 .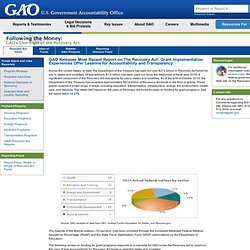 Congressional Budget Office - Economic Stimulus
Page Content Welcome to the website of the Financial Stability Oversight Council (FSOC).
Financial Stability Oversight Council
Treasury Committee
Financial Crisis: IMF Key Issues