Agencies
Conference of State Bank Supervisors
National Credit Union Administration (NCUA)
The OTC Derivatives Regulators' Forum
FSB Plenary endorsed nominees to the initial Board of Directors (BoD) of the GLEIF The FSB Plenary, in its capacity as the Founder of the Global Legal Entity Identifier Foundation (GLEIF), has endorsed the nominees to the initial Board of Directors (BoD) of the GLEIF, based on a recommendation from the LEI Regulatory Oversight Committee (ROC). Consultation on assessment methodologies for identifying non-bank non-insurer global systemically important financial institutions (NBNI G-SIFIs) The FSB, jointly with IOSCO, published on 8 January 2014 a consultative document on the assessment methodologies for identifying NBNI G-SIFIs.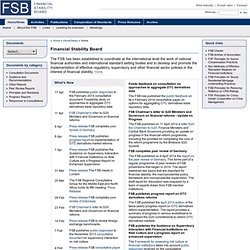 Financial Stability Board
Pittsburgh Summit
Pittsburgh, Pennsylvania was host to the G-20 Summit held from September 24-25, 2009. President Obama chaired the meeting of leaders from countries around the world that represent 85 percent of the world's economy. At the Pittsburgh G-20 Summit, leaders reviewed the progress made since the Washington and London Summits and together they discussed further actions to assure a sound and sustainable recovery from the global financial and economic crisis.
Releases Its Most Recent Report On The Recovery Act | Following the Money | GAO.gov
Across the United States, to date, the Department of the Treasury has paid out over $272 billion in Recovery Act funds for use in states and localities. Of that amount, $1.6 billion has been paid out since the beginning of fiscal year 2014. The Department of Education (Education) created Race to The Top (RTT) under the Recovery Act to provide incentives for states to reform K-12 education in areas such as improving the lowest performing schools and developing effective teachers and leaders. In 2010, Education awarded 12 states nearly $4 billion in RTT grant funds to spend over 4 years. The latest GAO report on the uses of Recovery Act funds focuses on funding for Education's RTT program.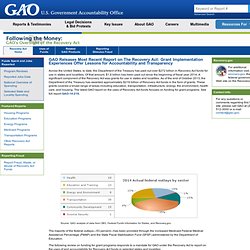 Page Content Welcome to the website of the Financial Stability Oversight Council (FSOC). As established under the Dodd-Frank Wall Street Reform and Consumer Protection Act, the Council provides, for the first time, comprehensive monitoring of the stability of our nation's financial system. The Council is charged with identifying risks to the financial stability of the United States; promoting market discipline; and responding to emerging risks to the stability of the United States' financial system. The Council consists of 10 voting members and 5 nonvoting members and brings together the expertise of federal financial regulators, state regulators, and an independent insurance expert appointed by the President.
Financial Stability Oversight Council
Treasury Committee
Financial Crisis: IMF Key Issues