Web
The big internet museum. You are about to enter the Big Internet Museum.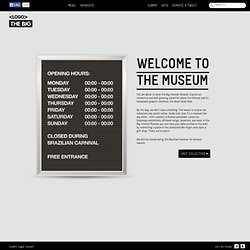 Explore an interactive and ever-growing collection about the Internet and its remarkable graphic interface: the World Wide Web. By the way, we don't have a building. The reason is simple: our collection only exists online. Aside from that it's a museum like any other – with curators, a diverse permanent collection, temporary exhibitions, different wings, donations, and more. In the Big Internet Museum you can have your name printed on the wall by submitting a piece to the collection! Des accents prochainement dans les noms de domaine en .fr. À partir du 3 mai les accents sur les noms de domaine gérés par l'AFNIC .FR, .RE (Île de la Réunion), .TF (Terres Australes et Antarctiques françaises), .WF (Wallis et Futuna), .PM (Saint-Pierre et Miquelon) et .YT (Mayotte) seront disponibles.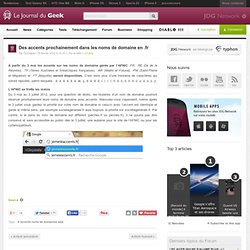 C'est donc plus d'une trentaine de caractères qui seront rajoutés, parmi lesquels : à, á, â, ã, ä, å, æ, ç, è, é, ê, ë, ì, í, î, ï, ñ, ò, ó, ô, õ, ö, ù, ú, û, ü, ý, ÿ. L'AFNIC se frotte les mains Du 3 mai au 3 juillet 2012, pour une question de droits, les titulaires d'un nom de domaine pourront réserver prioritairement leurs noms de domaine avec accents. Thomas Bouhier: Un beau panorama des confé... Thomas Bouhier: Les conférences sont offic... Capitaine Commerce : blog e-commerce, ergonomie, usabilité, web marketing.
C'est décidé, je suis visible sur le Web !
---