RF - Radio Fréquence
Get flash to fully experience Pearltrees
Parfois, dans la conception de systèmes embarqués, vous voulez passer au sans fil.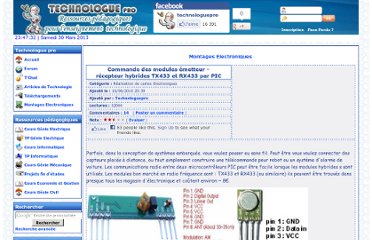 A while ago I bought an RF link pair(which consists of one RF transmitter and one RF receiver) for Sparkfun for implementation in one of my client's products. I wanted to try out RF because it was cheaper than bluetooth.
Transceiver breakout boards I'm just finishing up my last class ever!!! (for credit, anyway.) It was a really fun, mostly because I decided to have fun with my last class, and make it a 4/5 (undergrad/graduate).
Date d'initialisation : Mai 2007 État actuel : Terminé Sommaire Description générale