SCRUM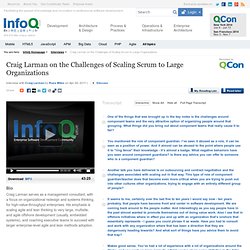 Craig Larman on the Challenges of Scaling Scrum to Large Organizations
Right, first of all let me define my terms because I am not sure all of the audience will be aware. So what we mean by component teams is groups of programmers that just specialize in one software subsystem. For example, a really simple example, a group of programmers that just do the UI layer, a group of programmers that do some middle tier, a group of programmers that do database stuff, or in my world, the larger scale when you got millions and millions of lines of code and lots and lots of subsystems, programmers in this subsystem, programmers in this subsystem, and then when you want to do a customer feature it needs to be split up between all of these component teams. So that's what we mean by a component team.
Value of Becoming a Certified Scrum Professional (CSP) Taking a course introduces you to the basic concepts, practices, and principles you need to fulfill your role on the Scrum team. But there are certain things about an agile approach like Scrum that are only learned through time, experience, and continuous learning. If you are an active CSM, CSPO, or CSD who has reached that next level of experience and expertise in the art of Scrum, have your expertise recognized by earning the Certified Scrum Professional credential. Two Ways to Get CSP Certified.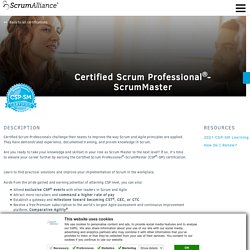 Certified Scrum Professional
Agile product development is growing fast with intense focus on perfecting Agile execution. However, the business strategies developed by many organizations are still non-agile. For example, Agile product development teams are pushing business owners to prioritize the product backlog to deliver the highest value features in each iteration.
Agile Helpline!: Agile Strategy Manifesto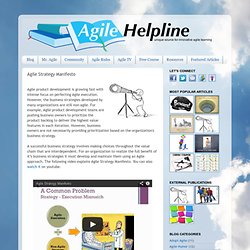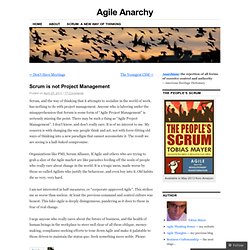 Scrum, and the way of thinking that it attempts to socialize in the world of work, has nothing to do with project management. Anyone who is laboring under the misapprehension that Scrum is some form of "Agile Project Management" is seriously missing the point. There may be such a thing as "Agile Project Management".
Scrum is not Project Management | Agile Anarchy
Blog Archiv » Der Bericht zum IF-Forum Mensch&Management
SCRUM Plakat