SCRUM
Craig Larman on the Challenges of Scaling Scrum to Large Organizations. 1.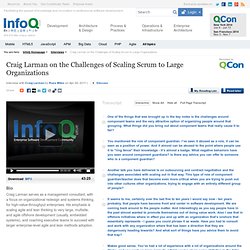 One of the things that was brought up in the key notes is the challenges around component teams and the very attractive option of organizing people around that grouping. What things did you bring out about component teams that really cause it to fail? Right, first of all let me define my terms because I am not sure all of the audience will be aware. So what we mean by component teams is groups of programmers that just specialize in one software subsystem.
Certified Scrum Professional. Demonstrate your in-depth knowledge and experience in Scrum Updated February 2014 Certified Scrum Professionals have demonstrated experience, documented training, and proven knowledge in the art of Scrum.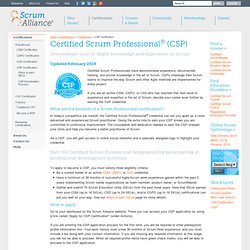 CSPs challenge their Scrum teams to improve the way Scrum and other Agile methods are implemented for every project. If you are an active CSM, CSPO, or CSD who has reached that next level of experience and expertise in the art of Scrum, elevate your career even further by earning the CSP credential. What are the benefits of a Scrum Professional certification? Agile Helpline!: Agile Strategy Manifesto. Agile product development is growing fast with intense focus on perfecting Agile execution.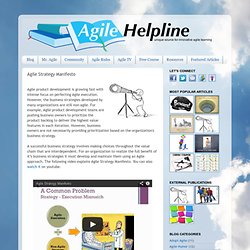 However, the business strategies developed by many organizations are still non-agile. For example, Agile product development teams are pushing business owners to prioritize the product backlog to deliver the highest value features in each iteration. Scrum is not Project Management | Agile Anarchy. Scrum, and the way of thinking that it attempts to socialize in the world of work, has nothing to do with project management.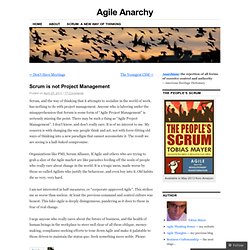 Anyone who is laboring under the misapprehension that Scrum is some form of "Agile Project Management" is seriously missing the point. There may be such a thing as "Agile Project Management". Blog Archiv » Der Bericht zum IF-Forum Mensch&Management. SCRUM Plakat. Es ist jetzt ungefähr ein dreiviertel Jahr her seitdem wir unser Scrum-Poster veröffentlicht haben.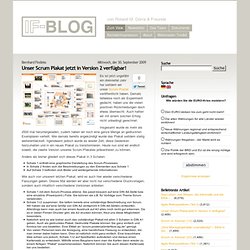 Damals teilweise noch als Experiment gedacht, haben uns die vielen positiven Rückmeldungen doch etwas überrascht. Auch hatten wir mit einem solchen Erfolg nicht unbedingt gerechnet: Insgesamt wurde es mehr als 2500 mal heruntergeladen, zudem haben wir noch eine ganze Menge an gedruckten Exemplaren verteilt.
---